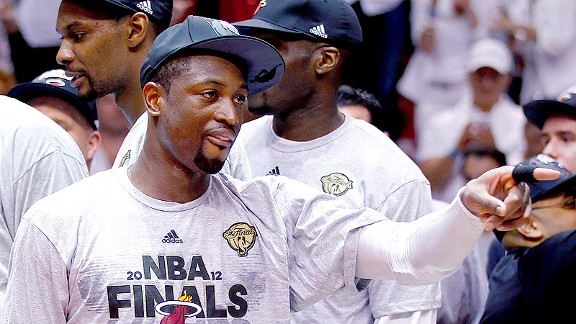 Mike Ehrmann/Getty Images
Dwyane Wade overcame Boston's defensive focus late to help Miami win Game 7.
MIAMI -- While LeBron James has cleared the path for the Miami Heat's second consecutive trip to the NBA Finals, Dwyane Wade's performance during the past two playoff series has been a microcosm of his team's play.
Slow starts.
Furious finishes.
For various reasons, Wade continued to stick to the script.
Shaking off yet another sluggish first half, Wade regained his rhythm down the stretch to finish off the stubborn Boston Celtics in Saturday's 101-88 victory in Game 7 of the Eastern Conference finals. The Heat advanced to face the Oklahoma City Thunder in the NBA Finals on Tuesday.
After emerging from one of the toughest series of his playoff career, Wade won't spend too much time reflecting on the stranglehold the Celtics had on him in the series.
Wade scored 14 of his 23 points in the second half, including a three-point play late in the fourth quarter that extended the Heat's lead to double figures. Wade was fouled as he made a floating jumper, and he made the free throw to give Miami a 98-86 lead with 2:53 left.
That play gave the Heat enough of a cushion to cruise the rest of the way. It also finally provided Wade an opportunity to exhale after two weeks and seven games facing Boston's suffocating double teams and defensive schemes that were designed to limit his effectiveness.
"I was just being patient as much as possible," said Wade, who missed seven of his first 12 shots, but finished 8-of-17 from the field and made 7-of-8 free throws to go with 6 rebounds and 6 assists in 44 minutes. "No matter what everyone on the outside was saying about me, I'm a winner. It wasn't about my numbers. It wasn't about my scoring. It was about doing what I can at the right time to help my team come out victorious."
If Wade seemed a bit sensitive about the way he was perceived amid his struggles in the series, it's because he's human. He has heard the talk that, at age 30, his game could finally be on somewhat of a decline from when he led the Heat to the championship in 2006 -- before LeBron James and Chris Bosh arrived as this reloaded version of the Heat.
Wade has even laughed at the notion from some circles of fans that Miami should explore trading him for another superstar or set of players who might better complement James' play on the court. The talk is all senseless to Wade.
But the reality is that the combination of Boston's defense and lingering soreness in his left knee made him look more ordinary than many observers had ever seen him on the court. Wade averaged 21.4 points and 5.7 rebounds, shot 44.4 percent and averaged 3.2 turnovers against Boston.
That level of production against one of the toughest defenses in the league would constitute breakout numbers for many players, especially in the postseason. But Wade has had to pick his spots against the Celtics and rely on James to do much of the heavy lifting offensively for Miami.
This has become a pattern throughout the latter stages of the playoffs since Wade, James and Bosh became teammates. Last season, Wade had a brutal series against the Chicago Bulls in the Eastern Conference finals when he shot just 40.4 percent from the field and averaged 18.8 points and 4 turnovers en route to the Heat's 4-1 series victory that propelled them to the NBA Finals against Dallas.
Even before the Heat moved on to face Boston this postseason, Wade's sporadic play was also a concern in the conference semifinals against the Indiana Pacers. He had his worst career playoff performance in Game 3, when he was held scoreless in the first half for the first time in the postseason and finished with just five points. It was during that series against the Pacers when Wade had his left knee drained of excess fluid. But he responded with three consecutive victories during which he averaged 33 points as the Heat overcame a 2-1 deficit to win the series.
Each time he is down or doubted, Wade has come back with stretches of dominant play. Of course, it has helped to have James pick up the slack along the way. And now with Bosh comfortably back in the mix after missing three weeks to an abdominal strain, the Heat are close to whole again just in time to push for a championship breakthrough.
While Wade has worked through the kinks against Boston, James was punishing the Celtics with arguably the best series of his playoff career. He averaged 33.6 points on 52.7 percent shooting and 11 rebounds. He closed out the series by playing the first 44 minutes in a Game 6 victory in Boston and nearly the entire 48 minutes on Saturday. But James denied that he looked to be even more aggressive on offense to offset Boston's strategy to negate Wade's impact.
"I always know that he's going to figure it out," James said. "So it's not to say that I have to be more aggressive. I have to stay aggressive. I don't have to worry about [Wade]. Last series in the Indiana game when he didn't play well, I didn't even go to him or say anything to him. I know he's going to figure it out. It's just the player he is."
The numbers back up James' claim.
In seven games against Boston, Wade shot 27.7 percent and averaged 6.8 points in the first halves of the series. In the second halves, when Wade has had a chance to regroup and James has softened up Boston's defense, he shot 57.3 percent from the field and averaged 14 points.
Miami coach Erik Spoelstra said it was a testament to Wade's ability to remain patient early and then exploit openings late.
"It's a great example of his fortitude," Spoelstra said of Wade. "And while everybody else is only looking at the last line in the box score [points], Dwyane is a winner. If the ball isn't going in, he's going to make defensive plays. But it also shows his mental toughness, that when things aren't necessarily going his way in the first half of games, he's going to impose his will somehow in the second half and make sure he doesn't get distracted."
Wade's counter-strategy against Boston was to "let things open up, let them eventually get tired."
And, eventually, he'd find his way.
For the Heat, it proved to be better late than never.