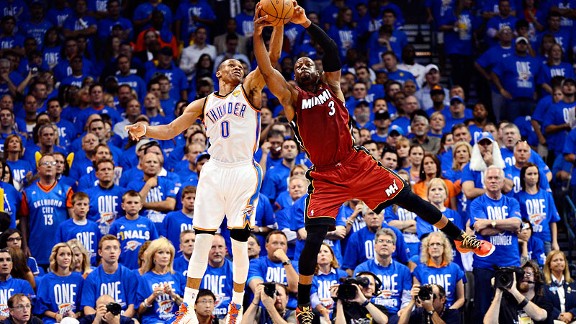 Ronald Martinez/Getty Images
Russell Westbrook and the Thunder seemed to have more spring in their legs than the weary Heat.
OKLAHOMA CITY -- Coach Erik Spoelstra didn't need long to sum up his thoughts on the Miami Heat's loss Tuesday to Oklahoma City in Game 1 of the Finals.
Moments after watching the Heat wither late in succumbing to the Thunder's depth, energy and athleticism, Spoelstra sat down at his postgame news conference and reacted as if Game 1 ended 10 days ago.
In reality, it had only been about 10 minutes since the Heat dragged themselves off the court after a 105-94 setback. The loss sends them into Game 2 on Thursday in what already might seem like desperation mode.
"Well, this one is behind us now," Spoelstra said, unprompted. "We were thinking we were putting ourselves in position to win, and they just went away. That's what they do. They keep on coming. They're relentless."
They would be Kevin Durant, Russell Westbrook and a Thunder team that easily proved in Game 1 why they are the biggest challenge the Heat have faced since LeBron James, Dwyane Wade and Chris Bosh came together for what the Heat figured would be the start of a dynasty.
But if the Heat aren't careful, they could watch the Thunder cut in line and get to a championship first. Former heavyweight champion Mike Tyson used to say that all of his opponents entered the ring with what sounded like a pretty good game plan -- until they got hit in the mouth.
Make no mistake about it: The Heat were smacked down Tuesday by a younger, more aggressive and -- as Spoelstra mentioned while trying to collect his thoughts -- relentless team that has the ability to counter every Heat strength.
We saw James go for 30, yet Durant topped him with 36.
There was Wade stumbling and fumbling his way through another erratic playoff performance this postseason on the way to missing 12 of his 19 shots. But the equally sporadic Westbrook was able to overcome a shaky start to close with 18 of his 27 points in the second half along with 11 assists.
And when it comes to role players, few teams in the league can roll them out in bunches like the Thunder. That explains how OKC can absorb Shane Battier knocking down 4 of 6 from 3-point range and finishing with 17 points, then raise Miami with Thabo Sefolosha's defense, Derek Fisher's timely shooting and Nick Collison taking over on the boards and flirting with a double-double.
One game is all the Thunder won on Tuesday in protecting their home court at the outset of the series. But the outcome of that singular performance shows that Miami's Game 1 strategy might not keep them competitive, let alone win it.
And as a result, Spoelstra immediately went into adjustment mode because this way of doing things grew stale in a hurry. Spoelstra hinted at three vital adjustments the Heat might make for Game 2 as they attempt to steal one of the first two before the series shifts to Miami for the next three.
It starts with Bosh, who could regain his starting assignment after struggling to find his rhythm off the bench Tuesday against the Thunder. Bosh had big moments in Game 7 of the Boston series as a reserve, but it might be time to get him going from the opening tip against the Thunder.
Bosh was never a factor Tuesday. His long jumpers didn't fall consistently, he didn't attack well enough to get to the free throw line and he grabbed only five rebounds despite playing 34 minutes in his fourth game back from an abdominal injury.
"We will be able to get him closer to his game," Spoelstra said of Bosh. "He's been very accepting of just trying to fit in. But I think we're going to need more from him offensively and try to get him in spots where he is able to be aggressive -- right before he got hurt -- at a high level."
The same plan the Heat had to spread the floor against Boston by spotting shooters up on the perimeter didn't go over as well against the Thunder. Bosh agrees that a more aggressive approach needs to be taken into Game 2.
"We have to do a better job of executing our offense," Bosh said. "Sometimes we have to attack the rim, because if you're not making shots and you're shooting jumper after jumper, (Oklahoma City) is getting out in the open court, and that's what they do."
Another tweak Spoelstra mentioned was the need to expand his playing rotation. Miami relied primarily on six players, with Bosh being the lone reserve to log more than 10 minutes.
Having just emerged from a draining seven-game series with James and Wade playing heavy minutes against Boston, shortening the rotation Tuesday seemed to backfire.
The Heat came out with energy in the first half, but couldn't keep up the pace in the third and fourth quarters. The Thunder outscored the Heat 58-40 in the second half, which included a 31-point fourth quarter to run away with the win.
Fatigue didn't seem to be much of a problem against Boston, even as James played 44 and 48 minutes over the last two games to lead the Heat back from a 3-2 deficit. But on Tuesday, Wade and James were doubled over, clutching their shorts and gasping for air during breaks in play.
Spoelstra said he couldn't go deeper into his bench "because of the circumstances," but wouldn't reveal what issues some players may have had. A team spokesman confirmed after the game that James Jones was dealing with a migraine. Mike Miller has been slowed by back soreness. Both players usually come in to give James or Wade a break.
James never made an issue of being tired against Boston. But he said Tuesday their minutes could be managed better.
"We're going to have to have more guys in there to give me and D-Wade a rest," James said after he played 46 minutes. "But Spoelstra will figure that out. We'll be more conscious about it, just trying to get a minute or two here or there so we can finish strong. But I don't think it was much of a problem tonight."
A third adjustment for Spoelstra will be to figure out a way to get Wade going offensively. Wade has had a pattern of slow starts during the playoffs. He refuses to say if he's dealing with any physical ailments, but Wade did have his troublesome left knee drained during the second round against Indiana. Midway through the fourth quarter, the Heat ran their offense through Wade, who had seven points and two assists in the quarter but couldn't stop Westbrook.
"We'll get him opportunities to attack," Spoelstra said of Wade. "He had a couple of good opportunities to get into the paint there in the fourth, a couple of them he wasn't able to convert. But he was aggressive in that quarter, and so we'll try to get him in places where he can continue to be aggressive."
The Heat have faced many of these same questions and issues before and have found a way to bounce back.
They trailed 2-1 in the series against the Pacers after Wade's legs seemed shot in Game 3, but ran off three straight victories to win the series. Wade averaged 33 points in those final three games.
They were behind 3-2 and facing elimination against Boston before James answered the call with a couple of wire-to-wire dominant performances to get Miami to the Finals.
But this burden against the Thunder already feels different.
It seems much heavier.
Still, it would be foolish to count out the Heat after Game 1. A year ago, the young and relentless Chicago Bulls dominated Miami in similar fashion in the first game of the conference finals. How'd that turn out?
Some will write the Heat off anyway.
I'll save the ink.
For now.