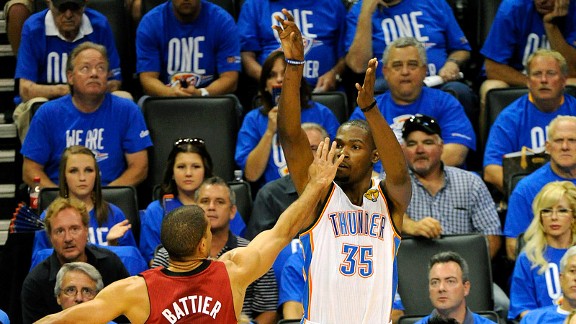 Bill Baptist /NBAE/Getty Images
When Kevin Durant goes up for a shot, Shane Battier is there to put on the blindfold.
OKLAHOMA CITY -- In the first quarter of NBA Finals Game 1 on Tuesday, Thunder star Kevin Durant squared his shoulders toward the rim, which hung 24 feet away and 10 feet above the hardwood floor.
Ready to deploy a 3-point missile, Durant caught a kickout pass from Serge Ibaka. Even before Durant could get his hands on the ball, he was already fixated on the precious orange ring in the air.
As most shooters are taught at a young age, Durant keeps his eyes glued to the rim like a sniper aligning the crosshairs on a target.
Over his career, Durant has taken hundreds of thousands of jumpers, but this one was different.
Durant rose up for his 3-point jump shot, but just before the snap of his wrist on the release, all of a sudden Durant couldn't see the rim anymore.
Heat forward Shane Battier's hand was in the way.
Clank.
Then it happened again, this time in the third quarter. Durant got an open look behind the 3-point line and at the last moment before firing off his signature sky-scraping jumper, Battier's outstretched right hand shielded Durant's eyes like a blindfold.
Clank.
Another missed jumper. Again, early in the fourth quarter on a baseline jumper, Durant rose up and there was Battier's hand, once again, hovering just an inch away from Durant's nose.
Clank.
When asked about Battier's unorthodox blindfold technique on Wednesday at practice, Durant shook his head in frustration and offered this response:
"I absolutely hate it."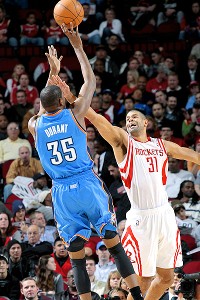 Bill Baptist/Getty
Shane Battier has blindfolded Kevin Durant since the Houston days.
Durant took 14 jumpers in Game 1 and made eight of them. Of those eight makes, four were contested by a hand near the ball. Four of his makes weren't contested at all. But none of his makes was contested by a hand near the eyes.
Durant missed all three of those blindfolded shots -- all defended by Battier.
Battier has been doing this for years, and he's mastered it to the point that it's become somewhat of an art form. You have to get close enough to eclipse the vision, but not so close that you smack the guy in the nose. You see, there's a thin line between a distraction and a nosebleed.
"He's probably the only guy that does it," Durant said. "I'm just used to guys contesting the shot, but putting a hand in your face? That's different."
Battier has been waiting for this affirmation for years. This is the first time a star publicly acknowledged that Battier's patented blindfold move actually works. After hearing word that Durant hated Battier's technique, Battier gave a flourishing fist-pump.
"Yes!" Battier exclaimed. "Someone finally admitted it."
Battier is most famous for using it on Kobe Bryant, but the Heat forward could never get Bryant to confess that the hand-in-the-face trick was effective. Then again, Bryant is never one to reveal weakness.
"See, for years Kobe would never admit it," Battier said. "People generally don't like to be touched in the face. They don't like hands in the face. They just don't like it."
To Battier, this is just an exercise in simple logic.
"I know I don't like it, so if I don't like it, I know other guys won't like it," Battier said. "So why don't I do it?"
Bill Baptist/Getty
No one has been shielded more by Shane Battier than Kobe Bryant.
There might not be a good answer for that. Battier stumbled into it years ago at practice when he shielded the eyes of an unsuspecting teammate. And it worked. So he kept doing it, again and again. Actually, it might have worked a little too well that day.
"Some of my teammates got mad at me," Battier recalled. "I said, 'Ah, now I'll do it in a game.'"
And he's been doing it ever since.
It even caused a little bit of debate among Miami's coaching staff last offseason when Battier joined the team. As part of the Heat's highly disciplined system, defenders always contest the ball, never the eyes. During the regular season, Battier dabbled between contesting the ball and shielding the eyes as he tried to be in compliance with official Heat policy and integrate himself in the team's system. But in the playoffs, he has gone with the blindfold almost exclusively.
Yes, Heat coach Erik Spoelstra eventually gave in and made a rare exception after seeing the results.
"Spo's not a big fan of it, but I told him, 'I can't jump to block shots anymore. That's my secret weapon,'" the 33-year-old Battier said.
His Heat teammates now joke around with Battier about the eye shield. Some are distracted by it. Some are not. If you ask Chris Bosh, he is not one of them.
"It never affects me," Bosh said with a laugh. "He can do it, but it's still going in. It's something that kind of messes you up a little bit. It's different, it's effective. I'm sure there's some numbers out there on Shane Battier-contested shots, what the percentages are. And I'm sure it's low."
Believe it or not, we can track these types of things. Here in the playoffs, Battier has guarded 59 shots of the spot-up variety, according to SynergySports, a video-tracking service used by NBA teams. Among players this postseason with at least 40 defended spot-up shots, Battier has allowed the fewest number of points on a per-play basis. His opponent is shooting just 30 percent on those tries. Durant, so far, has contributed three misses and no makes.
As a self-proclaimed numbers geek, Battier has data on just about everything, but he doesn't have the numbers on this one. He just trusts his instinct and knows he has a greater chance of winning the lottery than of blocking a Durant jumper. It's unclear whether the eye shield is the right percentage play in the long run, but it seems to be effective so far in the playoffs.
And in Game 1, it worked on the league's best scorer. Will it work again in Game 2?
"It's something that I can't control," Durant said. "He's going to do it every play."