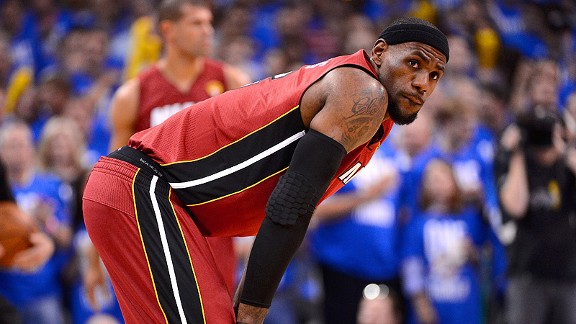 Ronald Martinez/Getty Images
Will LeBron James' heavy minutes have him running on fumes?
OKLAHOMA CITY -- After dealing with the same problem a year ago at this time, the Miami Heat again find themselves dealing with an out-of-control minutes situation with LeBron James.
Once again it's the Finals, the most vital and defining moment of the season, and once again James is being played to exhaustion. And just as he did last June, coach Erik Spoelstra is not only struggling with what to do about it but continuing to issue public denials that it's an issue.
This week, James, who also appears to be fighting a minor cold, has looked fatigued during interview sessions and after practices since arriving in Oklahoma. Who could blame him? He's coming off a conference finals series against the Boston Celtics during which he averaged 46.5 minutes over seven games, the most minutes he's averaged in a playoff series since 2006. When asked how his energy level was before Tuesday's Game 1, James said he was looking forward to his pregame nap.
In the Heat's Game 1 loss to Oklahoma City, James went through a 10-minute scoring drought at the end of the third and start of the fourth quarter, the period of the game when he usually got a few minutes of rest during the regular season and in earlier rounds of the playoffs. Much like last season, when James routinely never left the floor in the second half during the conference semifinals, conference finals and Finals, Spoelstra just hasn't been able to take him off the court.
"We were able to manage his minutes pretty much at a career-low level for the majority of the regular season, and you get to this point, we have 12 days left, I know he has the mentality that he'll do whatever it takes," Spoelstra said. "I want him fresh so I'll work to try to get him some rest, and ideally it won't be 48, 53, whatever it is."
James averaged 37.5 minutes in the regular season and Spoelstra is correct -- that was indeed the fewest minutes he's averaged in his career. Typically stars' minutes increase in the playoffs and James' indeed have. But with James the demands have once again increased exponentially.
James has never made an issue of his playing time even though he's repeatedly said he'd prefer to get a few minutes on the bench per half, but it hasn't happened. He played 46 minutes in Game 1 and by Game 4, he will likely break his personal record for total minutes in the playoffs that he set last season.
It's a tough situation, James admits. It is the Finals and much is expected from him. He doesn't want to ask to come out of games, but he also knows that all the minutes are having an effect on him.
"It's a fine line, especially now being in the Finals," James said. "There's always times where you would like to get a minute here, a minute there. I've got to be more [open] with my coaching staff as well when I feel like I may need a minute. But there's also times where I may feel tired but I'm playing well, we're playing well so I don't want to mess up the rhythm."
Spoelstra has said that James has asked not to be taken out of games at times during the playoffs, and that he's gone to James during playoff games and told him "you cannot get tired." Ultimately, however, it is the coach's responsibility to manage minutes and James is saying he needs some time.
Before the season started, James went to Spoelstra and told him he'd prefer it if he could get fewer minutes. This was both because of long-term wear and tear, something James is legitimately concerned about, and because some of James' struggles in the Finals last season were because he felt he had trouble maintaining his energy levels. The Heat agreed with the idea and even took some serious measures to deal with it. They just simply haven't been able to sustain it.
The team signed Shane Battier before the season to add depth to the wing position. Part of the reason was to allow the Heat to reduce the burden on James and Dwyane Wade. The Heat also re-signed James Jones, making their wing position the deepest on the roster. It helped for a while, as those options -- along with Mike Miller -- enabled Spoelstra to slightly reduce James' minutes during the regular season.
But during the playoffs that plan has fallen apart. Spoelstra has moved Battier into the starting lineup alongside James because of an injury to Chris Bosh. Miller has suffered another rash of injuries to his ankle, core and back, which has forced Spoelstra to scale Miller's minutes back significantly. And Jones basically has been out of the rotation for much of the season. Also, because the Heat do not play a traditional center, James has been pressed into service playing extended minutes at power forward and even center.
Add it all together and the Heat's bench again has become short and James is back to playing the massive load that he did in last season's Finals. Spoelstra has tried some Band-Aids such as not putting James on the other team's primary scorers as frequently to save him on defense a bit. Then Spoelstra regularly points to the long television timeouts where James can rest. But 48 minutes is 48 minutes and no player in the league has been asked to expend as much energy in the playoffs as James.
"The TV timeouts, the breaks, halftime you get a chance to recoup and reenergize," James said. "I mean, it helps."
So would just a couple of minutes on the bench each half, something Oklahoma City coach Scott Brooks had dedicated himself to. Kevin Durant and Russell Westbrook averaged four minutes fewer than James did during the Western Conference finals. It's little wonder the Thunder have been such a potent fourth-quarter team, including in Game 1.