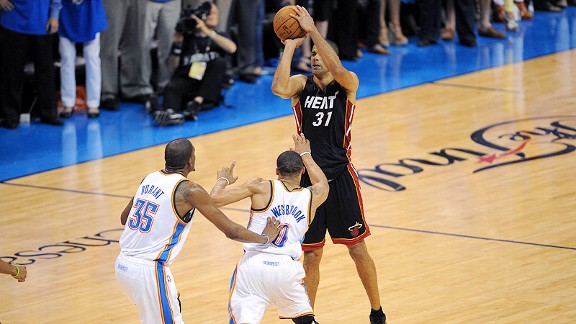 Jerome Miron/US Presswire
Shane Battier is soaking up his first Finals appearance -- and rewarding the Heat for calling his number.
OKLAHOMA CITY -- In many ways, Shane Battier's basketball life is defined by numbers.
He is a self-professed basketball nerd. He obsesses over packets of data before every game in order to prepare for each opponent. Thousands of numbers, all painting a picture. Where his defensive assignment likes his shots, where he takes them, where he makes them, how he does going left, how he does after timeouts, how he does on Tuesdays after a rainy weekend. Battier has numbers for just about everything.
But of all the numbers in Battier's basketball life, the number that means the most is this one:
29,001.
That is the number of minutes Battier played in the NBA before finally reaching the Finals. All that time spent in an NBA uniform, but never winning enough to earn a trip to the Finals series. This, of course, raises a perplexing question:
How does one spend all that time coming up short and still be perennially recognized in NBA circles as a consummate winner?
This is the paradox that is Battier. He has never come close to winning a championship ring, but ironically he was the one Miami president Pat Riley called in free agency to push the Heat over the top in the Finals after they fell short in 2011.
And 29,001 minutes later, Battier is here in the Finals and it looks like this is where he's always belonged.
The numbers don't make sense. In the first Finals game of his career, Battier hit four 3-pointers and scored 17 points. Two days later, he nailed five 3-pointers and totaled 17 points. He never scored in double-digits in consecutive games during the entire 2011-12 regular season. In fact, he hadn't hit nine 3-pointers over a two-game span in more than five years.
Everything is going right for Battier, and it's everything the Heat imagined he would be when they called him in the offseason. He's even banking in clutch 3-pointers from 30 feet away.
"I was just trying to get it to the rim," Battier said after the game.
Where did this scoring outburst come from? In the past, Battier has derived inspiration from TV viewing, believe it or not. In his sophomore season at Duke, he scored a career-high 27 points against Maryland after averaging just eight points per game. He attributed the scoring surge to -- bear with me now -- watching a documentary about Shaolin monks who emphasized calmness and serenity to achieve inner peace.
And while pulling on his socks in the locker room after the Game 2 win over the Thunder, Battier attributed his current scoring binge to another television program -- this time a show on Comedy Central aptly titled "Workaholics."
Makes sense. That's how you could describe Battier during this trying season in which he endured the lowest shooting percentages of his career. There's a timeworn cliché in basketball about the first guy to arrive at the gym, last guy to leave -- and that's been Battier this season. While all his teammates talked to the media after practice and headed out the door, you could always find Battier putting up 3-point shot after 3-point shot on the gym floor. The results weren't always there for Battier during the regular season, but now they're going his way. Even the banked-in shots.
"Shane practices that shot all the time," Chris Bosh said after the game. "He's a very good 3-point shooter."
Shooting hasn't exactly been a strong suit for Battier this season. He knows the numbers. He shot just 38.7 percent from the floor, the worst of his career. He shot 33.9 percent from downtown, an enormous drop from his 38.2 percent career conversion rate. He posted a 9.7 player efficiency rating, the first time his PER has dipped into the single digits.
For a while, the offensive output belied his performance on the defensive side of the ball. After Game 2, Dwyane Wade referred to Battier as a "luxury" for his ability to guard multiple defenders and give LeBron James a breather. James praised Battier for guarding everyone from Carmelo Anthony to David West to Paul Pierce to Brandon Bass to Serge Ibaka to Kevin Durant.
"Going against him in my career, I understood how smart he was, I understood how competitive he was, especially on the defensive end," James said. "I was very excited when we were able to sign him in the offseason. He's a big part of why we're here today and competing for a championship. He's meant a lot for our team and a lot to me."
For the first time all season, his offense is consistently matching his defense. Thanks to Battier's scoring and defensive versatility, the Heat have the series tied at one game apiece heading to Miami for Battier's first Finals game in front of his home crowd.
Three games at home, three games away from winning a title.
It took only about 903 games to get to this point.
"This time of year is what he lives for," Wade said. "What we love him for."