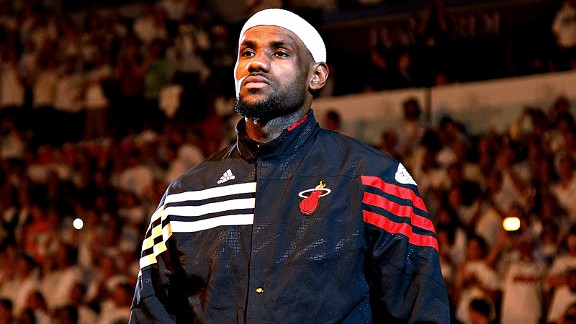 Mike Ehrmann/Getty Images
From playing point guard to center, LeBron James has been everything for Miami this postseason.
MIAMI -- It doesn't exactly roll off the tongue, but it may be more fitting than "King."
Michael Jordan had "Air" for his apparent ability to fly. Kobe Bryant has "Black Mamba" for his ability to strike like a snake at any moment. Earvin Johnson had "Magic" for his ability to perform seemingly supernatural acts with a basketball. And earlier this season, Heat coach Erik Spoelstra gave LeBron James the nickname of "1-through-5" for his ability to play and defend all five positions on the floor.
Though the nickname may not be catchy, James finally has one that describes his play on the court rather than one that might feel like a forced coronation. As a basketball player, the 6-foot-8, 260-pound James is defined by being undefined, rendering the positional designations obsolete.
Just look at Game 3 of the Finals. He brought the ball up and ran the offense like a point guard. He nailed a catch-and-shoot 3-pointer from the corner like a shooting guard. He took his man off the dribble from the perimeter to the basket like a small forward. He lived in the paint, set screens and rolled to the rim for buckets like a power forward. And he voluntarily defended Oklahoma City's Kendrick Perkins on the block like a center.
Even nine years into his career, we don't really know how to characterize James' position in the game. Is he a small forward? Is he a point guard? Is he a power forward? James has bristled at the idea of being pigeonholed into one position, so Spoelstra made it simple for him.
"Make plays for us, 1 through 5, whatever it takes," Spoelstra told James. "Don't overthink it."
You can tell that Spoelstra's message has resonated with James, who delivered a massively disappointing 2011 Finals performance that raised questions about a possible mental block.
But nowadays, James has sought to make things simple: make plays.
"I told you guys, last year I didn't make enough game-changing plays, and that's what I kind of pride myself on," James said after Miami's Game 3 win Sunday. "I didn't do that last year in the Finals. I'm just trying to make game-changing plays and whatever it takes for our team to win."
This postseason, "whatever it takes" has not been a small task. Through injuries and lack of depth on the roster, this postseason has required James to change his identity on the court. It's come to the point where we might one day look back on the 2011-12 playoffs as the time when James morphed into a big man.
It's hard to accurately capture the evolution that James has undergone in the playoffs thus far, but here goes one stab at it.
Heading into Game 4, James is averaging 30.7 points and 9.7 rebounds in the playoffs. Here's the list of players who have averaged at least 30.7 points and 9.7 boards in a postseason during the modern era:
Kareem Abdul-Jabbar. Shaquille O'Neal. Hakeem Olajuwon.
That's it. That's the list. Three of the all-time great centers.
As hard as it is to believe, those are James' peers now, statistically. James entered the league as a point guard, and nine years later he's putting up numbers of Hall of Fame centers. Throw in the fact that James also has averaged five assists per game and the list of players who have averaged 30-10-5 during the playoffs in modern times shrinks to one. Just James.
His numbers are remarkable as are, but consider that since the Indiana series, James has averaged 31.6 points and 10.8 rebounds. That's no coincidence. Chris Bosh, Miami's power forward, went down with an abdominal injury in the opening game against Indiana.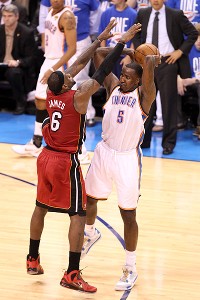 Joe Murphy/Getty Images
Kendrick Perkins is just one of many centers LeBron James has guarded this season.
Where many saw adversity, James saw an opportunity.
"I had to change my mentality when Chris got hurt," James said. "I had to rebound more, I had to attack more, get into the paint more to make up the difference with Chris being out until he got back. I just had to change, and it's kind of stayed that way since he got back."
Embracing his role as a big man hasn't always been a fluid process. For years, fans have called for James, who is built like Karl Malone, to play as a big man. But setting screens and playing in the post were never consistent parts of his repertoire.
However, last season reserve power forward Udonis Haslem went down with a foot injury that kept him sidelined for months. At that point, we began to see the pick-and-roll with Dwyane Wade as the ball handler and James as the screener. We began to see James working from the block. We began to see James the big man.
But James was never fully comfortable with that position because he had to learn it on the fly in the regular season. His unease was crystallized in the 2011 Finals when he refused to back down J.J. Barea, who is generously listed at 6 feet and 175 pounds, in the post and passed out instead.
But these days, you're seeing James routinely pounding the paint and fighting for position on the block. That's where he's comfortable now, that's what he's worked toward ever since he met with Olajuwon in the offseason. The numbers say it all. In the playoffs, 15.2 percent of James' offense has been derived from post-up plays, according to Synergy Sports video tracking. That percentage last playoffs? Just 8.3 percent, or about half what he's doing now.
What's more stunning is the fact that James has as many post-up plays this postseason as the entire Thunder team (95).
James' dependable post-up game and work on the boards (he registered a game-high 14 rebounds in Game 3) have been essential to the Heat's success in the Finals despite the team's playing without a true center. How have the Heat been able to overcome the size advantage in the paint and on the boards? Perkins gave his take at Monday's practice.
"They got LeBron James," Perkins said.
And then he repeated himself, just in case he didn't make himself clear the first time.
"They got LeBron James."