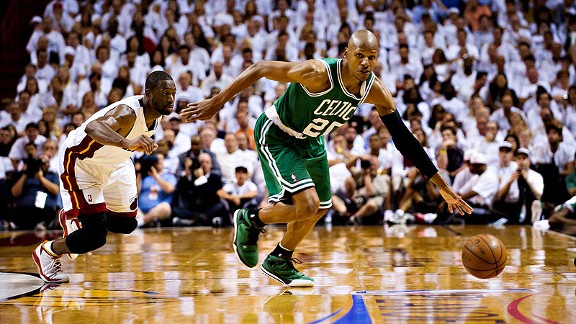 Steve Mitchell/US Presswire
Could the Heat defend their title with future Hall of Famer Ray Allen in the fold? Interest is mutual.
MIAMI -- The celebration isn't done yet, but the Miami Heat's plans for the future are under way. All champions want to repeat, and of course, the Heat already have expectations they'll do so. Oddsmakers have installed them as next year's title favorite.
What are their plans to attempt live up to it?
With a banner going up, their roster of stars and their attractive location, the Heat will be in play for some potential impact free agents, including Ray Allen, Lamar Odom, Steve Nash and Andre Miller, to name a few.
The Heat also have a first-round pick, No. 27, this week that they are expected to use on a backup big man such as Fab Melo of Syracuse, Andrew Nicholson of St. Bonaventure or Festus Ezeli of Vanderbilt depending on who might be available.
So the rich get richer? Maybe.
In the playoffs, the Heat discovered a formula that worked very well. They moved Chris Bosh to center to fill a longtime void. They played LeBron James heavily at power forward and played Shane Battier there as well. James' numbers playing what essentially was a new position in the league -- point power forward -- saw him average 30 points and nearly 10 rebounds a game in the postseason. The Heat also proved that using the combo of Mario Chalmers and Norris Cole at point guard was effective. Overall, it was a jackpot.
Going forward, the Heat may look to add to their wing position to make it easier to have James play more minutes at one of big man spots. There are some veteran point guards like Nash, Miller or even Jason Kidd out there, but the Heat likely have more of a need for a shooter. Adding Nash, for example, would create incredible star power but also would require the Heat to potentially revamp their offense and lineups that they've spent two years figuring out.
Enter Ray Allen
This is why Allen could be a nice fit.
Allen had surgery almost three weeks ago to remove bone spurs in his ankle. It's not clear what his recovery timeline is, but Allen said -- within earshot of the Heat's locker room at the end of the conference finals -- that he was planning to continue his career.
According to multiple league sources, there is mutual interest between Allen and the Heat. The most the Heat can offer is a contract starting at $3 million per year, which is known as the taxpayer's midlevel. Allen could get more money elsewhere, but the Heat offer an attractive portfolio that goes deeper than cash.
But before you consider how Allen might look in a Heat uniform, take a moment to get a more well-rounded view of the situation.
A big issue is just how much money is the team is willing to send to its competitors in luxury-tax payouts to add Allen or any other free agent. It is a championship team as is, and its payroll is ballooning even without adding players.
The Heat are one of the teams that will test the mechanics of the new collective bargaining agreement, which places a heavy burden on the big spenders in an effort to control competitive balance. This season the Heat will write a check for about $7 million in luxury tax. They are in position to have the third-highest payroll in the league next year at nearly $80 million, and that's before signing a free agent. That will cost them $10 million in tax in 2013, and they will have to pay millions more in revenue sharing that also will go to their rivals, including the Oklahoma City Thunder. In the '13-14 season, when the new enhanced tax takes effect and the Heat already have in excess of $80 million committed, they are looking at a potential luxury-tax bill between $15-20 million. And just to repeat: That's without signing any free agents this summer or next summer.
As Heat owner Micky Arison said in December, "We can keep the Big Three together, but they have made it expensive. ... It was a bad financial deal for us."
Good news/bad news
Basically, the Heat are in a good news/bad news situation. The good news is they have James, Dwyane Wade and Bosh under contract for two more seasons (all three can be free agents in '14 or '15 or '16), and there was no hard cap installed that will force Miami to break up the highly paid stars. This has now been proved as a championship core, and there's no reason not to keep it together.
The bad news is those three earn so much money, a combined $52 million next year and $56 million in two seasons when the new tax kicks in, that it makes adding onto the roster penal. Especially when Arison is also writing checks to contribute to the revenue-sharing pool. This is why he was one of the owners who voted "no" on the new CBA.
Arison is one of the league's wealthiest owners and recently was estimated at being worth more than $4 billion. The Heat are in the process of negotiating a new local cable deal, and Forbes reported last week that this deal could be worth more than $80 million a year. The Heat quickly denied an agreement was done. That said, just assuming Arison is going to continue to spend freely because of his personal wealth isn't a guarantee.
"That's the way fans feel, that's the way players feel, that's the way coaches feel," Arison said before this season about operating in the red just because he can afford it. "The only one that feels different is people who run a business, who expect to get a return on their investment."
Arison was one of the owners who pushed to create a luxury tax in the first place and has a reputation for being a fiscally responsible owner. He cut his coaches' salaries by 20 percent during the recession, for example. Last summer he cut his staff's salaries during the lockout even though the Heat were coming off a profitable year and had all the season-ticket money for this season in their coffers.
Is he willing to sign a player like Allen if it could cost him potentially triple the money in 2013-14 when he already has a championship team?
Mike Miller's replacement?
Some of it may determine what happens with Mike Miller, who has three bulging discs in his lower back in addition to some other issues. He's said he will see doctors and make some decisions in the next couple of weeks. Miller might need two surgeries, one on his back and perhaps one to his foot, this summer. That would bring the number of surgeries he's had with the Heat to six since 2010.
The Heat have several options with Miller. They could:
Let him have the surgeries and rehab. He's a useful player; he just scored 23 points in the Finals close-out game despite those injuries. It's hard to say he can't play anymore after watching his shooting display.

Use their amnesty option for the three years and $18.6 million left on his contract. Miller has privately prepared for this for months. Arison still would have to write the checks, but Miller would be removed from the payroll and the team would save millions in luxury taxes and potentially carve out room for a new player. If Miller departs in this manner, Allen would be an excellent replacement.

Work out a buyout of the rest of Miller's contract that would limit the Heat's spending and tax liability. He hinted at this possibility by saying, "I couldn't picture a better point to go out on top like this as a champion. But we'll see. We'll visit the doctors and see what parts work and don't, and go from there."

Request a disabled player exception if the surgeries might keep Miller out an extended period. They could get a $2.9 million coupon to sign a free agent for next season. However, this would add to their tax and payroll issues.

Get Miller declared permanently disabled and have his contract removed from their books if league doctors agree. But they couldn't do it until a year after he's played his last game. That could help the Heat financially in the long term but not short term.
Regardless of what happens, the Heat are in a strong position heading into next season. There may be other veterans near the end of their careers such as Jermaine O'Neal and Grant Hill who also will look to join the team because of their contender status.
They're not going anywhere for a while.