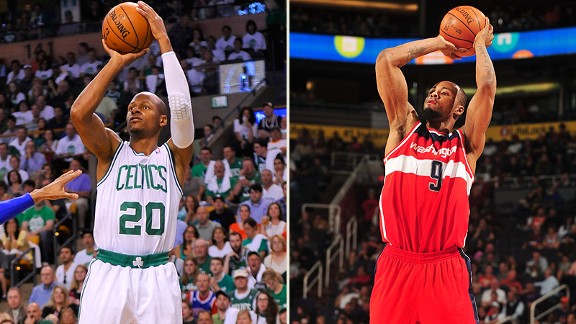 Getty Images
Pairing James, Wade and Bosh with shooters like Allen and Lewis has destroyed Miami's opponents.
Zydrunas Ilgauskas, Erick Dampier, Mickell Gladness, Joel Anthony, Jamaal Magloire, Juwan Howard and Eddy Curry.
During the past two seasons, Heat president Pat Riley has scoured the free-agency pile and brought in a long line of so-so centers to fill an apparent hole in his team's lineup.
But none of those hires has worked nearly as well at center as Chris Bosh.
And that's why the Heat are fine with not introducing a big-name center Wednesday.
During the Heat's championship run, the Heat finally found a solution to their center problem: don't play a center at all. With Bosh starting at the 5, the Heat plowed through the Thunder en route to a title, as the unconventional lineups created mismatches on both ends of the floor.
This is an important backstory to the Heat's free-agent foray this summer. On Wednesday, the Heat officially introduced Ray Allen and Rashard Lewis at AmericanAirlines Arena, and you'll notice that neither of them plays center. Or point guard. They're primarily shooters with little ability to do much else offensively.
The Heat confirmed something in the Finals that they had already assumed but couldn't fully embrace: They don't need a conventional point guard or center to win a title. They already have those pieces in their superstar trio.
So they loaded up elsewhere.
Don't be surprised if you see Allen and Lewis play together on the court next season, along with LeBron James, Dwyane Wade and Bosh. Playing those two shooters next to the Big Three might not seem like a bankable plan, because that doesn't look like a lineup basketball fans are used to seeing. Who defends the opposing point guard? Who protects the paint?
But here's why those concerns don't hold much water.
In the past two seasons, when the Big Three played with two non-point guard shooters, the Heat outscored the opponent 239 to 150 in about 86 minutes on the court.
That translates to a 50-point win margin every 48 minutes.
Here are the numbers, courtesy of NBA.com's awesome stats tool, in case you were wondering.
Who should play next to the Big Three?
Source: NBA.com data.
When we convert those numbers to a per-100 possessions basis, we find that the Heat have a 127.4 offensive rating with that alignment next to the Big Three. All other lineups next to the Big Three? 109.8. The average team? About 103.0.
So I know what you're thinking: What about defense? Funny thing, they've performed even better on that side of the ball. How many points do the Heat allow per 100 possessions when they play two wings instead of a center and a point guard?
That's 79.9 points. The league average, again, is about 103 points.
That sound you hear? Yeah, that's the collective gasp of 29 other NBA teams.
This is powerful stuff, and there's no doubt the statistically inclined Heat organization is aware of the fireworks that those lineups ignite. (For those wondering, the wings are Shane Battier, Mike Miller, James Jones and Eddie House.)
It's here that we must mention the sample size isn't gigantic -- it all amounts to about two full games of basketball. And a lot of those lineups may have been used because the opponent took its dominant big man off the floor (but how many of those are left in the league?).
Still, an efficiency differential of plus-47.4 is bordering on mercy rule levels, even if it isn't an enormous sample size. If nothing else, it should tell the Heat to try running those lineups out there until the efficiency comes back down to earth. If it ever does.
The main takeaway here is that the Heat shouldn't handcuff themselves to convention. Playing a traditional point guard and center might make the lineup card look less funky, but it probably limits their potential.
Why?
The Heat's big men just haven't been very good. Anthony may be the best option they've had the past two seasons, simply because he can snuff out a pick-and-roll and recover better than almost any big man in the league. He hustles, too, but that doesn't fully compensate for his lack of offensive skill.
Secondly, James and Wade can take turns bringing the ball up the floor. Once that's taken care of, the Heat's offense starts as usual. Sure, Mario Chalmers can guard opposing point guards better than Allen, but one of the longstanding truths of basketball is that guarding a guy such as Russell Westbrook, Derrick Rose or Chris Paul is a five-man operation, not an individual battle. The 79.9 defensive rating hints at that theory.
The Heat peppered their news conferences Wednesday with assurances that they're planning to play a different brand of basketball than the traditional one. They've taken a gamble by signing two players who will be a combined 70 years old at the start of next season, but it's hard to imagine the Heat getting young talent at a discount like they did with Allen and Lewis. Also, the Heat could probably use another backup center (Ronny Turiaf?) to keep James and Bosh from burning out in their new roles. But they're clearly headed in the direction of a versatile attack without a traditional center.
If these numbers are any indication, that direction is probably the right one.