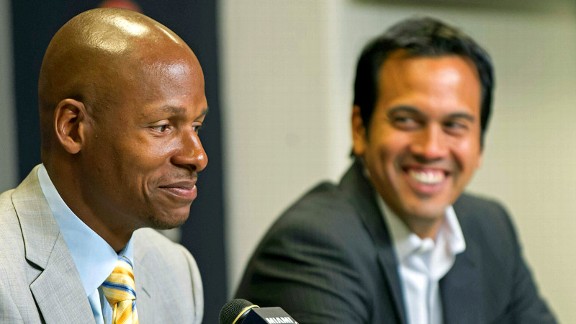 Steve Mitchell/US Presswire
Ray Allen stepped to the microphone alongside coach Erik Spoelstra and embraced his new team.
MIAMI -- Ray Allen, the most productive 3-point shooter in NBA history, officially became a member of the defending champion Miami Heat on Wednesday after signing a two-year contract to end his free agency.
It was a tough and emotional decision for Allen, who left the Boston Celtics after five seasons that included an NBA title in 2008. Here are eight storylines from Allen's Boston departure and arrival in Miami, based on some key statements from his introductory press conference.
(Connecting with Pat Riley and Erik Spoelstra)
What Allen said: "I had an opportunity to sit down and really discuss basketball philosophy with (Riley). He's got a lot of great stories. I had a lot of questions for him. I followed him for as long as I followed basketball. Same with coach Spoelstra. We talked about every basketball philosophy we shared, to a point where he said, 'Well, I don't know if you're coming, but I'll just tell you this anyway.'"
What it means: Boston simply might have taken Allen for granted, and Miami took advantage. There's no question Allen was feeling a bit underappreciated and overlooked. In Miami, Allen was almost treated like his character Jesus Shuttlesworth on college recruiting visits in that "He Got Game" movie.
(Friction with Rajon Rondo factoring in decision)
What Allen said: "I haven't spoken with him at all. I know when I came down here, I texted Paul (Pierce) and Kevin (Garnett). Those are the guys I had talked quite a bit with over the years ... There are differences. We all have differences. Paul eats Corn Flakes. I might not like Corn Flakes. That's kind of who we are as individuals ... as players we have to put our differences aside."
What it means: There really was a rift between Rondo and Allen. Boston has gradually become Rondo's team. He's its best player and most volatile personality. The difference is the Celtics still pay Pierce like a megastar and treats Garnett like one. But Allen's ego was compromised a bit.
(The role Allen expects to play in Miami)
What Allen said: "You mean I'm not starting? I wish they would have told me that last week. Going into this process, I never said whether I wanted to start or come off the bench. That was never really an issue. Whatever is going to be best for me in this situation is going to figure itself out. This team won a championship without me. I'm not going to come in and expect for Coach to cater to who I am and what I do. I have to make it work on the floor with my teammates. I always said whether you start or come off the bench, the best compliment is who you finish the game up with."
What it means: Allen wanted to put to rest any notion that he demanded to be a starter -- or necessarily play starter's minutes -- moving forward. The fact that he made light of the situation showed he has a sense of humor and a willingness to take on whatever role Miami has for him. But there's little doubt that Allen will play a significant role, likely as the first guard off the bench and in the closing lineup at the end of competitive games.
(Could Boston have done more to keep Allen?)
What Allen said: "It's hard to say. It's hard to say."
What it means: Of course there's more Boston could have done. Perhaps trade Rondo. Maybe guarantee a third year on that reported two-year, $12 million offer. More likely, the damage had already been done before the start of free agency. Allen was ready to move on. Those attempts to trade him took a toll, as did demoting him to sixth man. In reality, the Celtics and Allen were better off parting ways.
(Are "traitor" insults from Boston fans upsetting?)
What Allen said: "I've given so much, not only on the floor but off the floor. I think that there's a sense of sadness and hurt that the people feel. And we feel that, too, as a family. And that's understandable. But we're still a part of that community. Our home is still in Boston. That's not going to change how we feel about the people there. It doesn't bother me. I know who I am."
What it means: Allen has built up so much goodwill over his decorated career that it will be impossible for him to ever be viewed as a bad guy for long. He'll be like Joe Dumars on those Bad Boys team in Detroit. He's just too likeable and respectable. He made a decision as a free agent. But it'll still be tough for some to buy into his declaration of "always being a Celtic" while playing for the Heat and working for a man in Riley who coached the Los Angeles Lakers and the New York Knicks. That basically covers the gamut of Boston's fiercest sports rivals.
(How bad was Allen's ankle that required surgery?)
What Allen said: "Surgery was good. I was walking within four or five days. Not a lot of swelling. Even now, if I do too much on it -- I haven't worked out, I haven't been given the clearance to work out yet -- if I do too much walking on it, it gets a little tender. But for the most part, I'm feeling really good moving forward. The playoffs, I was probably a day away from just having surgery when I decided I was going to play and try to stay along to help the team win. I think one day more, I probably would have had surgery. That's how much it bothered me."
What it means: No one can say Allen didn't give Boston his all late in the season while playing on an ankle that obviously required serious attention. After having surgery in June to remove bone spurs, Allen says he's about a month from being cleared for serious basketball activity, putting him well on pace to be ready for training camp.
(Attempts from Garnett/Pierce to keep Allen)
What Allen said: "When I knew I was leaning toward Miami, I actually sent a text to Kevin, just to let him know that -- I remember this process in 2008 when (James) Posey left us. And we just really wanted him back and he went to New Orleans, and we didn't get a chance to get Danny (Ainge) to try to give him a little something extra. I didn't want that to be the same case with me in this situation. So I texted Kevin and said, 'Hey, I'm leaning this way and I just want you to know, without getting into the finite details of the deals.' He said, 'Well, Danny will step up to the plate and do whatever you need him to do.' So, I was like, 'We'll see.'"
What it means: Perhaps this was a veiled attempt by Allen to place some of the responsibility for his departure on Ainge, Boston's president of basketball operations. It sounds like Allen was at least open to hearing a better offer from Boston after he informed people he was leaning toward Miami. By then, Boston was well into its contingency plan. And rightfully so.
(Recruiting pitch from LeBron James/Dwyane Wade)
What Allen said: "I got texts from both of them. It wasn't me as much that they influenced. But it was the people around me that it excited. It showed them that these guys really like you and want you on their team. As much as they seem bigger than life on TV and just won a championship, they took the time out to reach out and to say something nice about you. The people who care a lot about me and love me, it meant a lot to them."
What it means: As Allen said earlier, the fact that the Heat won a title and still felt they needed him on the roster to be even better next season carried a lot of weight with him at a sensitive time. The Celtics and Heat have ended the other team's season each of the past three years. There's a history of mutual respect there. Assuming health, jobs on the court just became easier for Allen and his new teammates.