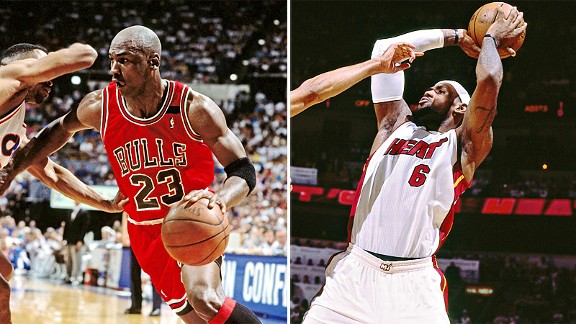 Getty Images
Who's better at this stage, MJ or LBJ? Let's visualize it.
Here we go again.
Talking to ESPNChicago.com on Thursday, Dwyane Wade commented on the eternal "LeBron James vs. Michael Jordan" debate and framed the discussion with a golf analogy.
"I don't know if (James) has the ability to surpass (Jordan) or not," Wade told ESPNChicago.com during a promotional event for his Wade's World Foundation. "That's yet to be seen. My version as LeBron being on par with Michael is this: They're both on the golf course. Michael's on the 18th hole. LeBron is somewhere on like the fourth hole. He's got a long way to go, but he's on par to get to the 18th hole.
"I think everyone knows that (James) is a phenomenal, phenomenal player. He's one that we haven't seen, with the makeup of a 6-8 guy who runs as fast as any point guard, jumps as high as any center, and has the ability that he has to do so many things. But Michael Jordan is the greatest player of all time, that's who everyone shoots for. So it's going to be hard to surpass that."
Like Wade, the "James vs. Jordan" debate has always struck me as a bit premature, because the argument rarely follows the form of "At James' age..." or "At this point in James' career..." All too often, it boils down to a comparison of ring counts, which doesn't seem fair to James who, to go along with Wade's golf analogy, hasn't finished the front nine yet.
But this is sports and in the sports world, people want to eat the cookie dough before it's baked. Even the NBA's greatest players pale in comparison to Jordan's endless line of credentials and accolades -- especially ones who haven't even hit 30 years old. Like James.
Is Wade accurate when he says James is "on par" with Jordan so far?
Comparing James and Jordan's numbers has always been a tricky exercise because they started at different point in their careers. James went straight to the NBA after high school while Jordan spent three years at college so this inevitably blurs the "so far" part of the equation. Do we compare what Jordan had done at James' age of 27? Or do we compare James to what Jordan had done through his ninth season?
We'll do both later, but here's a look at their basic and advanced statistics through age 27. We'll include usage rate (USG) which estimates the percentage of possessions that a player used while on the floor and player efficiency rating (PER) which bottles up all the box score statistics into one measure of productivity on a per-minute basis where 15 is average.
LeBron vs. MJ (cumulative per-game stats)
Right off the bat, this statistical comparison confirms something that always has been true: they are pretty great but in different ways. Jordan was a better scorer whereas James has been more well-rounded statistically. Jordan has the edge in the scoring categories but James has been superior in rebounding and assists. Interestingly, Jordan has the upper-hand in PER (30.2 vs. 27.2) despite James' advantage in the rebounding and assist columns. Not that PER is the end-all, be-all but it captures most of what we're getting at here: as remarkable as James has been thus far, Jordan has the numbers on his side.
It's here that we bring in the championship variable. James won his first title at a younger age than Jordan (he was 28 when he won it in 1991), but Jordan had already won three titles through his ninth-season. Whether you use age or experience as a denominator depends on your personal preference, but if we're wondering whether James can catch Jordan or where he is on his path, age seems like the more appropriate choice because it's probably a better indicator of how much is left in the tank than experience.
Let's try looking at this a different way. We can analyze Wade's claims that James is "on par" with Jordan by visualizing their career arcs.
Is James really on Jordan's path?
Check out the customizable Google Motion chart below (data courtesy of Basketball-Reference.com).
Right now, it's displaying PER as they age, but you can tinker with this all you want. I've included all basic stats and some advanced stats for you. If you want to see how James and Jordan compare by points per game in each season, click on the vertical axis labeled (PER) and a menu should pull up with a whole bunch of stats. Choose "Ppg" for points per game.
Now, you can literally see James is right there with Jordan.
Want to check out how many total points they scored through their ninth season? Click the vertical axis and choose "PTS" and then click on the horizontal axis where it says (Age) and choose "Season." Boom.
Here's one I find interesting. I've included Win Shares, Basketball-Reference's all-in-one metric that estimates how many "wins" a player contributed to the team's bottom line every season. If you choose "totWS" on the vertical axis for total Win Shares, you'll see that James leads Jordan when you look at age (again, on the horizontal axis). But if you switch "Age" to "Season," Jordan has James beat so far.
That encapsulates the Jordan vs. James debate. You could build a solid argument that James is more accomplished at his age, but not if you go by seasons played.
Another thing: you can even change the size of the data points by clicking on the right "Size" menu and you can also change the color to represent one of the statistics of your choice. For example, say you wanted to compare their PER's but also know how their minutes per game (Mpg) compared. Change the color from "Unique colors" to "Mpg" and there you go.
So who's better at this stage of their career?
Probably Jordan. There's no easy answer, but we can have a little fun trying to get there.