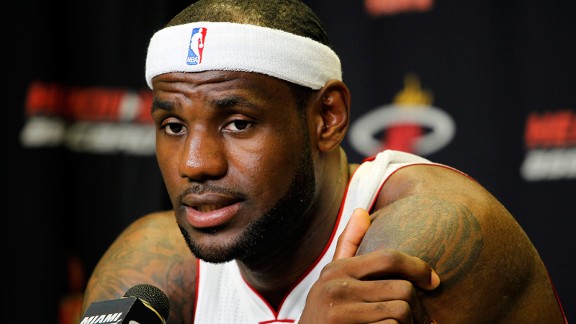 AP Photo/Marta Lavandier
After shaking up their lineup during their title run, the Heat may put LeBron James in a new position.
MIAMI -- Throughout his career, LeBron James has constantly been compared to the great players who came before him. But if the Miami Heat go through with what is apparently their plan of attack for this season, James could do something no one has ever done.
The Heat's run to the 2012 title was choppy, to say the least. Miami fell behind in three consecutive series and totally altered its basic strategy midway through the conference finals against the Boston Celtics. What ended up working was an unusual but ultimately effective version of small ball.
At the time it was necessity -- Chris Bosh was injured and the Heat didn't trust any of their reserve big men to pick up the slack. So coach Erik Spolestra pulled James, who usually plays small forward, to power forward for extended minutes. It worked out so well that Spoelstra left James there when Bosh came back, making Bosh the center.
Now Spoelstra seems to want to turn it into an invention. After witnessing the success James had at playing as the point guard on offense and power forward on defense at key moments in their playoff run, the Heat essentially have doubled down on the idea.
The result could have James playing a point guard/power forward hybrid position this season, something the NBA has not really seen before on a regular basis.
Or, at least, that's the plan. It certainly seemed that way based on Miami's offseason moves. For a third consecutive year the team elected not to acquire a big man and instead added perimeter players.
"I think it's pretty cool," James said. "I've always looked at Scottie Pippen and of course Magic [Johnson]. Magic was a 6-9 point guard who could also play different positions. Pip played point forward in the triangle offense. Grant Hill, when he was in his prime in Detroit, was also kind of that point forward guy."
There have indeed been numerous point forwards -- i.e., small forwards who ran the offense -- with Pippen often recognized as the player who defined the role.
James has played a version of the position for most of his career. He's led his team in assists all nine season he's been in the league. But as far as being a full-time point power forward? That's a new one.
The Heat added Ray Allen and Rashard Lewis to a perimeter group that already included Dwyane Wade, Shane Battier, Mike Miller, Mario Chalmers, Norris Cole and, of course, James. Lewis has technically been a power forward for most of his career but usually plays on the outside offensively. Battier also played some at power forward during the 2012 playoffs but James was the go-to option at the end of games.
Spoelstra has talked about Lewis, who was limited to just 28 games with the Washington Wizards last season with injuries, being able to guard opposing power forwards. He also has veteran power forward Udonis Haslem. But his best defensive power forward, as was proven in the playoffs last season, is James. And that is where James will likely be this season based on the team's personnel.
This is, of course, is not lost on James.
"[Spolestra] has so many different lineup changes and different mindsets of how we should play and why it will be successful," James said. "If it is for the good of our team I don't have a problem with that at all. It's a matchup problem for a lot of teams with me at the power forward."
There will be changes in roles all over the Heat team. With Allen aboard, Wade's minutes will likely be cut down from the career-low 33 he played last season. Battier and Miller probably both can't get regular rotation minutes and will have to share. Chalmers is coming off a career season but will have to fight for minutes too as the Heat will sometimes go without a true point guard on the floor.
With Bosh committed to being the team's center -- "I've made my peace with it," the sometimes reluctant center Bosh said Friday -- James is the best option at power forward. Playing him there will allow for the team to use more of its perimeter players.
"This is a different challenge," Spoelstra said. "That's what you should want is continue to have an opportunity to reinvent yourself."
It's hard to predict exactly how it will all unfold. Wade and Allen are recovering from offseason surgery. Miller and Lewis both are recovering from injuries that limited them last season. The Heat have actually added more perimeter players to their training camp roster -- including veteran Rodney Carney,who joined the team this week -- because they may want to keep an extra one when the season starts.
But all the versatility the Heat brag about -- Spoelstra says he envisions a "positionless" team -- much of it is tied to James' ability to play such an unprecedented role.
"This," James said, "is outside the box."