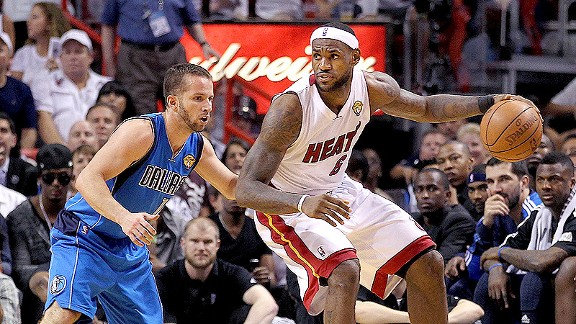 Mike Ehrmann/Getty Images
When guarding LeBron James, undersized players may not get the benefit of the doubt anymore.
MIAMI -- It's one of the most memorable images of the 2011 NBA Finals.
LeBron James, all 6-foot-8 and 270 pounds of him, couldn't take advantage of J.J. Barea in the post. James tried backing down Barea, who weighed about 100 pounds less than James soaking wet. But Barea fell upon contact and got the charge call after some, let's just say, artful exaggeration.
And James shied away from doing that again for the rest of the Finals, offering his detractors a convenient illustration of James' perceived lack of so-called killer instinct and appreciation for the post. The Heat lost that series and Barea was heralded as some sort of James kryptonite, if only for a few possessions, primarily because the diminutive former Mavericks guard was a very convincing actor. By most accounts, Barea flopped and got away with it.
And now the league plans to end all that.
NBA spokesman Tim Frank recently said the league is finalizing procedures to deal with flopping, the art of falling down when little or no contact was made in an effort to trick referees into calling a foul. Commissioner David Stern has made it clear that he believes flopping has poisoned the integrity of the game enough to implement a rule that would review potential flopping violations and fine players should they be found guilty of overtly trying to trick the referees.
And one of the biggest beneficiaries of this new rule could be, you guessed it, LeBron James.
A potential winner of the anti-flop rule
At the Heat's training camp that opened up over the weekend, James gave his take on the league's new attempt to control flopping.
"I think it'll be good in the paint," James said. "When you're posting guys up and guys know they're smaller than you, they take one bump and then they already know before you even touch them, the next time they're going to just automatically fall. They could clean that up in the paint. That could be good, but we'll see what happens."
What we'll see is if Barea's defensive strategy will ever work so effectively again. Like many, James doesn't know how the league plans to detect player intent. But what James does know is that he plans on using his size more in the paint this upcoming season.
After training camp practices, James has been seen polishing his sky-hook in the post. Yes, LeBron James appears to be taking a page out of Kareem Abdul-Jabbar's playbook.
"This year, I'll be spending most of my time in the paint," James said, "Just trying to develop my game and continue to expand it."
This has been the evolution that many critics and fans alike have demanded and expected of him at this stage of his career. After all, James has the size of Karl Malone. Why not play like it?
James fully unlocked his post moves on the way to winning his first title. Chris Bosh's injury forced James to move closer to the block and embrace his role as a "point-4." According to Synergy Sports, he averaged 6.3 post plays per game last postseason compared to just 3.8 post plays per game in his first playoff run with Miami.
Flop or no flop? Foul or no foul?
But with his unrivaled combination of speed, strength and size, James has been one of the toughest calls to make for referees. When defenders bounce off James, does that mean he is out of control, or just that much stronger than his typically undersized opponent?
It's a tough call to make in real time. Even before James joined the team, Heat coach Erik Spoelstra has seen referees struggle with this dilemma many times before, thanks to former Heat center Shaquille O'Neal.
"Shaq was arguably the most difficult player to officiate," Spoelstra said. "LeBron is very similar in the post. [It's difficult] to differentiate who's creating contact and if somebody's taking a dive."
Spoelstra believes referees made strides this past season to get flopping calls in the post right.
"I think last year they did a better job of it, I really do," Spoelstra said Monday. "You saw much more of the officials giving the signal to get up when a defender took a dive on the first or second contact."
On the whole, Spoelstra endorsed the league's decision to regulate flopping at the league level, stressing the importance of policing offensive floppers as well as defensive floppers.
"I think it's great for the game," Spoelstra said. "We don't like it when we see the flop. We don't even like it when we see our guys flop. It takes away the concentration from what you're doing."
Shane Battier doesn't agree that it's a win for the league. When asked about the new measures to try to combat flopping, Battier delivered an impromptu speech for surrounding reporters. The only thing that was missing was a podium and a campaign banner.
"There's a myriad of issues where you could dissect this proposed rule," Battier said. "There's not a consensus on what a flop is. How much force constitutes a flop? Is a basketball person making that decision? Is an administrative person making that decision? How much is the fine going to be? There's a very gray area. I still maintain that offensive flopping has to be penalizing, too. Let's call it both ways."
Battier continued.
"The unfortunate thing about the block/charge [distinction] is that I've had many, many times where a ref told me that you have to go to the floor to get the call. By the letter of the law, I've taken a hit, but I've stood on my feet. Even though I've gotten nailed, the ref calls it a no-call. I say, 'Ref, what's wrong with that [charge]?' He says, 'You have to go down to get the call.'
"Inherently, there's something wrong with that."
Heat not free of guilt
Of course, it must be pointed out that the Heat have been accused of being the best actors in the league, although the fans didn't name any Heat players to TrueHoop's inaugural 2011-12 All-Flop team.
Before heading into the Eastern Conference semifinals matchup against Miami last season, Indiana coach Frank Vogel called the Heat "the biggest floppers in the game." Udonis Haslem and Battier were among the league leaders in charges taken last season according to Hoopdata.com. It's no secret that one of James', Dwyane Wade's and Chris Bosh's most valuable skills is their ability to get to the free throw line.
At practice on Monday, Spoelstra didn't think the league's new policy was a reaction to the Heat's playing style, reiterating that the viewpoint shared by Vogel wasn't accurate.
"It's just a major misrepresentation of our team," Spoelstra said. "That's why we didn't make a big deal about it."
Whether the league makes a big deal about flopping remains to be seen until the season gets underway, but James stands to gain quite a bit from the new legislation, although he's been known to be theatrical after collisions himself.
"I don't know how they're going to gauge what is a flop and what is not a flop," James said. "Sometimes it's obvious, but it doesn't change my approach, honestly."