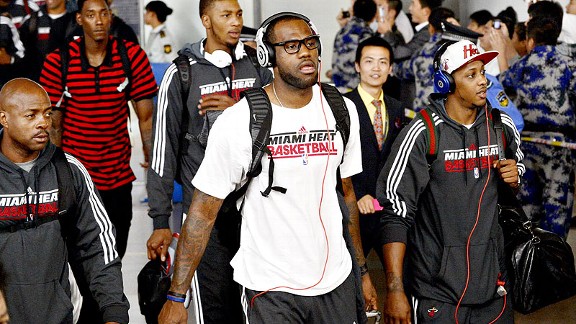 Getty Images
With Kobe Bryant eyeing a potential swan song in China, will LeBron James do the same?
MIAMI – When LeBron James is done as a dominant player in the NBA, don't expect an overseas encore.
He'll leave that sort of move to Kobe Bryant.
The Miami Heat star forward, three-time league MVP and one of the most popular athletes in the world said he can't imagine himself ever playing with a team overseas in an effort to extend his career. Not even in China, where James estimates he's currently on his 10th trip to Asia since he entered the league as the No. 1 overall draft pick in 2003.
"Nah. I mean, no. Nope," James said of potentially playing anywhere other than the NBA late in his career. "This is the best league the world has to offer. And if I'm lucky enough, if I'm able to stay healthy, I would love to finish my career in this league. And that's what I plan on doing."
James, 27, made the comments as the Heat prepared for Sunday's preseason opener in Atlanta, a loss that was followed by a 14-hour flight to China. The Heat held their first practice in Beijing on Tuesday morning and will play exhibition games against the Los Angeles Clippers on Wednesday in Beijing and Sunday in Shanghai.
With the league's popularity rapidly increasing globally, China has become a strong alternative destination in recent years for many NBA players who are unhappy with domestic options. Several played in Chinese pro leagues during the NBA lockout last year. Former superstars Tracy McGrady and Allen Iverson are reportedly entertaining deals to play in China after struggling to find suitable NBA offers.
James is at the peak of his career, and has no reason to look that far in advance toward the back end of his career. But it isn't uncommon for NBA legends to chase the game into foreign territory. Hall of Famers such as Dominque Wilkins and Bob McAdoo, a longtime Heat assistant, spent the latter years of their careers playing overseas. During the London Olympics, Bryant, 34, even flirted with the idea of playing a final season of basketball in one of the dominant European leagues after his contract is up with the Los Angeles Lakers.
"It would be natural for me to go do it," Bryant told Yahoo! Sports in August as he contemplated his future beyond the two seasons remaining on his current deal. "It wouldn't be a stretch at all."
The Heat are one of the NBA's more popular teams internationally, and have an especially huge following in Asia because of the marketing and promotional agreements with China-based companies. James visited China for promotional appearances during a busy summer that also saw him lead Team USA to gold in the London Olympics.
James also was part of the 2008 team that won gold in the Beijing Olympics, and he played with the U.S. national team during the 2006 World Championships in Japan. Those journeys have proved at least one thing to James.
"People there are very passionate about the game of basketball," he said. "I think the fans and the people there will be ecstatic. I hope we can put on a show for them."
For now, James said his focus is solely on helping the Heat make the most of his latest trip to China by building chemistry this week as they prepare to defend their NBA title. When his playing days wind down years from now, James doubts he'll have the energy for a global swan song.
"When I'm done, whenever that is, I don't know … I feel like I would have gave it all to the [NBA] game," James said. "And by then, I wouldn't have nothing left."