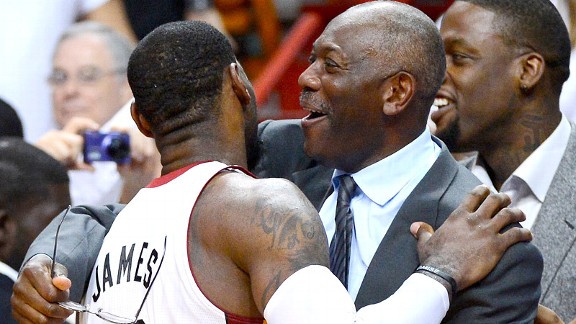 Ronald Martinez/Getty Images
LeBron James has been adding a new signature move. Heat assistant coach Bob McAdoo approves.
MIAMI – A year ago, LeBron James adopted elements of Hakeem Olajuwon's Dream Shake. This time around, the Miami Heat star forward is implementing Kareem Abdul-Jabbar's patented skyhook.
And no one in the gym is more ecstatic to see James continue to add to his low-post scoring arsenal than longtime Heat assistant coach and Hall of Famer Bob McAdoo, who knows a thing or 20 about finding different ways to score around the basket. Especially old-school ways.
So when a sweat-soaked James spent nearly 30 minutes alone after a recent practice working on his sweeping hook shot, on some levels it was déjà vu for McAdoo.
"I'll be down here even more this year," James shouted through near exhaustion as he wrapped up the extended workout. "Might as well keep getting more comfortable."
James vows to add the traditional hook shot to his game, and he could test it out when the Heat play a pair of exhibition games this week in China against the Los Angeles Clippers. McAdoo proudly acknowledges that James is continuing to build a foundation of post moves that took root two summers ago in Houston with Olajuwon.
Those workouts with Olajuwon came after James struggled with his rhythm and confidence as the Heat faltered in the 2011 Finals against the Dallas Mavericks. But after boosting his post game, James worked more from the power forward position and led the Heat to a title last season.
Now, he's tweaking, adding and refining for another run.
"To already be the best, the most unstoppable player in the game, and still put this kind of work in to pick up little moves here and there to make him even better shows you the kind of great player LeBron is," McAdoo said. "He studies the game. There are moves guys used back when I played that I know would be effective today. There's a lot more to it than shooting 3-pointers and athletic dunks. When you get to a certain point, it's about doing whatever you can to complete your game, to have something else to go to when entire teams try to take something else away."
During the 1970s and early '80s, McAdoo played against – and later alongside – Kareem Abdul-Jabbar, who perfected his skyhook and used that virtually unstoppable shot en route to scoring more career points than anyone in NBA history.
McAdoo said Abdul-Jabbar's combination of nifty footwork, execution, high release point and soft touch made his version of the skyhook "one of a kind unique." McAdoo would also see former Los Angeles Lakers teammate Magic Johnson refine his own low-post game in his mid-20s by developing a "baby hook" that ultimately would help beat Boston on the way to the 1987 NBA title.
When factoring in James' freakish leaping ability, size, strength and quickness, McAdoo believes the versatile Heat catalyst can breathe new life into an old-school move. James said he's been studying multiple back-to-the-basket maneuvers used effectively by star players over the years.
"[Michael] Jordan's fadeaway, Steve Smith's head-fake-and-go, [James] Worthy's baseline spin. There's a few," James said. "I'm still developing. Ten years in the league, I still have no idea what my signature move would be."
James' high-profile Heat teammates agree. James, Dwyane Wade and Chris Bosh are considered elite players, masters of their craft. Yet they still remain students of the game.
Wade insists his favorite move borrowed from another player didn't come from the likes of an influential megastar such as Jordan. Instead, it was swiped from Sam Cassell, who played for the Milwaukee Bucks when Wade was a star college guard at the city's Marquette University.
"When I was in Milwaukee, Sam would come down the court all lackadaisical, then all of a sudden he'd pump his head and everybody would leave their feet," Wade said. "I took that from him when I came to the NBA. And when I finally got [Cassell] with that same move, I was like, 'Yes.' That's what I added to my game, because I was like, 'You know what? I need that.'"
Wade has parlayed that move into hundreds of free throw attempts after getting defenders to leave their feet on his shot fakes. Wade and others grew so effective at leaning in to draw contact that the league tweaked the rules last season to render extreme cases of the move an offensive foul.
For Bosh, who grew up in Texas, Olajuwon was the standard-bearer for low-post play in the 1990s.
"That Dream Shake, to the turnaround, to the one-legged fade – seeing that as a kid changed my life as a basketball player," Bosh said. " He was shooting turnaround jumpers with the Shake, back when they were telling bigs to stay under the basket and rebound. He did a lot for me when I was watching it in the mid-'90s. When I started loving basketball a lot in Texas, it was amazing watching him do what he did. My eyes were wide. I was like 5-8 and a post guy in little league, hearing my coaches telling me, 'Don't do that' and 'Boy, if you take one more dribble … '"
McAdoo said he'd like to see more current players study how effectively yesteryear's good players honed their craft. He then leaned back and rattled off some of the most unstoppable signature player moves he's ever seen.
There was Wilt Chamberlain's over-the-shoulder flip shot, Sam Jones' bank shot and Earl "The Pearl" Monroe's elbow spin move in either direction to get into the lane.
Then McAdoo rocked his head back and smiled from the nostalgia of short shorts, Afros, sideburns and old-school skill sets that seem to be a lost art in today's game.
"And, of course, there was anything Tiny Archibald did in the open court," McAdoo said. "When you saw him coming, all you could do was yell, 'Help' and hope it came. Because if you were by yourself, you were in trouble."
James' game is known to conjure up similar sentiments. And if that hook shot ever gains traction in his game, it just might provide one more headache for defenders. During a TV broadcast of the Heat-Thunder Finals last June, Magic Johnson told viewers that James had attempted to contact him in hopes the two could work out. But Johnson said scheduling conflicts prevented them from getting together.
Evidently, that didn't stop James from working on the baby hook entering this season. James still prefers his face-up game but insists he's gaining confidence in post-up options.
"If I had to make one move to get a basket, it would probably start with me out top, with a right-to-left crossover facing up," James said. "Then, I'd just have to see where that takes me. I'm trying to work on a couple from the post, though. So we'll see how that goes, too."