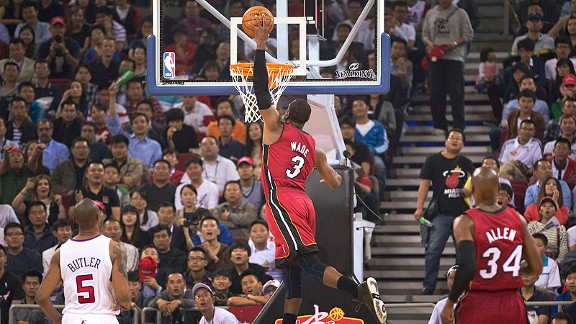 AP Photo/Andy Wong
Dwyane Wade returned to the court for the first time since offseason knee surgery.
The Heat ran all over the Clippers in the teams' first of two preseason games in China, winning 94-80.

What went well for the Heat? What didn't go well? What do we still have to learn?
Our writers give their takes on Miami's first win of the preseason.
1. What is Miami's biggest positive takeaway from the win?
Tom Haberstroh: Two things: 1) Dwyane Wade played over 20 minutes and; 2) he didn't aggravate his knee injury. The Heat have to be thrilled with his omnipresent activity. Wade was a mess offensively, but the complete opposite on defense. He disrupted the Clippers' flow with a series of steals and high-flying blocks that we've come to expect from Wade -- but not in his first game back. His missed dunk generated some laughs, but that's just Wade being Wade; he had more missed dunks last season than any shooting guard.
Michael Wallace: LeBron James already seems to have developed a midseason comfort level picking apart the defense and setting up Ray Allen and Shane Battier. At one point in the third quarter, James assisted on four consecutive 3-pointers, including a combined three makes from Allen and Battier. It was also a positive to see Wade back in action amid rehab from offseason knee surgery.
Brian Windhorst: Wade looked reasonably healthy in his first action of the season. He played more minutes than I expected and he moved well and was active, especially defensively, which showed me that he's feeling pretty good on that knee. He showed some rust, including a missed transition dunk. But when the knee was acting up last season, he sometimes had trouble getting up for dunks. He seemed to be getting good lift Thursday, especially challenging shots. Barring a setback, I see no reason why he won't be ready for full speed on Oct. 30.
---
2. What is Miami's biggest concern from the win?
Haberstroh: That they only beat up on a D-League team. Wait, that was the Clippers? Fooled me.
Wallace: What does Miami do when Chris Bosh gets into foul trouble as he did in Thursday's game? Fortunately for the Heat, neither Blake Griffin nor DeAndre Jordan are anywhere near a decent free throw shooter, so the Clippers couldn't take advantage. But even Miami's great perimeter shooting can't mask how thin this team is inside.
Windhorst: They're pretty banged up for a team that hasn't played a real game yet and hasn't had a tough camp. Udonis Haslem, Joel Anthony and Mario Chalmers are regulars who missed the game with injury and Dexter Pittman also was out. James Jones and Mike Miller also didn't play. Overall, though, all things considered the Heat looked pretty strong.
---
3. What is the biggest question going forward for the Heat?
Haberstroh: Should Allen be the Heat's backup point guard? Norris Cole had a strong outing Thursday, but the synergy between James and Allen is just on another level. Already. You saw it in the second half when James found Allen for a series of 3s as the Clippers' defense just threw up its hands in bewilderment. The Heat like Cole's offseason development, but he's still a shoot-first point guard who shot below 40 percent last season. The truth is that the Heat leave money on the table anytime Cole is on the floor instead of Allen.
Wallace: Are the injury and rehab concerns with Chalmers, Haslem and Miller more serious than the team and players have indicated? None of those projected rotation players played Thursday, with Chalmers (hamstring) and Haslem (quad) missing both preseason games so far. Through two weeks of camp, Miami has yet to work with its full roster completely available.
Windhorst: Erik Spoelstra still has some work to do on his lineups. It appears he's going to stick with the starting lineup from the Finals, with Battier at starting power forward, though James will effectively be playing that role more than anyone else. But within the game and the finishing lineup will take some time and tweaking to figure out. Allen has looked terrific so far; he's going to demand lots of minutes if he continues to show this level.