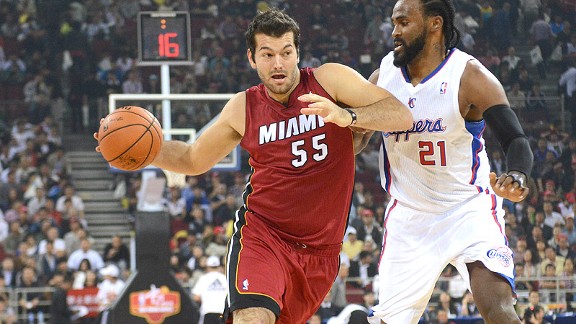 Ed Jones/AFP/Getty Images
Josh Harrellson has taken an unlikely road to the NBA, but can he stay on with the Miami Heat?
MIAMI -- The man they call "Jorts" was in Beijing, cleaning up after LeBron James.
The reigning MVP missed a turnaround jumper off the left elbow in a preseason game last week against the Los Angeles Clippers, and Josh Harrellson -- the man who famously earned the "Jorts" nickname for his affinity for jean shorts -- caught James' ricochet off the rim and put it back in for a bucket.
These are moments when Harrellson, a 23-year-old from St. Charles, Mo., has to pinch himself. Not just because he's sharing the court with the likes of James, Dwyane Wade and Chris Bosh. That's pretty special for any young basketball player trying to land a spot on an NBA roster.
But Harrellson pinches himself more because of this fact:
He played his first 5-on-5 basketball game as a freshman in high school. Now he's flying around the globe and catching passes from some of the best players of this generation. And they demand to see the 270-pounder shoot.
"There's a lot of pressure on me," Harrellson said this preseason. "Everybody is like, 'Oh, he's a shooter. Let's see him shoot.'"
Oh, Harrellson can shoot. Shooting is his ticket to the NBA, but you wouldn't know it by looking at his country-strong frame. He's listed at 6-foot-10, but isn't as, let's say, chiseled as his fellow professional basketball counterparts. He came into Heat tryouts last month weighing 292 pounds but through a rigorous training camp, he's now down to 270.
"When I saw it on the scale how much weight I put on over the summer, it felt like a ton of bricks landed on me," Harrellson said after Wednesday's practice. "I had to get off that weight real quick. I'm still busting my butt off, so hopefully I can lose about 10 more."
Harrellson works hard because he knows his spot on the team is not secure. He's fighting for one of the last two spots on the 15-man roster, along with several other big men in training camp. But he possesses something most players of his size, never mind his training camp competitors, don't: a reliable 3-point stroke. He flaunted his long-distance range last season for the New York Knicks, shooting 34 percent from downtown, playing next to Carmelo Anthony, Jeremy Lin and Amare Stoudemire.
Rarely do players at Harrellson's point in their career get to play alongside offensive talents like Anthony and James. But in the short time in training camp, Harrellson has already noticed the stark differences between the two Olympians.
"They're both superstars, but their games are totally opposite of each other," Harrellson said. "Carmelo's one of the best scorers in the game, but LeBron does everything. He's a great passer, a great scorer, a great defender."
A 3-point shooting talent like Harrellson could thrive next to Miami's star trio, and he knows it. That's why, before and after every practice, Harrellson makes a habit of firing up 100 3-pointers to maintain his competitive edge. He says he usually hits around 70 of those shots, which is a pretty good sign according to his math.
"Seventy percent in practice usually translates to 35 or 40 percent in games," Harrellson said, who shot just 29 percent from beyond the arc following a fractured wrist suffered in January. "If I didn't hurt my wrist, I would've ended up at 40 percent last year."
The results are mixed so far. Harrellson had a relatively quiet preseason until Sunday's game in Shanghai when he tallied 9 points, 6 boards, 2 steals and 2 blocks in 21 minutes. The odd thing? He only took one 3-pointer and he missed it. Though the coaches and his teammates have encouraged him to shoot at almost every opportunity, Harrellson has only taken four 3-pointers in about 42 minutes of action this preseason.
He could force his way onto the team if he displays his unlikely 3-point shooting prowess. But considering he's played basketball for less than a decade, he's still something of a raw talent, especially on the defensive end, where he's trying to improve his pick-and-roll defense.
"I haven't even reached 70 percent of my potential," Harrellson said. "The game comes natural to me; every day I'm still improving. Coaches see me keep doing things that they didn't think I could do. I think it amazes them."
Harrellson has shown a wider skill set than many imagined from his days as a Kentucky Wildcat. He played almost exclusively around the rim under coach John Calipari.
"I've always been able to shoot the ball, but I really didn't showcase it at Kentucky because I always played with a lot of great shooters around me," Harrellson said. "Primarily, I played my role as a 5, but coming into the league, they like guys that space the floor. And that's my specialty."
It's been a winding road for Harrellson the past few months. He was traded by the Knicks to the Houston Rockets in a deal for Marcus Camby, and then the Rockets cut him almost immediately upon arrival. That's when the Heat, looking for a big man to help back up Chris Bosh, decided to bring the former Knicks reserve in for a tryout.
Harrellson insists he doesn't feel any ill will toward the Knicks organization. After all, they gave him his first real shot in the NBA -- but the trade still surprised him.
"When I got traded, it definitely caught me off guard," he said. "I thought I was set in New York for one more year. Houston wanted me in the trade, they wouldn't not trade Camby without getting me because they were trying to add pieces to the puzzle for a Dwight Howard trade."
Howard ended up in Los Angeles, while Harrellson might land in Miami. Despite the nickname, he hasn't busted out his jean shorts out in South Beach yet.
"Nah, not yet," Harrellson laughed. "I mean, I could wear them every day if I wanted to, it's hot enough. It's definitely a culture shock. You go to one place and nobody speaks English. Definitely not what I'm used to."
The 23-year-old from a town outside St. Louis has enjoyed his time in Miami thus far, tweeting photos of the downtown nightlife and shoreline. Ahead of his first game in front of Miami fans on Thursday night, Harrellson hopes he can make it his home for the long haul.
But he has to stick out on the court like a pair of jean shorts in a South Beach nightclub.
"Right now it's up to the coaches," Harrellson said. "But I'm going to do whatever I have to do to make them notice me."