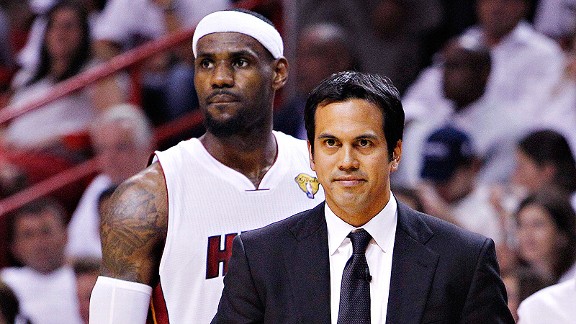 AP Photo/Lynne Sladky
The story behind LeBron James, Erik Spoelstra and the Heat's "position-less" basketball philosophy.
MIAMI -- There are times when Erik Spoelstra doesn't recognize LeBron James.
They usually occur in the film room, when the Heat coach dusts off some clips of James' Cleveland days. Aside from the new jersey, James looks similar. The headband, the Nikes and the physique -- that's all familiar.
But his game?
"Totally different," Spoelstra said. "He has completely transformed himself as a basketball player. And, in the process, he has completely transformed us."
Spoelstra watches a player who primarily played from the outside-in, pounding the rock and trying to attack from the perimeter on one-on-one isolations. This is what a conventional small forward is supposed to do. It came easily to James, who boasts an unrivaled package of ballhandling, power and speed. He was successful playing within the walls of tradition. After all, he won two Most Valuable Player awards playing this way, and his team finished with the top seed in the East two seasons in a row before he hit free agency in 2010.
But to unlock his boundless versatility and win that elusive title, James had to change. Spoelstra had to change, too. But it didn't happen overnight. When James famously took his talents to South Beach, the Miami Heat tried to make him feel comfortable in his new surroundings by outfitting him with familiar teammates and a familiar strategy.
Heat president Pat Riley brought in Zydrunas Ilgauskas, James' teammate for all seven of his seasons in Cleveland. Miami got Erick Dampier and signed Carlos Arroyo and Mike Bibby. Filling out the roster with conventional point guards and centers was the safe route, but it led to immensely disappointing NBA Finals for James and Spoelstra in 2011.
Spoelstra wishes he could have it all back.
"Thinking conventionally that first season with LeBron -- that was my biggest regret as a coach," Spoelstra said. "I put LeBron in a box. And that's the worst thing I could have done."
And that's when Spoelstra decided to think outside of it.
Planting the seed
It all starts with James. With a once-in-a-generation talent like him, it has to.
"LeBron was a small forward, that's what we knew," Spoelstra said. "That was how we built and ran the team [in 2010-11]. But after the Dallas series, we decided to start from scratch.
"We always talked about how versatile our team was, but we never thought about what it meant. We had to do away with convention."
For that, James had to fully embrace his 6-foot-8, 270-pound frame -- and using it in the post. James had already helped Spoelstra's cause by training with Hakeem Olajuwon during the lockout and honing his craft on the block for the first time in his career. According to Synergy Sports, James had 3.6 post-up plays per game in the 2011-12 regular season, doubling his usage there from his final season in Cleveland. That rate swelled to 4.5 post-up plays in the playoffs, when James was forced to play at power forward in place of injured Chris Bosh.
Although it might seem as if that was the first time James thought of himself as a 4, the seed had been planted months before. The idea came back in March when Bosh left the team for several games because of a death in the family. Spoelstra sat down with James in Portland over lunch and gave him the orders.
"We need you to play like a big man," Spoelstra recalls telling James. "Forget everything you know; you're a 4 now."
In the Heat's next game, James guarded 6-11 center Marcus Camby and finished with 38 points, 11 rebounds, 6 assists, 5 steals and no turnovers in a 107-93 victory over the Trail Blazers. It was the first time since turnovers were tracked in the 1977-78 season that someone had a game with at least 35 points, 10 rebounds, 5 assists, 5 steals and no turnovers.
Needless to say, James got the message.
That wasn't an aberration. James was a statistical monster when he played the 4 in the Heat's 2011-12 championship season. James had an NBA-best 30.8 player efficiency rating (PER) last season, but when he played the 4, that number ballooned to a staggering 37.1, according to 82games.com. Rather chew on some traditional numbers? James averaged 39 points, 12.5 rebounds and 8.1 assists per 48 minutes while playing at the 4 for about a quarter of his overall minutes.
And he did that all before the playoff run.
About four months after that lunch in Portland, James finished a triple-double in the Game 5 clincher that led to his first championship celebration. With James flourishing as a big man, with a title to show for it, Spoelstra's vision for 2012-13 was in place.
But even though it all starts with James, it doesn't work without Shane Battier.
James' only equal
It didn't make sense on the surface. After getting pummeled in the paint during the 2011 NBA Finals, the Heat went out and signed Battier, a then-33-year-old wing player with waning athleticism and limited offensive skill, of all players? As it turned out, though, Battier was just what the Heat needed to maximize James' talents.
"From a basketball IQ standpoint, Shane was a perfect match for LeBron," Spoelstra said. "I've never coached two players with such high-level basketball IQ, much less on the same team."
Take, for instance, the first round of the postseason against the Knicks. While sitting at his locker prepping for his matchup against the New York Knicks' Carmelo Anthony, Battier pored over a packet of data that explained how to exploit Anthony's tendencies. James walked into the locker room, saw Battier studying reports and sat down next to him to find out more.
From there, Battier showed James the hard numbers on why letting Anthony take 20-foot jumpers, no matter how good he was at them, made the Knicks worse because it was an inefficient play. Battier spoke like an accredited "stat geek," using terms such as points per possession, efficiency and marginal value. James gobbled it all up. Just like that, the reigning MVP became a student of analytics.
"People grossly underestimate LeBron's basketball intellect," Battier said. "There are a lot of guys who are able to think about the game but they can't move their legs fast enough to do what their brain is telling them. LeBron puts it all together, and the greats do that. Kobe Bryant, Tim Duncan, Kevin Garnett, they all do that."
On the court, Battier enables James to realize his potential as a big man. At 6-8 and 220 pounds, Battier defended the likes of David West, Kendrick Perkins and Serge Ibaka in the playoffs so James could exploit mismatches on the other end. The Heat didn't feature a power forward who could space the floor with a dependable 3-point shot, so they enlisted Battier to become that guy.
"It's an unbelievable challenge for me at age 34," Battier said. "Not that I'm bored with the game, but to learn guarding a whole new position, it's fun. I'm not a power forward, but I have to guard power forwards. I mean, I'm guarding Blake Griffin out there."
The position-less and boundless
Battier isn't supposed to say the words "power forward." Nor are any of the Heat players. Spoelstra has stricken the use of conventional position labels from the team's vocabulary. What started as "pace and space" last season has evolved into what Spoelstra calls "position-less basketball."
But Spoelstra insists he's not trying to start a revolution.
"We're not trying to make a catchphrase or start something up in the league or be innovative with it," Spoelstra said. "It was just something for our guys, our staff and including me to put our arms around the strength of our team."
The idea is simple: The traditional labels don't apply to the Heat's roster so they won't play that way. If the Heat employed Dwight Howard or Chris Paul, things might be different. But they use a fleet of chameleons in James, Battier, Dwyane Wade and Bosh, plus Ray Allen and Mike Miller.
"All the versatility we have on our team allows Spoelstra to say that," James said of position-less basketball. "If we had conventional guys, we wouldn't be able to have a position-less team. We have ball-handlers; we have guys that set screens, that spot-up and shoot. Guys know their roles. That's just the team we have."
Spoelstra no longer uses positions to designate his players. Instead, he uses initials of players' names on his diagrams and assigns players to five spots on the floor for his go-to sets: a single man in the post, two in the corners and two in the wings.
In practice this preseason, the Heat will run their sets over and over before Spoelstra shouts "switch up" and the players play their own version of musical chairs, rotating from spot to spot. Wade replaces Bosh in the post, and Bosh goes to the top of the key, where he can take opposing centers off the dribble. Battier heads to the corner while Allen goes to the wing.
Switch up again. James goes to the block and Wade heads to the corner, where he cuts to the rim. Bosh heads to the corner, where he has developed a sharper 3-point shot. Again and again.
Ball handlers. Post guys. Screeners. Perimeter shooters. Cutters. All parts are interchangeable.
"We have to view this team in a different lens," Spoelstra said. "When we try to think conventionally and put guys in certain boxes or positions, it really hamstrings us. Not only in terms of our flow but mentally, too. We developed that term [position-less] just for guys to understand our versatility and how we need to play."
It's rubbing off on the players. After a preseason win over Detroit, Bosh was asked by a reporter whether he's a "point center" now because he drove coast-to-coast for a bucket in the game.
"Nah," Bosh responded. "Just player. Everybody will fill in the blanks when it's all said and done."
With five rotating spots on the floor, the Heat have done something strategic on the court, but it could have a liberating effect, as well. Without labels, James also won't have to live up to any pre-established notions.
For his entire career, James has been incessantly compared to the all-time greats because it's human nature to look to the past to interpret the present. James was thought to be the next Michael Jordan, then he became the next Oscar Robertson, or maybe he was the next Magic Johnson. Then he became a point forward, a Karl Malone with John Stockton's passing skills.
In position-less basketball, the Heat have done away with all that. For the first time in James' career, his team's playbook and roster are a reflection of his own versatility.
And now, LeBron James can just be LeBron James.