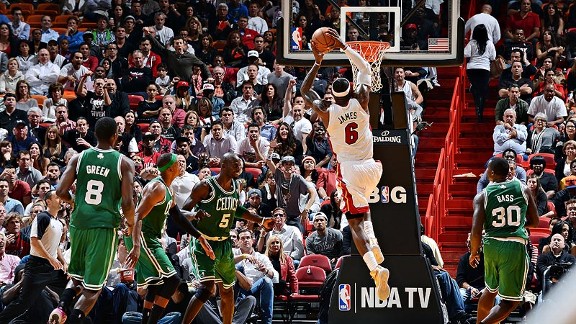 Mike Ehrmann/Getty Images
You can't see Ray Allen in the above photo, but his presence gave way for LeBron James.
MIAMI -- Sometimes, Ray Allen doesn't need to shoot to prove his worth.
A play at the end of the first half in the Heat's win over the Celtics illustrates why having arguably the greatest 3-point shooter of all time can be helpful even if he's just threatening to go stand in the corner.
Keep in mind, Allen had already hit a contested 3-pointer from the left corner before this particular play. This fact is important because it is Allen's sweet spot. Kirk Goldsberry of Court Vision informs us that Allen shoots 57 percent from that left corner, which is the most potent player/spot combo in the NBA.
Obviously, the Celtics know this from experience. Allen hit that shot for them the past five seasons. But on Tuesday night, we caught a glimpse of how dangerous the Celtics players actually view that Allen corner 3.
It started when Chris Bosh blocked Jeff Green at the rim, which ignited a fast break starting with 33 seconds left in the second quarter. Shane Battier picked up the loose ball, immediately found James and fired it off to the Karl Malone-sized point guard.
James caught the ball on the left sideline and started darting down the middle of the floor.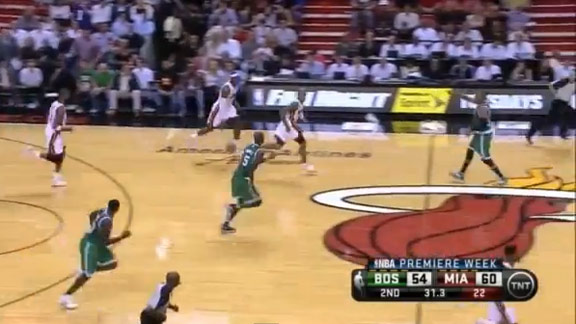 Paul Pierce was backpedaling in front of Allen, who was filling the left lane.
"I saw him streaking," James said, recalling the play.
This situation -- Allen running down the sideline in the open court -- has probably kept Spoelstra up at night over the years.
"We know that very well, being on the other side," Spoelstra said. "We've seen that now for years where we've had three or four guys running to Ray when he was with Boston, leaving every opportunity at the rim."
But do you leave James at the rim? Pierce and Garnett began to frantically point in opposite directions.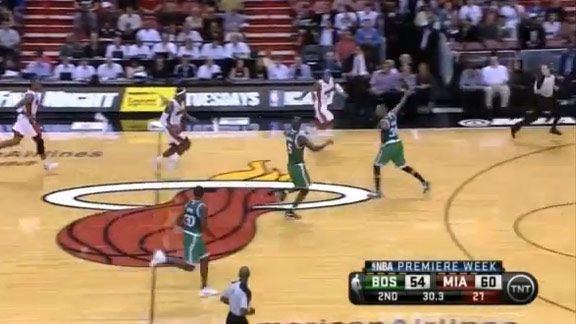 James continued to replay the action in his head.
"He was in front of KG and Paul," James said. "And I just kind of gave it a little hesitation because I knew, for the most part, they were going to run right to him."
Allen knew what to do. As soon as James slowed his dribble, Allen darted toward the corner.
"You make a hard sharp cut," Allen said. "It's the same stuff I did in Boston, but when you've got a guy like LeBron barreling down the lane like that ... I always ask myself, which direction are they going to go in? Are they going to go to me? Or are they going to go to him?"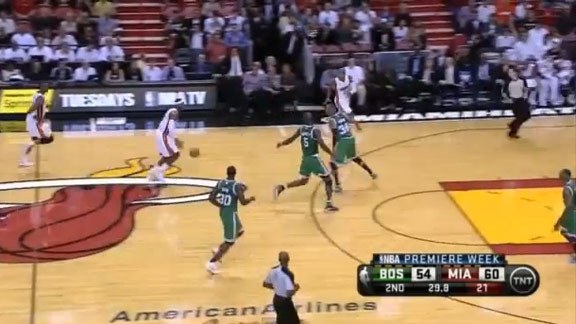 Facing this perplexing question in real time, it's no surprise that Garnett and Pierce got crossed up as they retreated in traffic.
On one hand, you have to stop James at all costs. On the other, you have Allen in the corner, waiting to deploy the 57 percent 3-point dagger, which is the equivalent of hitting a 2-point shot at an 86 percent clip. Basically automatic.
"Both guys ran to the corner to pick up Ray," Spoelstra remembered after the game.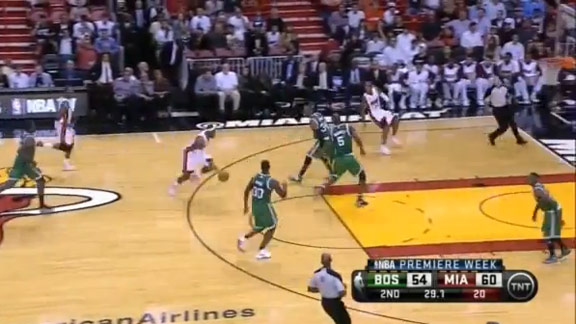 By merely heading to the corner, Allen had opened up the floodgates for James to dunk as Garnett and Pierce were preoccupied with Allen. In that moment, a James drive seemed almost preferable. Somehow.
Shane Battier watched it unfold from the right corner.
"That's the kind of decisions we want teams to make," Battier said. "Not a fun decision. The corner 3 is an absolute killer. If you allow it, you're in trouble. If you defend it, you're in business. The threat of it can be just as potent as the actual shot. With this team, that's what we're banking on. If we're making shots, especially from the corner, the lanes are going to open up."
Indeed, the threat of an Allen corner 3 did just the trick.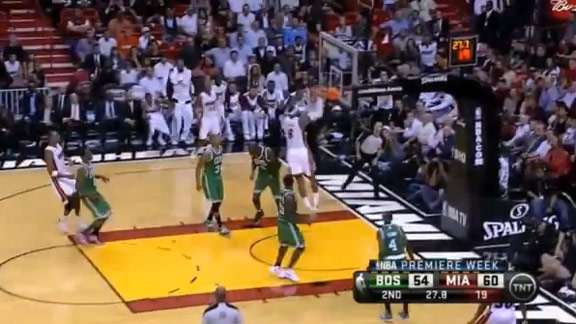 "He's a threat," James said. "And it opened up the lane for me and I was able to throw one down."
As James rose toward the rim, Garnett was already engulfed in a fit of anger. You can see it in the photo at the top. He's not even looking up at James. On film, he appears to yell at himself for screwing up the play.
"I said it when we signed him," Spoelstra said. "There's a few players in this league, a handful of them, that strike fear in the opponent, and that's what Ray does. He's built that reputation over years and years of being one of the most deadly shooters behind the arc."
James will get the recognition for the play in the postgame highlight reels, but the credit should be all be Allen's. Knowing that Allen's corner threat allowed James to get two easy points. James made sure he thanked Allen in the locker room.
"[James] came into halftime and he was like, 'Ray, way to run. They both went with you. You created that whole play.'"
The synergy between James and Allen can be a deadly one for the league. Allen says it's one of the primary reasons he chose to play in Miami, to create devastating dilemmas for opposing defenses.
That play captures why Allen doesn't even need to score to make a winning impact, why the Heat could be unguardable at times.
Stop LeBron James' penetration or take away Ray Allen's corner 3?
On Tuesday, even the Celtics didn't know what to do.
(Watch the play in its entirety here).