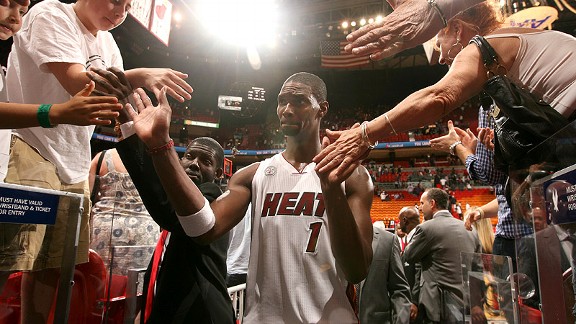 Issac Baldizon/NBAE via Getty Images
Will Chris Bosh get more love from the fans for the All-Star Game than his opponent on Wednesday?
In another installment of the Heat Index's 3-on-3 series, our writers give their takes on the storylines before the Heat host the Nets on Wednesday and aim to go to 4-1 on the season.
1. Fact or Fiction: Chris Bosh is more likely to start the All Star Game than Brook Lopez.
Tom Haberstroh: Fact. Lots of stuff have to go right for Bosh to have a good shot at the starting lineup (Andrew Bynum stays sidelined, Carmelo Anthony falls down to Earth, Kevin Garnett plays like a 36-year-old, Dwight Howard doesn't demand to be traded back to a title-contender in Orlando), but Bosh has been on fire to start the season. It's super early, but he's leading all centers in PER. Brook Lopez does have a giddy and plentiful fan base behind him in Brooklyn, but at some point he'll need to be efficient and rebound like someone his size.

Michael Wallace: Fact. I guess. But I don't believe either will carry enough fan votes to break into the All-Star starting lineup. Keep in mind that the league scrapped the "center" designation in favor of "frontcourt" players. It'll be hard for anyone to knock LeBron, Carmelo and KG out of those three prime frontcourt starting spots.
Brian Windhorst: Fact. We're not quite sure how the All-Star voting is going to go with the new format and Bosh has not been among the top three forwards getting votes in the past. Ironically, had he been on the ballot as a center, as is his position, in the old format he might've been elected to start. But I realize that is not the question. Lopez is more of a classic center than Bosh, of course, and he's an effective scorer. But let's be honest, Lopez is not the player Bosh is. I could enter numbers into the record here, but I find it hard to believe there could be an honest counterargument.
---
2. Fact or Fiction: Brooklyn has the best backcourt in the East.
Haberstroh: Fact. If we're sticking to traditional positions, I like them in the East. Joe Johnson's contract is irrelevant to this discussion, although it's hard to look at Johnson's credentials without that nagging reminder that he's still owed $90 million from here on out. That said, I think Dwyane Wade and Mario "The Next Rajon Rondo" Chalmers may have something to say about this.
Wallace: Fiction. Conventional wisdom says "yes" because it's tough to top the reputation and production offered by Deron Williams and Joe Johnson. But this is far from a conventional league. When LeBron is at the de facto point guard spot and D-Wade is at the 2, that's the best tandem in the league. But don't sleep on that Kyrie Irving-Dion Waiters combo in Cleveland. Those young dudes are simply exciting to watch.
Windhorst: Fact. From a star power standpoint and from a "starter" standpoint, you can't find a better pair in the East than Deron Williams and Joe Johnson. There are times when the Heat and Celtics have a pretty loaded backcourt out there; I don't think the Nets are head and shoulders better. But Williams and Johnson have been diversifying their games and going into the post. That does stress defenses, especially as both are effective perimeter scorers.
---
3. Fact or Fiction: Ray Allen should be the early favorite for the Sixth Man award.
Haberstroh: Fiction. Back in the preseason, I picked Allen's replacement, Jason Terry, to win this award, and admittedly, I'm not feeling too great about that call. But typically this award is automatically handed to the bench guy who has the highest scoring average, so I would imagine Kevin Martin, Jamal Crawford, Mike Dunleavy and Lou Williams all have just as good of a shot at taking home the hardware as Allen. One person I know won't win it: James Harden.
Wallace: Fact. Clutch shots. Extended minutes. A versatile role. Check. Check. Check. Sure, it's way early. But Ray Allen is off to a remarkable start. It's a very small sample size. But he's also made a huge impression in his first handful of games with the Heat.
Windhorst: Fact. Allen hasn't just been on fire from 3-point range (60 percent!) but he's shown a more versatile floor game than the past few years in Boston. The Heat are involving him in pick-and-rolls and encouraging him to put the ball on the floor and attack. Plus the Heat are making a concerted effort to force defenses to help or leave Allen open in his favorite spot, the left corner. I doubt he keeps up this level of hot shooting, but I do think he's going to continue to be an effective scorer, and that is going to make him a major contender for the award if he stays healthy.