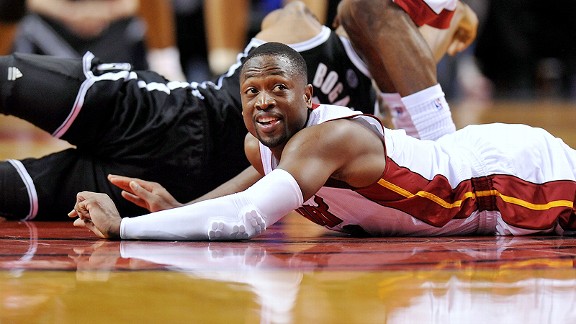 Steve Mitchell-US PRESSWIRE
Heat guard Dwyane Wade added another big man to his list of swat victims this season.
MIAMI -- After routing the star-studded Brooklyn Nets by 30 points and limiting 7-footer Brook Lopez to just eight points, the Miami Heat were apparently not done making statements about their so-called "small-ball" on Wednesday night.
LeBron James, who nearly recorded a triple-double with 21 points, 12 rebounds and eight assists in the win, made sure the Heat's message was loud and clear.
"Everyone is quick to try to find something about our team and say we're too short or we can't rebound, or we're too small and we need a big [man]," James said. "We heard that and won a championship."
Though the 6-foot-8 James guarded Joe Johnson in Wednesday night's blowout win at home, the reigning MVP cleaned up on the boards and helped keep the Nets' vaunted offense to less than 40 percent shooting.
"Every team is taller than us, but that doesn't mean bigger than us," James said. "Height doesn't mean anything."
Contrary to the popular belief that the Heat needed to beef up their frontline this offseason, Pat Riley and Erik Spoelstra went all-in on small-ball, or "speed-ball" as Spoelstra likes to put it. Instead of going out and signing a veteran stopgap center like Marcus Camby, the Heat reeled in two perimeter players, Ray Allen and Rashard Lewis in free agency.
The Heat are now 4-1 with an average win margin of 17.8 points in their four victories at home this season. They've practically wrapped up their previous two games before the end of the third quarter against teams that boast scoring centers Marcin Gortat and Lopez.
So far, so good.
By starting the 220-pound Shane Battier against opposing power forwards, Spoelstra is certainly making a gamble with his unconventional strategy. But it has proved to be a winning one. The Heat used the same alignment with James, Battier and Chris Bosh starting in the frontcourt in their playoff run and ended up beating the Oklahoma City Thunder in five games en route to a title.
So what else do they have to prove?
Plenty, believe it or not. They could start by showing that the Thunder series wasn't just a fluke. The questions about small-ball linger. Can the Heat really go with a 34-year-old Battier for a full 82-game season? Is a more slender Bosh really going to bang down low with the league's premier centers? Is James committed to playing like a big man for the long haul?
Even though the Heat were scoring like a Mike D'Antoni-led Suns team early on, they were defending like one, too. To open the season, the Heat surrendered 100 or more points in three consecutive games, something they hadn't done all last season. The Knicks embarrassed the Heat from downtown with 19 3-pointers on Friday and the Nuggets pounded the Heat inside with a whopping 72 points in the paint a day later.
Spoelstra has maintained for years that the Heat's identity comes from their efforts on the defensive end. But they had gotten away from that until Tuesday when they held Phoenix to 39.8 percent shooting. Now, after holding the Nets to just 73 points on 37.5 percent shooting, the Heat look poised to head out on the road where they'll face six squads in nine days, a slate that boasts All-Star centers including the Memphis Grizzlies and Atlanta Hawks.
"This next road trip will test us," Spoelstra said after Wednesday's win. "The type of teams that we're playing are big, physical frontcourt teams. So this is what everybody wants to see and we're looking forward to the challenge."
Bosh wonders how many times they have to shut down an opposing center before the critics recognize the Heat don't need Alonzo Mourning to come out of retirement to anchor the paint. The Heat have elected to play smaller the past couple seasons ever since the Zydrunas Ilgauskas and Erick Dampier experiments failed. And they've succeeded in doing so because James, Battier and Dwyane Wade play much bigger than they appear.
It helps to have a 6-foot-4 shot-blocker like Wade and a de-facto point guard grabbing double-digit rebounds like James. Wade victimized yet another 7-footer on Wednesday night, this time swatting Lopez underneath the rim when he pivoted around Bosh on the block. Lopez joins Kosta Koufos and JaVale McGee on a list of 7-footers that Wade has already blocked this season.
Yes, a shooting guard who anchors the back line is a convenient weapon to have.
"It makes your job a little easier, sometimes you can gamble a little more," Bosh said. "Just the fact that I know I have good defense behind me, it gives me confidence to put that pressure on guys and make it tough."
Bosh also relies on the team's speed and athleticism in the open court. If the Heat are running in transition, it neutralizes the size advantage as lumbering centers trot up the floor.
"We try to wear guys down," Bosh said. "Of course, with all these great centers in the league, if you play at their pace and just let them body you up and walk you down and take you down and lull you to sleep, of course they're going to hurt you, but we want to make it tough on everybody."
Battier takes a different approach. While he was bruised up against Kris Humphries at times on Wednesday, Battier still looks forward to the challenge of playing against stronger foes.
But going against behemoths like Zach Randolph and Blake Griffin on this upcoming road trip is something that Battier embraces at this stage in his career. Battier feels like he still has the brains and requisite technical skills to make up for his size disadvantage.
"I'm undersized every night, but I like to think I'm quicker in the mind," Battier said. "If we're playing Jeopardy, I like my chances against any power forward in the league. Print that."