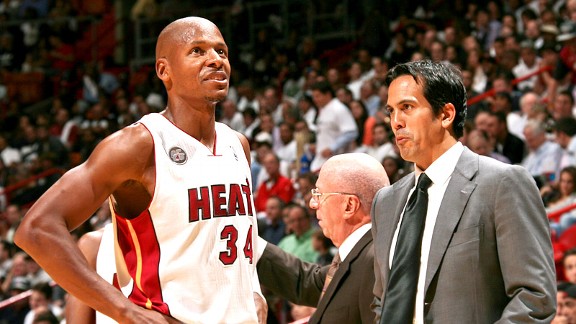 Issac Baldizon/Getty Images
How come Erik Spoelstra's defense has been so bad? Ray Allen might have a lot to do with it.
You have probably heard the Sesame Street sing-along, "One of these things is not like the others ..." That's what should ring through your head when you pull up the short list of the worst defensive teams in the NBA.
30. Cleveland Cavaliers
29. Detroit Pistons
28. Phoenix Suns
27. Portland Trail Blazers
26. Charlotte Bobcats
25. Miami Heat
(Cue vinyl record scratch sound.)
What do we make of this? A Pat Riley production directed by Erik Spoelstra ranks as one of the worst defensive teams in the world? One that features two premier defenders in LeBron James and Dwyane Wade? In what universe do the Sacramento Kings bottle up opponents better than the Miami Heat?
How is this possible?
Lots of fair questions. Let's get to the answers.
1. It is Nov. 14.
Welcome to qualifier season! Notice that every analyst seems to hedge their commentary with an "It's early, but ..." label these days? There's a reason for it: We simply don't know very much when we deal with small-sample-size theater.
So here are some facts. We are eight games into the Heat's season and they are ranked 25th in defense. Eight games into last season, do you know where the Oklahoma City Thunder's defense ranked? Twenty-fifth, the same place where the Heat currently stand. Take a guess where OKC's D finished at the end of the season. Yup, ninth. You know where the Boston Celtics' defense ranked eight games in last season? Eighteenth. They finished second.
So again, it's early. Eight games might seem like a healthy sample size, but just because it's all we have doesn't mean it's enough.
2. Don't blame the starting lineup.
Shane Battier is a commonly used scapegoat. He's the undersized 33-year-old who is now starting against power forwards like Zach Randolph, Blake Griffin and Josh Smith. Obviously that's a losing battle, right?
Wrong. The dirty little secret is that the Heat's starting lineup has been terrific defensively. According to NBA.com/stats, the starting lineup of Wade, James, Battier, Mario Chalmers and Chris Bosh has held opponents to 94.0 points per 100 possessions in 104 minutes of playing time. For reference, the Knicks lead the NBA in defensive efficiency at 93.6 points per 100 possessions. Moreover, as Couper Moorhead of HEAT.com pointed out recently, Battier has been scored on once in the 11 post-ups that he has defended.
The starting lineup has not been the problem. If we're going to diagnose the ills of the Heat's defense so far, you have to look at the bench. More specifically, you have to look at a certain Heat newcomer.
3. The Heat have fallen apart defensively with Ray Allen on the court.
When Allen has been on the floor this season, the Heat have surrendered 109.0 points per 100 possessions. When Allen's on the bench? 97.7 points per 100 possessions, or right about where they were last season.
An 11-point disparity is a signal to dig deeper. Why does the Heat's defense fall apart when Allen takes the floor? First, and probably most important, he's new. Acclimating himself with the Heat's system will take time (just ask Bosh or Battier).
Secondly, Allen will never be mistaken for Tony Allen out there as a stopper. It has spelled trouble when Allen is asked to keep up with point guards in the second unit (game film showing what Andre Miller did to Allen should be rated "R" for graphic content). All the small-sample-size caveats apply, but it's no surprise that Allen ranks 161st among 165 players in points allowed per play, according to Synergy Sports (min. 50 plays defended).
Lastly, Allen will fully admit that he's not healthy -- and may never be this season. When he's asked to stand in the corner and drain 3s, Allen is fantastic. When he's asked to move his feet laterally and stay in front of Ty Lawson, you're reminded that his ankle may not be anywhere near 100 percent yet.
But you can't pin the defensive on-court/off-court numbers entirely on Allen. That's not how defenses work. Opposing teams are shooting 41 percent from downtown and 52 percent inside the arc so far when Allen is on the floor. Those two numbers will probably regress toward the mean as the season goes on. Probably.
4. No room for Joel Anthony.
After being the Heat's full-time starter last season, Anthony has played a grand total of 20 minutes this season. The Heat's defensive specialist has basically been glued to the bench. Anthony, the team's leading shot-blocker and resident detonator of opponent pick-and-rolls, has battled hamstring issues from the preseason and hasn't been able to break into the Heat's rotation.
Spoelstra knows what he's getting from Anthony: suffocating defense that makes it seem like the opponent is playing 5-on-6, and pitiful offense that makes it seem like the Heat are playing 4-on-5. He has almost no post moves to speak of. Worse, his complete lack of dexterity on the move essentially renders him useless in the pick-and-roll with James and Wade.
With Chris Bosh starting at center and Udonis Haslem coming off the bench, there just isn't much room for Anthony in the Heat's new "pace-and-space" program. When Anthony lost his starting gig, he might have lost his place in the rotation as well.
5. Overcompensating for lack of size underneath.
It's no secret that opposing teams have put on 3-point contests against the Heat this season. In the Heat's two losses, they allowed 19 and 14 3s against the Knicks and Grizzlies respectively. And they watched the Rockets drill 12 3-pointers on Monday. If it weren't for James' Superman act down the stretch in Houston, they might have lost that one, too.
All in all, the Heat have not just allowed the third-highest 3-point percentage in the league; they've also surrendered the third-most 3-point attempts per game. If you watch the tape, you'll notice right away how teams are doing it: by whipping the ball around the court for jumpers to take advantage when the perimeter defenders like Wade and Allen collapse into the paint to help out Bosh and Battier underneath.
We can see this ball movement on film or in the numbers. According to Hoopdata.com, Heat opponents have assisted on a whopping 80 percent of their jumpers outside 16 feet, the third-highest such rate in the NBA. For comparison, only 61 percent of the Knicks' opponent jumpers are assisted on, and you can take a wild guess who has had the NBA's best defense so far. Ask any player, or just try it yourself: It's much harder to make a shot off the dribble than off a pass.
The Heat should be able to find a healthy balance between defending the perimeter and defending the paint. Spoelstra is a defensive-minded coach who has led the Heat to a top-five defensive ranking each of the previous two seasons. After that 9-8 start in 2009-10, we probably don't need to lecture Spoelstra about the virtue of patience this early in the season.
Or we could just ask Oklahoma City or Boston about it.