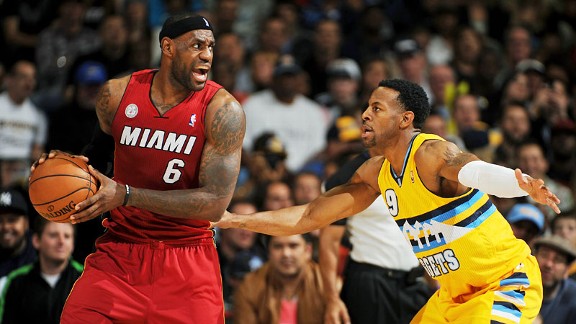 Garrett W. Ellwood/NBAE/Getty Images
LeBron James passed the ball in the clutch instead of taking the shot. But where's the screaming?
What has winning a title done for LeBron James?
Consider this: James passed the ball in crunch time Thursday night and there doesn't seem to be an ounce of outrage out there today.
Not a peep.
Not only did James not take a shot with the game in balance -- which would have been the macho thing to do -- but he passed it to Norris Cole, who had been shooting a frigid 2-for-11 in the game and is generally the last person on the Heat you'd expect to take the shot.
Why would the reigning MVP do such a thing?
Because Cole was wide open.
Here's what happened. With 56 seconds left, the Heat were up by only one point on the road in Denver. The Heat spread the floor and ran a high pick-and-roll with Chris Bosh. Shane Battier and Cole were in the corners, and Ray Allen was on the left wing. It was the simplest of sets that thrives on space and decision-making.
As expected, James used Bosh's screen and slowly probed his way into the paint with one objective: Wait until the defense collapses and then -- bam! -- hit the open man for a 3-pointer.
And collapse they did. Danilo Gallinari, Kenneth Faried and Andre Iguodala swarmed James as he sauntered into the lane, but the guy James exploited was Andre Miller. As Bosh rolled to the rim, Miller left Cole in the corner to rotate over and stop Bosh's transit.
That was all it took. Once Miller bit, James hit Cole with a cross-court pass, and Cole stuck the game-icing 3-pointer. There was no one within 15 feet of Cole.
To steal a line from Allen, who made the exact same game-winning shot on a feed from James against Denver a few weeks ago, "It was curtains." The Heat went up by four and won by five.
Hit the open man, that's what James had been taught at a young age. That's what all basketball players learn at a young age. But that's precisely what much of the basketball audience killed him for all these years. Yes, for following a fundamental basketball rule. Coward, many called him.
But, today, there doesn't seem to be any hand-wringing over his decision to pass.
Part of the silence comes from the fact that Cole hit the shot. If Cole's shot had rimmed out, maybe the bad result would have been interpreted as James' bad decision. That's what happened in Utah in March when he passed to Udonis Haslem and the Heat lost. (Just read the opening lines of this recap).
But now it seems we're finally ready to embrace James making the smart basketball play.
"This guy might be the most unselfish superstar we've ever had in the NBA."
Those were the words of TNT's Charles Barkley during halftime of Thursday night's game, before James passed off to a second-year player for the critical shot. In the past, Barkley's words might have been seen as a knock on James' game. Quit deferring! But now that he's won a championship, it comes off as it should, as the utmost compliment for a star.
This is what James does. He hits the open man, game on the line or not. If there's no open man, chances are he'll take it himself.
You can look at his clutch numbers this season and see for yourself. According to NBA.com/stats, James has played 20 minutes this season in standard clutch time -- when the game is within five points in the final five minutes. How has he done?
In those 20 minutes, James has tallied 18 points and six assists. Translated to a per 40-minute basis, James is averaging 36 points and 12 assists in the clutch. He has shot 62.5 percent (5-for-8) from the floor and 1-for-2 from downtown. He has shot 88.9 percent from the free throw line (8-for-9). He has turned the ball over two times and drawn a foul six times.
Gaudy numbers, but it's those assists that set James apart, as Barkley alluded to earlier in the night.
To put it another way, James' six assists in 20 minutes are as many as Chris Paul, Tony Parker and Deron Williams have combined in 44 minutes of clutch play. James has matched three elite point guards in less than half the time.
James' performance Thursday night comes on the heels of fascinating research from Heat.com's Couper Moorhead that showed that James might be the most clutch player in the NBA. Moorhead found that in the 369 minutes of clutch time that James has played with the Heat (regular season and playoffs), he leads the NBA with a player efficiency rating of 34.8. No one can top that. That's even better than his production in non-clutch situations.
This delicate balance between unstoppable and unselfish is what makes James so transcendent. He embodies the pick-your-poison dilemma for the defense. Do you send help to stop James, or do you risk him making the backbreaking clutch pass that so many stars would rather not make?
Until he won that elusive title, people screamed that passing off in crunch time was his Achilles' heel. When he deferred, it meant he was flawed.
But now?
The silence is deafening.