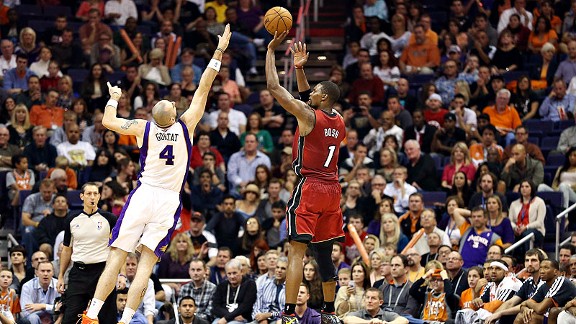 Christian Petersen/Getty Images
How has Chris Bosh become one of the NBA's most efficient centers? He plays chess with his jumper. MIAMI -- Most NBA players want to be the last guy to leave the gym, but there can only be one. For the Miami Heat, it's a revolving door. After most practices, you can find Shane Battier putting in extra time to work on his 3-point shot or Ray Allen at the free throw line, or LeBron James and Dwyane Wade working on post moves.
But typically the last-one-standing honor belongs to Chris Bosh. After the rest of his teammates leave for the showers, you can usually spot Bosh splashing 20-footers from the top of the key. There's a rhythmic feel to his routine. You can hear the flick of the wrist as he releases the shot, then the splat of his shoes hitting the hardwood and then the classic swish of the net. Flick, splat, swish. Over and over again.
Those are the syncopated sounds that probably keep opposing centers up at night. Bosh has been virtually automatic with his jumper this season. He's shooting a league-leading 67 percent from 16 to 23 feet, which is almost twice as efficient as the league average (38 percent), according to Hoopdata.com. If Bosh nestles inside the 3-point line by the right elbow for a shot, better start running the other way.
Or at least that's how it's been so far this season. Check out the shot chart below courtesy of Vorped.com.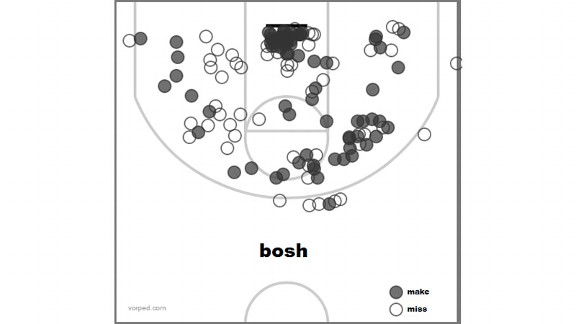 Vorped.com
This is all part of Bosh's plan.
Opposing centers aren't ready for his jump shot, or at least it seems that way. Bosh isn't your typical bruising center whose scoring ZIP code is constrained to the restricted area near the rim. Instead, Bosh habitually pulls the opposing 5 away from his comfort zone in the paint and dares the guy to play up on him. If his opponent cuts out his airspace, Bosh puts the ball on the deck and maneuvers around his typically slow-footed 7-foot defender. If the center plays off so he can protect against the dribble-drive, Bosh lets it fly.
This dual threat is the key to why he ranks in the top 10 in player efficiency rating among regulars this season.
"I like to play chess out there," Bosh said Monday. "It's all about the setup for the next thing. I'm always thinking 18 moves ahead."
Listen to Bosh talk about his game and you instantly get the sense that he's an intensely cerebral player. So it makes sense that he's calculating how he'll put his defender in checkmate, not just for one particular play but repeatedly. Spend some time shooting the jumper and then, once the defender catches on, drive to the rack.
"It all goes hand in hand," Bosh said. "My drive helps my shot; my shot helps my drive."
No other center can compete when it comes to his shot. Bosh has made more jumpers than any other center in the league. He has made more long 2s this season than midrange mavens Al Horford and Chris Kaman combined. In fact, Bosh has made more 16-to-23-footers than Kobe Bryant and Carmelo Anthony put together.
But that's not usually a healthy shot for an offense. There's a reason people think the midrange game is on life support -- it's the most inefficient shot in the game. But not for Bosh.
Bosh came into the season with two goals in mind on the offensive end: Make his sweet spots even sweeter, then establish the corner 3. If he continues at this rate, he can go ahead and cross off the first objective.
He has always been proficient from the midrange, but Erik Spoelstra thinks Bosh can be a 50 percent shooter there like Dirk Nowitzki, who has shot at least 50 percent from 16 to 23 feet the past two seasons. Bosh is well above that rate. You can tell Spoelstra has been going over this with Bosh; after Monday's practice, the coach rattled off Bosh's 42 percent conversion rate from the midrange last season off the top of his head.
And as for that second item on the to-do list, the corner 3, Bosh is patiently waiting to deploy it on a regular basis. As you can see in the above shot chart, Bosh has used it sparingly thus far.
"It's a secret weapon," Bosh said of his shot from the corner. "Once we start putting in some more sets where I can take advantage of the space, we can confuse the defense. But not yet."
Those who watched the playoffs closely know Bosh can hit that corner 3, but it takes a while for him to break it out of his arsenal. He made as many corner 3s in the postseason as he did in the regular season en route to a title. Spoelstra feels confident that Bosh can nail that shot with the same efficiency as his midrange jumper. A little-known fact is that the corner 3 stands 22 feet from the rim, which is 21 inches shorter than a 3-pointer from the top of the key.
As every opposing center the Heat have faced this season can attest, Bosh can nail the 22-footer with ease. Soon enough, you might be seeing him venture out to the corners, which would make it nearly impossible for opposing centers to protect the paint. Yet another chess move for Bosh.
For now, with 34-year-old Nowitzki sidelined, there might be a new king of the midrange. Bosh has been on another level with his jumper so far, and it has helped set him apart among the NBA's big men.
"I don't even think I'm in the zone, really," Bosh said. "You just shoot the J, man."