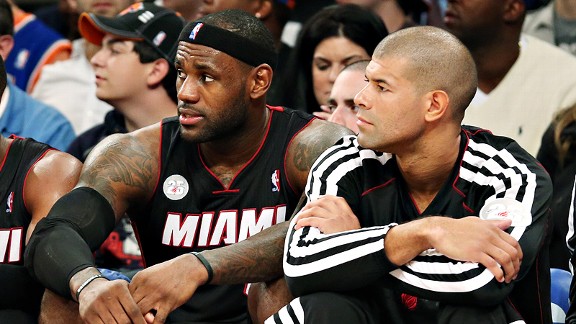 Anthony Gruppuso/US Presswire
If Shane Battier misses time for the Heat, the injury will mean more than you think.
In the third quarter of the Heat's win over the Cavaliers on Saturday, Udonis Haslem fell after taking a charge on Alonzo Gee and slid backward into Shane Battier's right leg. After the awkward collision, Battier reflexively collapsed to the floor, grabbing his right knee and twisting around in pain. Battier left the game and watched the Heat's rally from the locker room.
The Heat diagnosed the injury as a strained MCL and Battier announced on Twitter that he would "be back in a few."
A few days, a few games, a few weeks -- we don't know (Update: LeBron James said at Monday's practice that Battier would be out a few games). A Battier injury could prove to be a significant blow to the Heat's game plan. Because if the foundation of Erik Spoelstra's "pace-and-space" attack is built on James, then Battier is the glue (please pardon the cliché).
In order to fully embrace the Heat's "small-ball" philosophy -- or "speed-ball" as Spoelstra prefers to call it -- the team needed a stretch-4 who could space the floor and guard opposing power forwards, which would allow Chris Bosh to exploit opposing 5s and James to occupy the paint offensively. Stretch-4s come at a hefty price on the open market (see: Ryan Anderson's deal), and the Heat couldn't afford to bring in that kind of talent if they also wanted to bring in Ray Allen. So they manufactured one from within.
The corner 3 is arguably the most efficient shot on the court, and no one has made more of them than Battier this season, according to NBA.com's stats tool. Battier makes it all work. He creates critical spacing for the offense and saves James the arduous task of guarding opposing power forwards for a full 82-game season. If Battier misses time, the Heat's starting lineup won't be the only thing impacted; the team's style of play will be jeopardized as well.
If Battier is out for significant time, here are the Heat's three likely options to replace Battier in the lineup and why the choice could signal how wedded they are to the "pace-and-space" program.
1. The easiest transition: Rashard Lewis.
So far, the Heat have struck gold with the Lewis contract. After basically taking off the last two seasons, Lewis signed for the veteran minimum, which is the same deal that Eddy Curry signed with the Heat last season. Evidently, sometimes they work out, sometimes they don't.
Lewis isn't the player he once was, but he doesn't need to be for the Heat. If he can be Battier's understudy as a stretch-4 on this team, then the Heat should be thrilled. Thus far, Lewis has shot a scorching 53.6 percent from downtown, but his battered knees have made him a legitimate liability on defense. He struggles to stay in front of his opponent, and his post-up defense has been lacking (his early numbers on Synergy are horrid).
The Heat can probably get away with using Lewis as Battier's replacement in the starting lineup, but Lewis isn't healthy. After a recent bout of the flu, Lewis' conditioning will be questionable at best, and it's important to note that Battier averages about 10 minutes more per game than Lewis. If Lewis starts in Battier's place on Thursday, it would demonstrate how serious Spoelstra is about playing unconventional. Should Lewis get his wind back, it's probably the most likely choice.
2. The safest route: Udonis Haslem.
If you remember, when Bosh returned from his abdominal injury in the playoffs, Battier took Haslem's spot in the starting lineup. The Heat won five of their first six playoff games last season with Haslem starting next to James, Bosh, Mario Chalmers and Dwyane Wade, so the Heat know it can be a successful blueprint.
But starting Haslem would indicate a departure from the Heat's game plan. The talents of the Big Three could temporarily hide the fact that Haslem's jumper has been off for two seasons now. To put it in perspective, on a per-40 minute basis, Haslem shot 5.8 jumpers from 16-to-23 feet and made 48 percent of them before hurting his foot in 2010-11, according to Hoopdata.com. This season? He's down to 2.3 jumpers per 40 minutes and a 31 percent conversion rate. Translation: He's taking fewer and making fewer.
Haslem brings leadership, above-average rebounding chops and solid defense to the table, which could give him the upper-hand over Lewis. But ultimately, he is not a proxy for Battier in the least and Spoelstra will probably put a premium on continuity. Haslem is a lot of things, but a floor-spacer, he is not.
3. The square-one choice: Joel Anthony.
Putting Anthony back into the starting lineup would mean one thing and one thing only: Spoelstra desperately wants to fix the defense. The Heat's defense currently ranks 23rd in the NBA, which is embarrassingly low for the Heat organization that prides itself on that end of the floor. Anthony makes Haslem look like Steve Kerr out there and his complete lack of range compromises the Heat's attack, but he detonates opposing pick-and-rolls better than anybody on the Heat, and that's no small thing.
The good news is this: the Heat's defense becomes 3.7 points per 100 possessions stingier when Anthony has played this season. The bad news? The offense is 14.2 points worse every 100 possessions. Much of that is due to the reserves that he plays with, but Anthony has joined a long list of Heat centers of the Big Three era that went from starter to benchwarmer seemingly overnight. Following in the footsteps of Zydrunas Ilgauskas and Erick Dampier, Anthony has been nailed to the bench ever since his demotion in the playoffs and has essentially been reduced to an emergency defensive specialist.
To illustrate Miami's radical shift in philosophy this offseason, consider this: the Heat's most-used lineup by far last season featured Anthony as a starter, and it has played exactly once together so far this season. That only lasted three minutes. If Spoelstra chooses Anthony, he would effectively reset to a pre-championship edition of the Heat. Such a move might not sit well with Spoelstra. But neither does the 23rd ranking on defense.