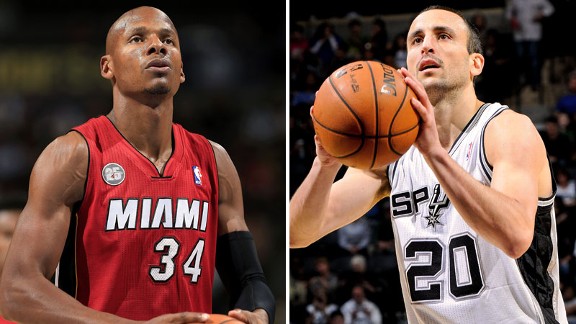 Getty Images
Ray Allen uses the same bench blueprint as Thursday's opponent, Manu Ginobili.
MIAMI – The sales pitch was as quick and effective as Ray Allen's release on that smooth spot-up jumper.
"We talked about it very briefly," Heat coach Erik Spoelstra recalled of the delicate conversation that shaped his team's summer and cemented its rotation plans entering the season. "He understood where we were coming from."
That discussion between Spoelstra and Allen took place two weeks after the Heat completed their run to a title and as they sprinted into free agency with hopes of swiping the NBA's career 3-point shooting leader away from Boston.
On the surface, the odds seemed stacked against Miami in its pursuit. The Heat had significantly less money to offer, lacked the emotional ties and relationship with Allen and, with Dwyane Wade entrenched, wouldn't dare flirt with the possibility of floating a potential starting job at guard.
So Spoelstra entered his meeting with Allen hoping to find the best way to quickly get on the same page with Allen regarding the sacrifices needed to make this union work.
Fortunately, Allen was already a chapter ahead.
"It never bothered me," Allen said, reflecting on his decision to come to Miami to accept a full-time reserve role for the first time in his 16-year career. "The way I always looked at it … it's mostly an ego thing if you don't want to come off the bench. What's the big deal?"
It was that kind of attitude that sealed the deal.
Allen has made a seamless and productive transition into his new role as Miami's sixth man. On Thursday night, he'll face another highly-accomplished veteran who has thrived in a similar role off the bench when Manu Ginobili and the streaking San Antonio Spurs visit AmericanAirlines Arena.
Allen and Ginobili anchor what appears to be a resurgence of former starters or starting-caliber players who are thriving this season as key reserves on contending teams. Ginobili, of course, has been going strong off the bench for a decade long although he's had brief stints as a starter.
Ginobili, the league's sixth man of the year in 2008, led the Spurs to their fifth straight win – and eighth in a row on the road – with 20 points, five assists and four rebounds against the Orlando Magic on Wednesday. Allen is also coming off an impressive outing in which he scored 15 of his 17 points in the fourth quarter – including the go-ahead 3-pointer in the final seconds – in a win over Cleveland to improve the Heat's franchise-best start to 6-0 at home.
Spoelstra said Ginobili's approach in San Antonio under coach Gregg Popovich and the manner in which Allen has embraced change in Miami should serve as examples of how teams benefit collectively when individuals sacrifice.
"You know what we've done here, in terms of getting guys to sacrifice and check their egos?" Spoelstra said. "The Spurs have been doing this for over a decade. It's the blueprint. Not many players are willing to do it. Ginobili is a Hall of Famer, easily. We all know he probably could have been a starter his entire career, but he's willing to come off the bench. Stephen Jackson goes there knowing he's going to be coming off the bench."
That level of willingness decreases the coaching burden.
"Pop is able to coach games, whatever he thinks is best for the team," Spoelstra continued. "That may be changing starting lineups from game to game for whatever you have to have, and guys don't get all bent out of shape. If it were only about winning basketball games, it's amazing what you can actually get accomplished."
With a bench that includes Allen, Udonis Haslem, Mike Miller and Rashard Lewis, the Heat are stocked with reserves who willingly took less money and accepted reduced roles despite being starters or key contributors throughout their careers. But Spoelstra still makes it a priority to ensure that the overall message doesn't get lost.
Pride sometimes makes egos difficult to keep in check.
"It sounds great on paper until you actually have to sacrifice and your role changes," Spoelstra said. "More teams could probably have more success if guys could check their egos at the door and just do what's best for the team. And that's probably one of the greatest challenges in this league. It's something we continually have to communicate with our group, yet our group has been willing to sacrifice and change their roles, which is probably one of the most untold stories in pro sports."
Wade sees more players willing to buy into reserve roles, particularly on better teams that are willing to spend money and prioritize the role of a sixth man. Boston's Jason Terry, Los Angeles Clippers' Jamal Crawford, New York's J.R. Smith and Oklahoma City's Kevin Martin have all relished in the reserve role.
Just call it the Ginobili-inspired, Allen effect. Wade said it's obvious that when certain reserves enter the game, it completely changes their team's energy level, which provides an immediate impact.
"And that right there feeds your ego enough, where you don't have to worry about being in the starting lineup," Wade said. "If you want to play on a good team – many players want to become part of something special and play on a good team – then that role is going to be there for you. If you want your minutes and want to be the man, then that's out there for you as well. It depends on your decision. If you make the decision to come to a team that has a lot of pieces, it's a big option to come off the bench, and you've got to be willing to accept that."
Although there were whispers in Boston that Allen didn't like the idea of coming off the bench when the move was made late last season, he insists it was never a key factor in his decision to part ways with the Celtics and join the Heat.
Allen enters Thursday's game averaging 12.8 points, 3.2 rebounds and 2.2 assists while shooting 52.9 percent from 3-point range. He's playing just under 27 minutes per game, but has been a mainstay in the Heat's closing lineup.
Allen comes off the bench early in games. But he's certainly not occupying a seat when games are on the line.
Still, the toughest part of his new role has less to do with actually making the adjustment himself. The challenge comes in convincing relatives and friends that he's fine with it – and that they should embrace the role, too.
"A lot of times, you deal with people around you who are like, 'Come on man, you're too good to be coming off the bench.'" Allen said. "You've got people that won't let you let it go. You just have to be right with yourself and be happy knowing you're on a good team that can win, and you know you're going to contribute. You also have to remember that the compliment is in the five that finish."