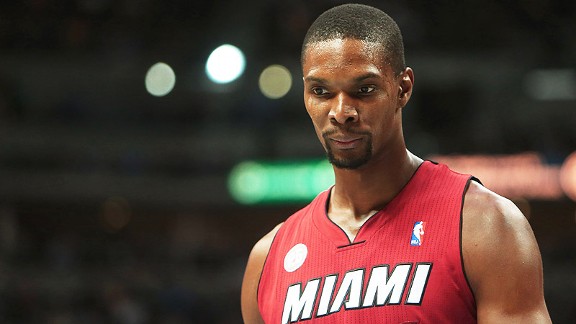 Chris Humphreys-USA TODAY Sports
Chris Bosh thinks the Heat are playing too up-tempo. Is he onto something?
MIAMI -- For the first time this season, the Heat don't appear to be all on the same page.
Up to this point in the season, the Heat have kept their cool and downplayed any worries following a loss. After all, they have one of the best records in the NBA and are still considered a strong favorite to get back to the Finals and defend their championship. Why be worried here in December?
But a 20-point loss at home against a Melo-less Knicks on national television exposed the Heat's Achilles' heel this season: They can't stop anybody. They have the 23rd-ranked defense in the league and for the first time this season, a player has voiced a concern over their playing style, not just their disappointing performance to date.
Chris Bosh, usually the most candid of the Heat's stars, stood at his locker and explained why he thinks the Heat have struggled to dominate on both ends of the floor like they have in the past. His take? Maybe they've taken Erik Spoelstra's "pace-and-space" system too far.
"It's a lot of possessions," Bosh said. "We should really slow down some and really put pressure on teams. I think sometimes we get into this place where we try to force things by trying to play too fast. Sometimes it is good, but it has to be a balance."
The Heat currently rank 11th in pace factor, which is a estimated measure of how many possessions a team uses per game. In the past two offseasons, Spoelstra vowed to step on the gas and run more while spreading the floor and taking advantage of their athleticism to compensate for their size. It's not small-ball, it's speed-ball, as Spoelstra calls it. The more possessions, the better.
Bosh, however, isn't feeling that way.
"I think we had a lot of success when we were just taking our time," Bosh said. "We don't have to put it in our heads to just go. We're a good team, we can pick you apart, whatever way you want it. If you want to play half court, we can play half court. If you want to play full court, we can play that, too. But we haven't been in situations -- I don't even recall any this year -- where we were just like, 'Boy this is a slugfest out there, this is a heavyweight bout.'"
Usually, Pat Riley-governed teams have played at a crawl after the Showtime era, and the hallmark of the system was their grind-it-out defense anchored by a traditional center. A slugfest, as Bosh says. It's been a debate we've had here for years: With the Heat's star personnel, should they slow it up or make it a track meet? After winning the title by going small, the Heat have apparently gone all-in on speed and rank 11th in pace after being tied for 14th last season and 21st in the opening season of the Big Three.
But it appears that the acceleration may have caused the Heat to spin their wheels here in the early going. At least that's Bosh's diagnosis. Opponents continually put up big scoring numbers: The Heat have given up at least 100 points in 11 of the team's 17 games so far. It took 42 games last season for the Heat to give up that many games over the century mark and 44 games in the season before that.
And a lot of it can be attributed to their fast-paced system that leads to more possessions and more scoring opportunities. But even after controlling for pace, the Heat's defense has never been worse. Or at least not on record.
According to the NBA.com stats tool, the Heat's ranking of 23rd in defensive efficiency after 17 games is their worst since they started keeping track in 1996-97. They have given up 104 points per 100 possessions after 17 games, topping the Heat's previous worst mark of 102.7 in 2006-07.
Yes, that was also a post-title season. Coincidence? Perhaps.
When asked about Bosh's assertion that pace might have something to do with their struggles, LeBron James wasn't so sure that there was a connection.
"Pace has nothing to do with us getting smashed," James said. "If we play fast, we have to get back and communicate defensively. Slow the pace up? I don't know, we'll play whatever type of game. We'll be fine."
It seemed James could talk all day about the communication issues on Thursday night. The Heat curiously decided to switch on everything defensively early on in Thursday's drubbing, rather than stick to their rotation principles that have helped guide them to a top five defensive ranking the past two seasons. Without proper communication, those switches backfired.
Noted numbers guy Shane Battier agrees with James that the lapse on defense doesn't have much to do with the possession count, but rather something upstairs.
"I don't think our pace is the issue; I think we just have to play better on the defensive end," Battier said. "We had so many mental breakdowns, I don't think it's physical."
And the switching led to many of those breakdowns.
"The thought process behind it was to stay out of rotations by switching, but somehow we somehow found a way to rotate with a switching defense which is tough to do," Battier said. "We haven't put it all together, but I'm buying low on our defense."
That may be smart, considering there's not much personnel turnover from last season. But it's instructive that the Heat, once a defensive powerhouse, don't have the confidence in their defensive principles to stay true to their system against the Melo-less Knicks team. But that was one game, and they got burned. Right now, the Heat don't seem to have much going for it defensively, regardless of whether they stick to their principles.
Whether the falloff stems from the high-octane pace is unclear. It might be the case that stepping on the gas might not be the easiest thing to accomplish after winning a title. The championship hangover effect will be talked about ad nauseam, and it's hard to discredit those concerns after watching the defense get slaughtered on a nightly basis.
But it's possible to win with an up-tempo style. Though title teams tend to play slower than your average team, the 2008-09 Lakers won it all while playing at the fifth-highest pace in the league. The current Spurs might play up-tempo, but they played at a snail's pace during their banner-raising seasons. You can count Michael Jordan's Bulls in that group as well.
Will Spoelstra continue emphasizing the pace portion of his pace-and-space system, or will he revert back to their older, more deliberate playing style? Owning one of the league's top records isn't the strongest signal that an overhaul needs to take place. One thing's for sure: Something needs to change. Here in December, it could just be as simple as the level of effort.