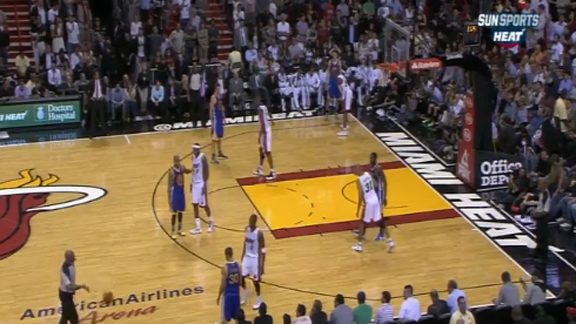 FS Sun Sports
Golden State Warriors at Miami Heat, 11.4 seconds remaining in the fourth quarter, the score 95-95.
The cast for Golden State: Jarrett Jack (2), Stephen Curry (30), Klay Thompson (11), Draymond Green (23) and David Lee (10).
The cast for Miami: Ray Allen (34), Dwyane Wade (3), LeBron James (6), Shane Battier (31) and Chris Bosh (1).
Green made Golden State's game-winning layup with 0.9 seconds left after Miami's defensive breakdown.
Here's how it happened ... in their own words.
Heat coach Erik Spoelstra: "You have to give the Golden State Warriors a lot of credit for this. That's some poise, poise more of a veteran team."
Draymond Green: "Coach didn't point out who's specifically taking the shot. He said we're going to go out here, we're going to find who's open and we're going to make the best play and put the ball in Jarrett Jack's hands."
Warriors coach Mark Jackson: "I saw how they were defending Stephen Curry and Klay Thompson and they were concerned coming off screens, and I wanted to make sure we took the last shot."
FS Sun Sports
Spoelstra: "We broke up probably the first two or three triggers and their guys just kept on running, coming off screens and looking for daylight. It was a clever, clever action to do that at the end of the possession."
Jackson: "I give Jarrett Jack a lot of credit, he nursed it, milked it."
Ray Allen: "It was what we've been doing all game. Klay [Thompson] came off their big man and we typically always show. But he didn't pass the ball."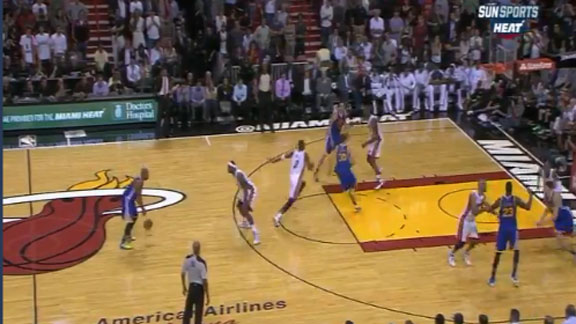 FS Sun Sports
LeBron James: "I saw Jarrett Jack handling the ball, that's all I saw. I was guarding the ball."
Dwyane Wade: "I was chasing Stephen Curry and making sure he didn't touch it."
Jack: "They helped a little bit too hard on Klay [Thompson], and Draymond [Green] was able to set the screen. Something that we've been talking about all week, because we know they're a big-time show team."
Thompson: "I felt [Shane] Battier come with me, and Draymond [Green] did a great job making himself available.
Allen: "The ball came from the point guard spot, so he never threw it to Thompson. Shane made a read but we, as a team, didn't make up for that mishap. We just have to have each others' backs down the stretch. Typically, what we've been doing all game, there's always weak-side help [from Bosh]. They occupied that weak side and nobody saw. We've got to be better."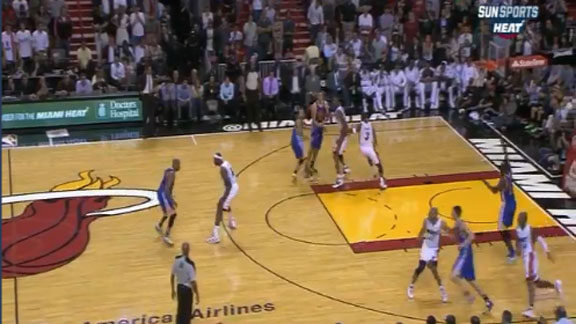 FS Sun Sports
Battier: "I showed too much too early. A second too early. That's what happens when you show too early."
Spoelstra: "We were trying to help on that and it was a little bit early on the help."
Battier: "If the ball goes to the wing, the strong side and the weak side are established, and then that's when [Bosh] is supposed to be there -- that's our scheme. Problem was, the pass wasn't made yet. When the ball is in the middle of the floor, [Bosh] isn't supposed to be there. That's where the error lies: It was my responsibility, I got anxious."
Chris Bosh: "There was a bunch of action and then … the lob."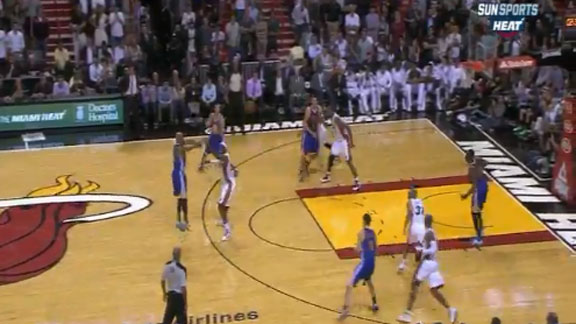 FS Sun Sports
Spoelstra: "Green slipped to the rim and got wide open."
Green: "Of course, guys are going to go with Klay [Thompson] and Steph [Curry]. I just happened to be wide open, and he found me."
James: "I turned around and he threw it."
Jack: "I saw him down low. He did the hard part making the basket."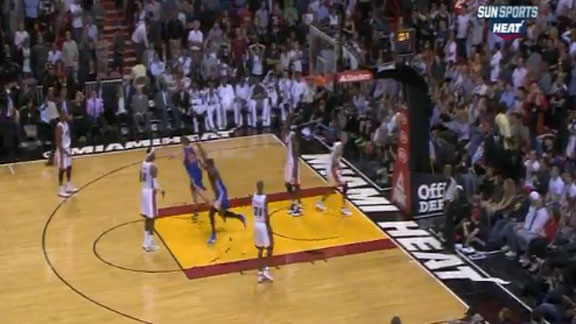 FS Sun Sports
Battier: "I got anxious and they made a nicer play. They burned us for my overanxious play."
Wade: "Obviously, it was a defensive break down that we can't have as a veteran team, but they made a basketball play and got a layup. I didn't want them to get a layup. You were ready for somebody to hit a bomb, but it's gonna hurt either way. We had a defensive break down as a group but we have to learn from it. It's never good to lose, but it's good that those things happen early in the season and you can learn from it and not make the same mistake again."
James: "We played a great basketball game, they just so happened to make one more play than us."
Jackson: "There's something about this team that refuses to quit. It is incredible what is taking place. … I am extremely humbled to coach this basketball team."
---
Watch the play on video in its entirety here.