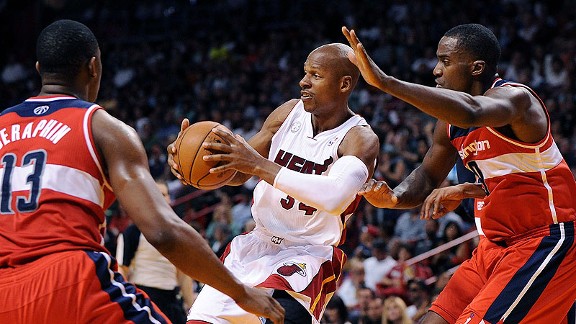 Steve Mitchell/US Presswire
Ray Allen managed 20 points for the first time since November, part of a big night for the Heat bench.MIAMI – The NBA's official schedule showed the Washington Wizards were next up on the Miami Heat's itinerary for Sunday's game at AmericanAirlines Arena.
But for all intents and purposes, it turned out to be what's known around the league as a "treatment day" for the Heat.
Those are days that typically follow grueling overtime losses, back-to-back sets or stretches of four games in five nights. They're so-called "off" days when balls don't bounce in the gym, but there's plenty of action in the training room. These days are written on the dry-erase board in NBA locker rooms after games to notify players that the following day will be set aside to heal wounds, to massage aches, to get bodies and minds realigned.
Considering the recent struggles of the cast around LeBron James and Dwyane Wade, every second of Sunday's 99-71 win over the lowly Wizards was therapeutic for the Heat.
Now, the Heat can pack with their luggage a confidence-boosting effort from their role players when they head west Monday for a six-game road trip that carries the defending champs from Indiana to Los Angeles over the next 11 days.
Capitalizing on the perfect parting gift -- the now 4-28 Wizards -- Miami was able to fine tune several areas after entering Sunday having lost three of its previous five. Among the major priorities for the Heat was to get some much-needed relief for ailing catalyst LeBron James, who has seen his minutes pile up recently despite battling through knee and shoulder soreness in recent weeks.
James had 24 points and seven assists in just under 35 minutes against the Wizards, which made Sunday seem like a night off compared to the previous seven games when he averaged more than 40 minutes.
But what James got Sunday was plenty of rest in the fourth quarter as the Heat used a 21-0 run to close the game and finally put away the pesky Wizards. More importantly, he got the kind of help that's been far too infrequent. The Heat's Big Three of James, Dwyane Wade and Chris Bosh were boosted by three key role players who had been struggling.
A Miami team that's one of the worst in the league in rebounding saw Udonis Haslem step up and snag a game-high 12 rebounds. The Heat finished with 50 rebounds Sunday, marking only the third time this season they've reached at least that amount. Miami also outrebounded the Wizards by 11, which was only the third time this season it has outrebounded an opponent by double figures.
That performance comes on the heels of Friday's loss to Chicago when the Heat lost the rebounding battle by 20.
"This was good for everybody," Haslem said. "Just being relentless. That's what rebounding is all about. Sometimes, we had gotten away from that. But we stick together in good times and bad times. And everybody is involved."
Beyond Haslem's boost on the boards was exceptional bench support. Ray Allen delivered his first 20-point game off the bench Sunday since late November by knocking down eight of his 12 shots. With Mike Miller scoring 13 against the Wizards, it was the first time in nine games that the Heat had two double-figure scorers off the bench.
That production was more than enough on a night when Wade had two points in the first half and finished with 20.
Again, it was against the Wizards.
But it was welcomed.
"It's good for our team -- we needed it," James said. "We need all, everyone to contribute. We're going to need everything from everyone, especially coming up on this road trip. We're going to need a lot of guys to step up."
Perhaps no one stepped up more than Bosh, who has borne the bulk of the blame for Miami's rebounding woes this season. After finishing with a total of 13 boards the past three games, Bosh had 17 points, nine rebounds and four blocks against Washington. Bosh insists the criticism of his sporadic production on the boards doesn't bother him.
But he also declared Sunday he'll start to keep count in his head during games of each rebound he gets to make sure he emerges with a suitable number. He was sort of joking.
"That's nine tonight," Bosh yelled through a smile in the locker room. "Five last game. Nine tonight. I've got to get at least nine more next game. Maybe even 10."
Bosh then turned serious when he talked about the Heat's need to continue to play with the depth they showed Sunday. Nine players got between 18 and 35 minutes of action in coach Erik Spoelstra's rotation. The Heat used 10 players in the first half when the game was still close.
Wade agreed with Bosh and suggested Spoelstra needs to do more of the same by extending the rotation as the Heat hit the road, where they're just 7-6 this season.
"We have to do a better job of putting them in position to succeed," Wade said particularly of Haslem, Miller and Allen. "That's something we can talk about, how we came make sure when they're on the floor that they get better opportunities. They're going to be key. I was happy to see [Haslem] get extended minutes and be able to rebound the ball the way he's been able to do his whole life."
Spoelstra said he's not opposed to playing more than the typical seven or eight who are in the rotation most nights, although those seven or eight change from night to night.
"They sparked us," Spoelstra said of his bench. "We had a lead and they built on that lead. When they do that, we'll reward them with more minutes. But it's good to see them play well, play connected and gain some confidence."
Sunday was scheduled to provide a struggling defending champion a needed confidence boost. That, in essence, is what games against the Wizards are for these days.
"We feel like we're building something," Allen said.
That progress should continue for the Heat.
Especially if they can fit that growing confidence into the overhead compartment on the team plane headed west.