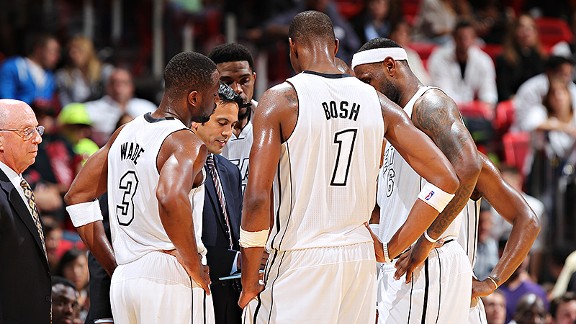 Joe Murphy/NBAE/Getty Images
Erik Spoelstra hasn't been thrilled with Miami's energy this season, but not where you might think.MIAMI -- For the past few weeks, Heat coach Erik Spoelstra has listened to the mass hysteria about the Heat's rebounding issues and responded with a coy reference to the team's level of energy and focus.
The interesting thing is that may not be specifically talking about Miami's energy and focus in the rebounding department. No, the coach may be targeting something else.
After being pressed about the Heat's rebounding issues at Tuesday's practice, Spoelstra finally hinted at what has really been bugging him about his team's effort this season.
And it's not all about rebounding.
"There are more important factors for us," Spoelstra said of the rebounding. "It's the storyline that is very popular out there, and that's fine; I don't really care. I know what helps us win and what really doesn't help us win."
What's more important than rebounding in Spoelstra's eyes?
"If we force turnovers and win the turnover game," he said, "that's the most important thing."
This might smell like a smoke screen to divert the attention away from the Heat's Achilles' heel on the glass, but when you look at the Heat's performance this season, you begin to see why Spoelstra isn't all that worked up about the lack of rebounds. And here's why:
The turnover margin has mattered far more than the rebound margin. The former correlates far more strongly with the Heat's wins and losses than the latter.
When Spoelstra was alerted of this statistical finding, he cracked a smile and raised his index finger up against his closed mouth. Keep that secret under wraps, he motioned.
Too late.
There's no denying the fact that the Heat have rebounded far worse this season than last. Miami's rank in rebounding percentage (a team's percentage of available rebounds collected) has plummeted from 6th to 26th from last season to this season.
That's an enormous drop-off and has understandably struck a chord with the national audience. The Heat have gone small this season with Chris Bosh at center, and the lack of rebounds has been a tidy explanation for the Heat's underwhelming first half of the season.
But here's the thing: The Heat have proved that they can win while getting obliterated on the boards.
Take for instance, the time they beat Minnesota by double digits despite being outrebounded 53 to 24. Or the time that the Heat topped the Nuggets in Denver for the first time in more than a decade even though the Nuggets pulled down 19 more rebounds than the visiting Heat. Then there's the Orlando Magic game when the Heat won on the road despite hauling only four more rebounds than Nikola Vucevic, losing the rebounding battle by 17.
The Heat are 8-3 this season when they get outrebounded by at least five boards, a win percentage that is actually better than their record overall.
To be clear, two things are going on here. One, traditional rebounding margin does a poor job of measuring rebounding accurately because it is skewed toward which team makes or misses shots. However, even if we correct that by using rebounding percentage, the relationship between the Heat's record and rebounding is weak. But more importantly, when tuned in, the Heat have compensated for their rebounding woes by suffocating the opponent defensively.
After winning the championship with the undersized Shane Battier at nominal power forward and Bosh at center, the Heat made a calculated decision to go with speed rather than size. The reasoning is simple: When LeBron James and Dwyane Wade get out in the open court, the Heat are lethal. Pat Riley and Spoelstra's big gamble was that they can give up some rebounds as long as they reel off a ton of additional fast-break opportunities.
But only until recently, that wasn't happening. After a loss against the Utah Jazz, the Heat fell outside the top 10 in opponent turnover rate (11th), which is considerably down from their third-best ranking last season, according to NBA.com data. Against Utah, Spoelstra benched Wade and Bosh in the fourth quarter and chose to go with a more active defense anchored by Joel Anthony.
The message was sent apparently. In the following game against Golden State on Wednesday, Miami got back to what Spoelstra refers to the team's identity: swarming the opponent on defense. The blood was in the water when Stephen Curry sat out with a bum ankle, and the Heat took advantage, causing 21 turnovers, which tied a season high. Fittingly, the Heat won by 17 while getting outrebounded.
Two days later against the giant Lakers' front line, the Heat caused another 20 turnovers and won by nine points despite being outrebounded by Los Angeles (42-35).
See a trend? Spoelstra does. According to Basketball-Reference.com, the Heat are 15-2 when they cause at least 15 turnovers and 11-10 when they don't. But in the seven games in which the Heat cough up the ball at least five times more than their opponent, they are a woeful 3-4.
Evidently, when focused and energized, the Heat have shown they can win with speed against size.
"We're trying to make other teams compensate for us," Spoelstra said. "That's a totally different mentality. We're not giving up something because of X, Y, Z. We're trying to go after something and put pressure on other teams because of X, Y, Z -- our athleticism, our intelligence and our versatility."
It's true that the Heat recently signed Chris Andersen off the waiver wire, which indicates that they would like to buffer their rebounding and shot blocking, even if it means grabbing a guy who hasn't played in nine months. Even so, Andersen is not likely to be a big part of the rotation, barring an injury in the Heat's frontcourt.
In the end, people will generally focus on the rebounds because it fits neatly with the narrative that the Heat are too small. Bosh has been an easy target, but his rebounding has barely changed since last season when accounting for his decreased minutes. Mostly, the Heat have shown those concerns are overblown and a bit off target.
Ahead of Wednesday's game against the Raptors, Battier summed up Miami's situation succinctly when asked whether turnovers or rebounding is more important to Miami's success.
"Raw rebounds are a misleading stat," Battier said. "For us, turnovers are pretty much everything."