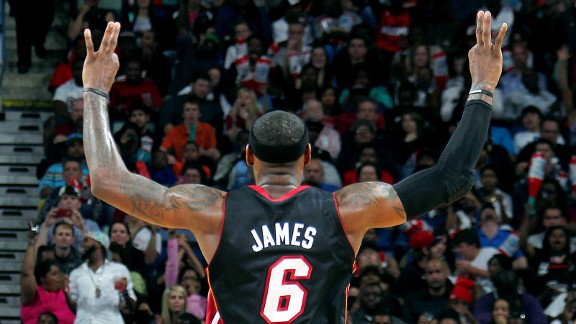 Layne Murdoch Jr./NBAE/Getty Images
LeBron James drained six 3-pointers over a five-and-a-half minute span in New Orleans.
NEW ORLEANS -- Two hours prior to the Miami Heat's tipoff against the New Orleans Hornets, Pat Riley issued a scathing response to Danny Ainge, who on Thursday said it was "embarrassing" for LeBron James to take issue with NBA officiating.
James offered an answer of his own once the game was underway. In a span of five and a half minutes that straddled the first and second quarters, James splashed six 3-pointers, drained a couple of 2-point jumpers and converted a free throw. The overall tally for James over 10 possessions was 23 points, as the Heat built an insurmountable lead en route to a 108-89 win over the Hornets.
"When you're having one of those nights, you just try to keep it going," James said. "Guys like myself and [Dwyane Wade] -- we make a couple of 3s, then we kind of see if it's the hot hand. If it's one of those [games], I just keep it going."
For his part, Wade treated James' first-half exploits as if his teammate were pitching a perfect game. There was no chatter during timeout huddles nor any acknowledgment that James was living in the basketball stratosphere.
"I was glad I was on the bench, so I could watch the show," Wade said. "When a guy's hitting like that, you don't want to say much to him. In a sense, you don't know what to do. You don't know if you should leave him alone, dap him up. I don't know. I just stayed away from him."
James ultimately finished with 36 points on 13-for-20 shooting from the field (7-for-10 from beyond the arc), to go along with six assists and four rebounds. His first-half outburst turned a sleepy New Orleans crowd solidly to his favor. After the fifth of his six 3-point shots, James encouraged the audience during a timeout to turn up the volume with a wave of his arm.
"I was just showing my appreciation," James said. "It's an unbelievable feeling to hear boos or hear whatever before the game or when your name is announced, and then you're able to turn an opposing crowd almost like a home game."
After he finished off his explosion in the second quarter, James took a breather before returning a few minutes before halftime. Once back on the court, James smoothly transitioned from cold-blooded scorer to crafty facilitator for the remainder of the game, setting up both Wade and Chris Bosh with lobs at the rim.
"It's maturity that he didn't feel the need to come in there and heat check again, but rather play the game the right way," Heat coach Erik Spoelstra said. "Even in the huddle after he went on that barrage -- that's when we got into the penalty. He was reminding everybody, 'Hey, we're in the penalty. Keep attacking. Let's get to the free-throw line.'"
James wasn't exclusively a distributor, though. His last shot, fittingly enough, was a 3-pointer on the Heat's final possession of the third quarter. With the Heat sitting on a 21-point lead heading into the final frame, James did not play in the fourth quarter.
For the first time in weeks, there was no talk of a winning streak, or the potential to make history. Even as they piled up wins in bundles, the Heat had establish an uneasy pattern of starting games slowly, something they were eager to correct, whether in the midst of a streak or not.
On Friday night, the Heat foundered in the opening minutes, racking five quick turnovers, before settling in. They built a permanent double-digit lead during the opening possession of the second quarter, when James dropped bomb No. 4 from long range, despite a close contest by the Hornets' Darius Miller. Any fear of a post-streak letdown quickly melted away.
"I thought we came out with the right mentality," Wade said. "It was a very professional way to approach the game. After winning 27 straight, then losing one, it would've been easy to come out and lay an egg, but I thought we came out with great energy."
The extent to which Riley's pregame statement fueled James' performance is speculative, a fun premise but probably more symbolic than anything else. James rarely needs an outside influence to deliver a virtuoso performance, though he did confess that the conversation since Wednesday surrounding his comments was a source of motivation.
"Absolutely," James said. "I'm just going to continue to be who I am on the floor, who I am off the floor. At the end of the day I'm here to win games and to put our team in a position to win another championship."
Riley's pointed, profane words for rival exec Ainge were an unusual move for an organization that fashions itself as a button-up outfit inured to outside noise. But in a certain sense, Riley's barb was an announcement to the rest of the NBA that the Heat are in a supremely confident place. They'll render their own judgments, thank you.