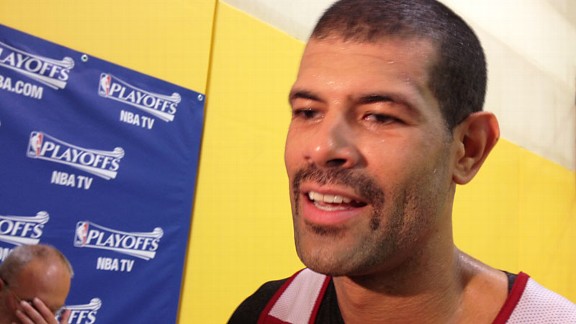 Tom Haberstroh/ESPN.com
Shane Battier's new look.MIAMI -- How do we know that the Miami Heat are bored?
Just look at the above photo of Shane Battier, which was taken after Miami's practice Wednesday.
"I don't know what this is, to be honest with you," Battier said after Heat practice. "This is how I pass the time in the lulls of a playoff bye week."
Welcome to Day 3 of the Heat's seven-day layoff before they meet their next opponent for the Eastern Conference semifinals. The league office announced Tuesday evening that the Heat would play the winner of the Nets-Bulls series on Monday, regardless of when the series concludes.
"That's what happens when you've got a layoff when you aren't playing -- dudes get bored," Chris Bosh said.
Needless to say, a team that has gone 41-2 over its last 43 games is having a little fun with the time off.
Battier had grown a beard recently after needing four stitches in his chin after slamming it on the hardwood in Game 2 last Tuesday and vowed he wouldn't shave until he had his stitches removed. No one expected this -- whatever it is.
LeBron James referred to it as "the Hulk Hogan."
"The look that Dwyane Wade gave me was worth it all," Battier said. "He didn't know what the heck I was thinking. I think he was embarrassed for me, which is good because he needs to be a little more embarrassed sometimes."
Unfortunately, Wade wasn't available for public comment Wednesday, not because he was laughing too hard but because he sat out practice to nurse a bruised knee that held him out of the Game 4 clincher in Milwaukee. Wade has made progress, coach Erik Spoelstra said, but the team wanted him to get some more rest.
He'll get plenty ahead of Game 1, in which he's expected to play. Though Wade would receive some much-needed recovery time, the Heat weren't thrilled with the league's announcement that they would have to wait until Monday for their next game.
"I didn't like it, honestly," James said. "I really don't like a lot of rest. I like to play either every 48 hours or 72 hours. So it's difficult, but it is what it is."
The scouting department underneath the practice court has been preparing reports on both the Nets and the Bulls, but the Heat won't know who they're playing until Thursday night at the earliest.
How do you hold practice without even knowing the next opponent?
You run. A lot.
The Heat's top priority these days is to keep their conditioning at a playoff level, which meant rounds of five-on-five scrimmages and tedious running drills to stay in playing shape.
"Everybody's anxious and ready to play, but we have to focus on the moment and that's right now," Spoelstra said. "We were able to hit and get after it [Wednesday]. Without being specific about our opponent, we can always work on our game."
Spoelstra, in typical coach fashion, dismissed the idea that the extended layoff would lead to rust.
"This is what we're dealing with," he said. "So what? That's what the playoffs are all about. You deal with whatever's handed to you."
While other playoff teams are battling for their season, the Heat had a little fun after Wednesday's practice. Aside from Battier's new facial hair, the trio of James, Bosh and Ray Allen held a 3-point shooting competition in front of a seated audience of two: Spoelstra and Heat president Pat Riley.
James won the competition, which meant that Allen, who finished third, and Bosh, who finished second, would have to do 30 and 20 push-ups, respectively. Riley, lounging with his legs extended and crossed at the ankles, could only laugh as he watched Allen and Bosh pay their dues in front of James.
Spoelstra has already given the Heat players the day off on Thursday. The Bulls hold a 3-2 series lead and play Thursday night at home in Chicago.
When the Heat gather for practice Friday, Battier said the "Fu Manchu" mustache may be gone already. And it may not be his call, or his wife's.
"Riley's going to step in at some point and say 'OK, enough of this charade,'" Battier joked.
When it was pointed out that Riley sported a similar handlebar mustache back in the day, Battier suddenly grew hopeful that this wasn't a one-day experiment.
"Maybe he appreciates it."
Just another day in the life of the defending champs.