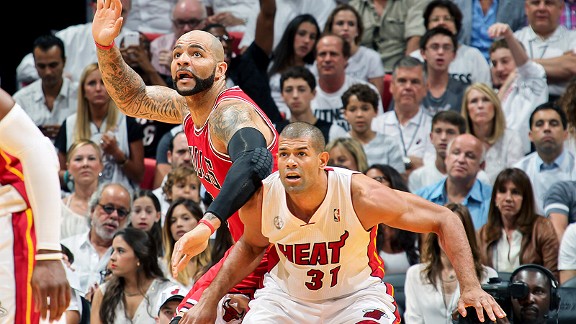 Issac Baldizon/Getty Images
Neutralizing Carlos Boozer is one of the many subtle "plus plays" from Shane Battier so far.
MIAMI – Every so often you'll glance at the official box score after a game and see a number that is so extreme that you'll feel the urge to report it as an error. After Game 2 between the Miami Heat and the Chicago Bulls, there was one of these such moments.
In particular, the stat line next to Shane Battier's name. In 22 minutes on the floor, Battier scored a measly three points on 1-for-3 shooting from downtown. He collected one steal, one rebound, one assist and got whistled for one foul. He attempted no free throws, took zero 2-pointers and didn't block at shot.
Pretty standard Shane Battier game. Except for one thing:
His plus-minus for the game was plus-42.
I repeat: plus-42. That means that the Heat outscored the Bulls by 42 points in Battier's 22 minutes on the floor. Has to be a typo, right? Has to be.
Of course, it wasn't. As hard as it is to believe, the Heat actually outscored the Bulls 68 -26 in those 22 minutes that Battier was on the floor. It does not seem possible that such a blowout could occur in less than a half of basketball, but that's what happened.
"I saw that," Battier said at Thursday's practice when asked about it. "Bizarre."
It's so bizarre that, according to NBA StatsCube, we haven't seen a plus-minus that large in the playoffs in almost a decade. Not since 2005 when Jason Terry posted a plus-43 in 40 minutes of action in a win over the Houston Rockets.
But Battier's plus-42 feels more impressive considering A) he only played 22 minutes and; B) he barely did anything in the box score.
Battier gets geeked up about these sort of things. The way he talks about it, it's almost as if someone challenged Battier to game the system: try to win games without leaving a footprint in the box score.
"That's all I try to do," Battier said of his plus-minus. "That's my mindset: I want my plus-minus to be up as high as possible. I take pride in that."
The Heat's coaching staff couldn't believe it either when they saw it. But then they looked at the film. And there was Battier, making winning plays that the box score misses. Battier wasn't responsible for all of that 42-point deficit, but it's no coincidence that the Bulls have outscored the Heat by 17 points in this series when Battier's on the bench, but lost by 47 with Battier on the floor.
At Thursday morning's film session, Heat coach Erik Spoelstra pulled up video of Battier doing what he does best: rebound blockouts. He showed his team three clips in a row of Battier attempting to transform his 6-foor-8, 220 body into a human shield against Carlos Boozer (who weighs 50 pounds heavier than Battier) and Joakim Noah (who stands several inches taller). These were textbook blockouts that a man of Battier's frame shouldn't be able to accomplish.And Spoelstra wanted his team to take notes.
"He was making blockouts that 99 percent of the players in this league won't do," Spoelstra said. "The focus and the level of effort with no regard for his health."
Battier doesn't want the rebound as long as his man doesn't get it. Part of that is because he usually can't get the rebound.
"I don't rebound anymore, I'm too old for that," Battier said. "But I blockout every time. If you look at our team rebounding percentage, it's usually up when I'm in."
He's right. So far in the Eastern Conference semifinals matchup, the Heat have hauled in 52.9 percent of the available rebounds while Battier is on the court, according to NBA.com/stats. In other words, the Heat have won the rebounding battle with Battier in the game despite being woefully undersized against the Bulls frontline. And when Battier and his blockouts check out of the game, the Heat's rebounding rate drops to 47.9 percent. The disparity is larger when you zoom out and look at the entire postseason.
Because of these essential blockouts, Battier allows the Heat to go small and space the floor against the stronger, bigger Bulls. So far, he's been a difference-maker in this series.
"I'm beyond the point where I expect people to fully appreciate my game, unless you're a basketball guy and really understand the nuances of the game," Battier said. "My game is 100 percent nuance. The 3-point shot is the only thing that's tangible that people talk about."
Another thing: Boozer has shot 0-for-5 and has scored no points with Battier on the floor. That impact can't be understated. Outside of Luol Deng (who has been out this series with spinal tap complications), Boozer was the Bulls' leading scorer this season and Battier has completely neutralized that threat.
Of course, he receives none of the credit in the box score.
Another example of Battier's subtle impact? How about when LeBron James stole a cross-court pass from Nate Robinson in the first quarter. How'd that happen? Because Robinson wanted to get the ball to Boozer in the post, but he became so frustrated that Battier was successfully fronting Boozer that he impatiently flung the ball across the court to Marco Belinelli in the corner. James picked off the pass and got the steal, but Battier probably should get the credit.
Then there's the time Battier took a charge against Robinson in the second quarter. Or the 3-pointer that Mario Chalmers made after Battier freed him up with a screen. Or how the numerous times he dragged his defender to the corner, thereby taking away one help defender and opening it up for a teammate.
None of it in the box score.
"I bust my ass to the corner every single time to help flatten the defense out because I know if I do that, LeBron (James), Dwyane (Wade) and Mario (Chalmers) will have room to attack," Battier said. "If I stop at the break of the arc, it makes the difference between them going for a layup and having to pull up for a jumper. "
For Game 3, most of the audience will probably be fixated on the potential return of Derrick Rose, the job of the referees or the growing animosity between these two teams. But beneath it all, Battier will probably be lurking, making all the difference.