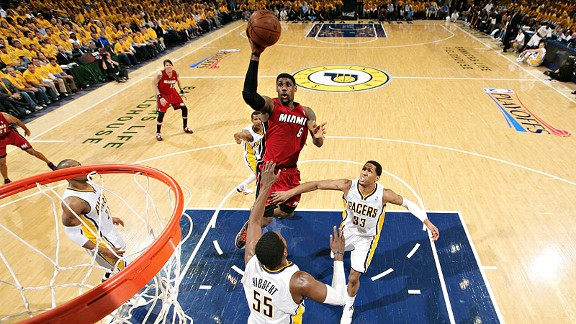 Nathaniel S. Butler/Getty Images
Don't be surprised if LeBron James breaks out his floater against Roy Hibbert and the Indiana Pacers.
MIAMI – For the past several weeks, LeBron James has finished up his daily routine at practice by shooting free throws with Ray Allen. Every practice, same thing.
But on Tuesday, things were different.
A day ahead of their Eastern Conference finals matchup against Roy Hibbert and the Indiana Pacers, James was at his normal basket at the Miami Heat's practice court, but Allen was on another hoop, practicing his 3-point shot on his own. Instead of trading free throws with Allen, James was working with Heat assistant coach David Fizdale and point guard Mario Chalmers on a different shot:
The running floater in the lane.
Yes, the same one he unleashed out of nowhere against Hibbert last playoffs and used to help push the Heat over the top in six games.
James' goal on Tuesday was obvious: to polish his Hibbert arsenal.
"I just dust it off when I need it," James said of his rarely-seen floater.
This was the first and only day that James has put in extra work on it this season. James started from the top of the key, barreled down the middle of the paint and launched in the air for a floater. He'd do that a few times and then switch angles. Starting from the baseline, James took a dribble on the move and then soared across the lane to drop a running hook. Over and over again.
The only thing that was missing was a 7-foot-2 cardboard cutout standing at the rim.
James knows he'll need his full repertoire against the Pacers' front line for this upcoming series. No, the thinking isn't to only drop floaters in the lane. Rather, it's to keep Hibbert honest. No more allowing Hibbert to camp out around the rim and wait for intruders. The Heat want Hibbert on the move and guessing.
"He won't just have one look," James said after Tuesday's practice. "We have to be able to give him different looks to keep him off balance."
James unveiled the crafty shot in the third quarter of Game 1 of the Eastern Conference semifinals last season, just minutes after Chris Bosh left the game with an abdominal strain that sidelined him for weeks. James turned the corner after a high pick-and-roll with Udonis Haslem and made his way to the rim as Hibbert sidestepped off Ronny Turiaf to park himself underneath the basket.
That's where Hibbert waited for James. But instead of trying to shoot through the 7-foot-2 giant, James hopped off two feet halfway into the lane, rose up and tossed the ball high into the air. Swish. From then on, James went to that shot without hesitation, and it proved to be a handy weapon against Hibbert's size.
Remember James' monster Game 4 against the Pacers when he registered 40 points, 18 rebounds and nine assists? James used his devastating floater on multiple occasions in that furious comeback alongside Dwyane Wade, but James also punished the Pacers with 16 free throws. James still attacked the rim and racked up fouls against Hibbert, but he needed the reliable floater to keep Hibbert from getting too comfortable in the paint.
Typically, James will use his otherworldly athleticism and strength to overwhelm his opponent like a wrecking ball. But there will be times when he'll need technique and grace to keep opposing big men on their toes. So for James in this series against Hibbert and the No. 1-ranked defense in the league this season, the key will be variety, not velocity.
James knows Hibbert doesn't want to be dragged away from the basket. He paid close attention to the Knicks-Pacers series and it resonated with him when Hibbert rose up for that iconic block on Carmelo Anthony at the rim in the decisive Game 6 (James called it "a very good block" on Tuesday). James watched every minute of the series during which the Knicks' percentage of shots in the restricted area plummeted from 39.5 percent with Hibbert on the bench to just 30.5 percent with him in the game, according to NBA.com/Stats.
This is the Hibbert effect, and James wants to neutralize it with as many weapons as he can. The floater, you can expect, will be one of them.