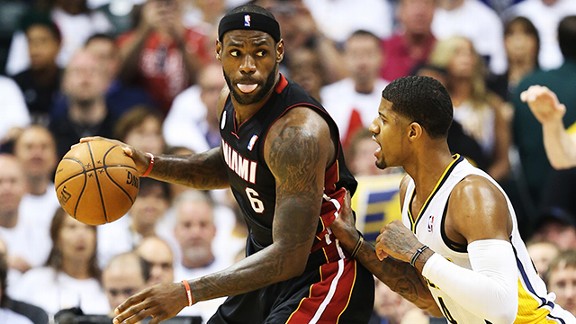 Andy Lyons/Getty Images
Though it was once alien territory, LeBron James took Paul George into the post with great success.INDIANAPOLIS – The process for LeBron James has been two years in the making. Even when you're the planet's best basketball player, it can take that long to craft a liability into a luxury, to carve a weakness into a strength.
Yet there was a time James never really cared to admit his low-post game was the ugliest part of a beautiful skill set.
But when relentless hard work is blended with the distance of hindsight, the byproduct can be a refreshing humility.
James is on the other side of that tunnel now. He entered with apprehension and emerged with aggression.
He owns a post-up game so strong now James feels it will remain a viable option regardless of any adjustments the Indiana Pacers make Tuesday as the Miami Heat carry a 2-1 lead into Game 4 of the Eastern Conference finals.
"I'm much better than I was two or three years ago, and I still have a lot of room to improve," James said Monday, a day after delivering the most revealing evidence yet. "I can work down there all game if need be now, and that's something I couldn't do probably just two years ago. If I have to spend all day, all game, in the post, I can do that."
The confidence James has in all aspects of his game is soaring after the four-time MVP relied heavily on his post-up attack in Miami's 114-96 victory in Game 3 Sunday.
After dominating from the perimeter or facing the basket while averaging 33 points over the first two games, James and the Heat made a key adjustment in Game 3 to run their offense through him down low. The tweak was designed to better exploit James' size and strength advantage against Pacers forward Paul George and to also spread the floor for more balanced scoring against the league's top defense.
The positive results for the Heat were prolific, and they hope to build on that momentum Tuesday to take a 3-1 series lead and move a step closer to a third straight trip to the Finals.
James scored 14 of his game-high 22 points on post-up plays Sunday, with 12 of those points coming against George on 5-of-7 shooting from the field. That production came on 11 post-up plays for James, who had been averaging less than three in the previous 11 playoff games.
"I was very patient," James said of his approach to post play. "I understand what the defense was giving me, what I can take advantage of, just trying to be aggressive. I'm going to read the game, see what the game gives me, see what the game (requires) and just go from there."
The Heat's commitment to posting up James provided a physical and psychological breakthrough of sorts. He has routinely worked to develop down low since the 2011 Finals. Miami lost to Dallas in six games, and James' inability to take advantage of much smaller defenders was widely viewed as one of the main reasons the Heat faltered.
Since spending a week with Hall of Fame center Hakeem Olajuwon during the summer of 2011, James has shown flashes of the footwork and potential to use his athletic 6-foot-8, 265-pound frame as a force on the low blocks. But Sunday seemed to be the first time Heat coach Erik Spoelstra made it a staple of the team's offensive attack for multiple possessions over significant stretches of the game.
The Heat responded with a franchise playoff record 70 points in the first half and tied a club record for fewest turnovers in a playoff game with five. Spoelstra said the Heat settled for too many shots out of the flow of the offense and didn't pressure the paint during a 97-93 home loss in Game 2 that gave Indiana home-court advantage.
By posting James on the left block from the middle of the first quarter through halftime, Miami set the tone with an efficient and balanced offense that reestablished control of the series and forced the Pacers into adjustment mode.
"We're an aggressive, attacking team that needs to get to the paint, needs to get to the free throw line, and we do it in a myriad of ways," Spoelstra said Monday. "There's more poise, more patience and more commitment to that game."
And it's James' increased comfort level working with his back to the basket, reading the defense and then making either a smart pass or a strong move to the basket that brings stability to an offense predicated on pace and space.
"It's a big part of us settling into our game on the road," Spoelstra said. "He was able to settle us and give us a little bit of a different balance. We do it in a layered way."
The Heat anticipate the Pacers will make adjustments to disrupt James' rhythm in the post. But Indiana coach Frank Vogel said Monday his team wouldn't overreact to a few productive stretches from James by junking their normal strategy of defending players without overloading. Still, every Pacer on the court has some sort of James duty.
Vogel seemed far more concerned about all five Heat starters scoring in double figures on a night when Indiana's defense allowed the Heat to shoot 54.5 percent from the field. Miami's offense also picked apart the Pacers with more than four times as many assists (21) as turnovers.
Indiana appears to have two choices: Double-team James and force one of the NBA's best passers deeper into his comfort zone of finding spot-up shooters, or defend the league's best player with single coverage and take cover.
"It's a five-man approach, even if you guard (James) straight up," Vogel said of potential options. "We're not going to overreact and bring the whole world after LeBron in the post. Our scheme (consists) of trying to guard elite scorers straight up and trying to do the best we can there. Obviously, we don't want to give up that many in the post or make it that easy, so we'll make some adjustments."
James vows to be ready with a response.
"Whatever adjustments they make, we'll be able to counter," James said. "Pick your poison. If you're going to double me, I'm going to find my shooters. If you're going to play me one-on-one, I'm going to be aggressive and look for my shot. I'm an unselfish guy, so if they try to come into the post and take the ball away from me, I'm going to try to look weak-side, try to find my shooters, try to find my bigs on the baseline. If not, then I'm going to go to work."
Going to work now constitutes an array of moves that saw James score in the lane spinning from any direction and finishing strong with layups using either hand Sunday. It may never be as precise as Kevin McHale's up-and-under move or as smooth as Hakeem Olajuwon's Dream Shake, but James' expanding repertoire is productive and a long time coming.
"He took it upon himself, especially last year in the playoffs, to get in the post, and it gave us a different dynamic," Heat guard Dwyane Wade said. "This time of year, it's about doing whatever it takes. We can here with a mentality we'll get the ball down low as much as we can."
Now, when the ball goes down there, James has the mindset to attack. That hasn't always been the case since he arrived in Miami. There are still mental scars from that series against the Mavericks two years ago, back when James was far more reluctant, before he became resilient.
There are many players and coaches in the league -- including some on his own team -- who believe the Heat would be pursuing their third straight title this season if James hadn't completely let J.J. Barea, Jason Terry and DeShawn Stevenson off the hook by avoiding the post. Back then, James never exploited his advantages by carving up defenders like he did Sunday against Indiana.
"Yeah man, they had Jason Terry guarding (James) a few times and we didn't put him in positions to make them pay," Heat center Chris Bosh said Monday as he shook his head and smiled about the title opportunity that got away. "But sometimes failure is the best medicine for you, just to see what you need to improve. He's taken on everything as a great player. He's worked on things that can benefit this team, and post play has been devastating for opponents."
Devastating and continually developing. James said he's still working on "counter attacks and feeling the defense out" quicker with his back to the basket. But his instincts and timing are solid enough to make him effective now.
James has always had a dominantly diverse game, but he's been showcasing every aspect of it during this series.
He channeled Oscar Robertson with a 30-point triple-double during a 103-102 Heat victory in Game 1.
Then came a Michael Jordan-like scoring binge from James, with 38 points on 14-of-20 shooting in Game 2.
And James on Sunday analyzed, scored and ran offense out of the post like a late-career, methodical Magic Johnson.
James chuckled when asked what legendary player his game may resemble Tuesday at Bankers Life Fieldhouse.
"It might be time to go Kareem, break out the skyhook," James said as he raised an arm and flicked his wrist to mimic Kareem Abdul-Jabbar's famous shot after Monday's Heat practice. "You know I've been working on it."
Two years ago, James' low-post game was a private work in progress. It's gradually become a source of pride.
And now a looming problem for the Pacers.