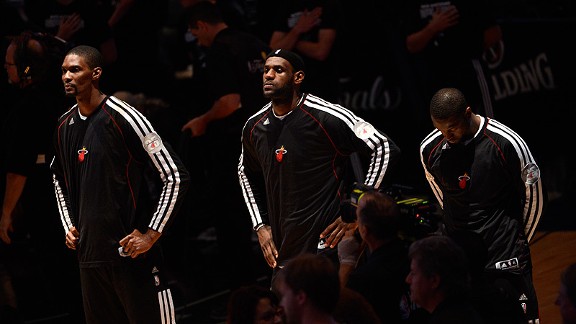 Mike Ehrmann/Getty Images
Will the Heat lose their second NBA Finals in three seasons?
SAN ANTONIO -- It may be shallow, it may be narrow-minded and it may be unfair. But it is also reality and there's little use talking around it.
The next three days will define these three years for the Miami Heat.
If the Heat are able to hold off the San Antonio Spurs in Games 6 and 7, they will hit a legacy jackpot. They will be back-to-back champions, which is just about the greatest response to criticism known to man. LeBron James or Dwyane Wade probably will be holding a second Finals MVP trophy. They will have become the first team ever to beat the Spurs in the Finals. They will be legitimately talking about establishing a dynasty. It'll be magazine covers, cereal boxes, months of coronation and years of being honored.
If the Spurs ply another win in Miami, though, talk about a flipping of the script. James will be 1-3 in Finals in his career, a record that will not allow much wiggle room for nuance in the history books. The Heat will have lost it all two of three years together, both times seeing another team celebrate on their home floor and both times wasting the home-court advantage. Tim Duncan will be 5-0 in the Finals, probably cementing his position as one of the five greatest players ever. And he'd be 2-0 against James, something he'd quietly hold over him for the rest of their lives.
There'd be no Heat dynasty to speak of, but instead the clock on the pending 2014 free agency of James, Wade and Chris Bosh will begin in earnest and probably not relent for 12 months. The summer will become a miserable slog for them. James may never log on to Twitter again.
It sure is a fine line, but that is part of the deal with this team in this time. The difference between champion and runner-up is miserable on this level. But the dynamic that is involved with the Heat adds a huge layer of burden that few teams have ever had to live with.
When James, Wade and Bosh signed together three years ago they honestly never expected to be held to such a standard, but they've long since accepted it. And they are quite aware of where they stand.
Getting to the Finals three seasons in a row, no matter the circumstances, is a major accomplishment. That puts them on a list as one of the best teams ever, no matter how it will be qualified. But it won't be remembered that way; that's just the way the culture works with this team.
No matter how it goes down, there will be more blame that festers in Miami than credit that gets taken to San Antonio. The details probably won't matter in the long run.
In 2011, Dirk Nowitzki had a Michael Jordan-esque playoff run and in the Finals alone played through torn ligaments in his finger and a bout with the flu. But take a sampling of your average NBA fan and they'll most likely recall James "shrinking" or his eight-point game in those Finals.
In this series, Danny Green is putting on one of the greatest shooting displays in the history of the league. Tony Parker is playing through a dangerous injury and Manu Ginobili, a man with as expansive and illustrious a career as the international game has ever seen, just delivered one of the greatest games of his life to push the Spurs once more to the brink of a title.
Those accomplishments will go down as legendary in San Antonio for sure if the Spurs raise another banner. But if the past few years tell us anything, to the masses it will be remembered as the Heat failing to deliver in the clutch.
The 66 wins, the 27-game winning streak, the record field goal shooting, the MVP award, the Birdman, all of it will go to the fine print.
No, this isn't normal. Usually, it's the other way around. Usually the victor gets the spoils, at least on the public perception front. But the Heat are one of the greatest outlier teams in American professional sporting history. They live by a different set of rules, like it or not.
It may cause eye-rolling to bring it up again, but when James uttered the phrase "taking my talents to South Beach," it changed everything. Maybe not in Miami, where the Heat are rightly adored and vehemently defended proudly by sometimes aggressive fans and media. But for much of the rest of the country, let the past three years of data be the guide on how this will play out if the Heat don't find a way to get two more wins.
Following a Game 5 loss Sunday night, James brushed off a question about how these next few days could define this era.
"I always kind of focus on the present," James said. "And for us the next challenge is Tuesday night."
That is completely the healthy and veteran way to look at it. But lose another game, no matter how it goes down and no matter what James' performance is, and the present will be ugly for him and the Heat.
The Heat have a lot going for them. They are home, where they have been strong for three years now. James, Wade and Bosh have just combined to collectively play their best back-to-back games of the playoffs. They didn't match their 85 points and 30 rebounds of Game 4, but combined with Ray Allen they had 86 points in Game 5.
They have routinely been at their best this season when suffering a loss and they control the biggest reason they lost Sunday, their sluggish defensive effort. All things considered, they are in better shape as a team than they were when they faced this same situation in 2011, when they came home from Texas down 3-2.
"We challenge ourselves to see if we're a better team than we were [in '11]," Wade said. "We're in the same position going back home with Game 6 on our home floor. So we're going to see if we're a better ballclub and if we're better prepared for this moment. Everything happens for a reason."
There's little doubt the Heat are a better team and are better prepared to need to win two elimination games than they were 24 months ago. It could indeed go very differently and turn into a triumphant moment that becomes the trademark of this team's run together. That's not a dream scenario, it's very well within the power of the talented players on the roster.
But if they don't, they better be prepared for something else entirely. It's as simple as it is momentous.
"There's no magic to it. It's basketball. It's not that complicated," Spurs coach Gregg Popovich said. "Both teams will compete their fannies off. Players will play well or poorly. Coaches will try to help them as much as possible, and the best team will end up winning."