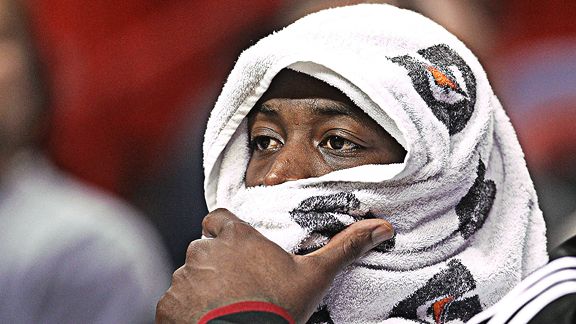 Mike Ehrmann/Getty Images Sport
Is Dwyane Wade thinking too much on the floor?
Before we diagnose the ills of the Heat as a whole, we should tackle a more pressing concern:
What's troubling Dwyane Wade?
He's struggling through his worst NBA season since he was fresh out of Marquette University. He is averaging 21.3 points and 4.1 assists on 44.1 percent shooting from the floor while misfiring on 20 of his last 21 3-point attempts. With a 19.5 PER, Wade trails Orlando Magic sub Brandon Bass, Detroit Pistons guard Rodney Stuckey and Washington Wizards center JaVale McGee in the league-wide rankings. His turnover rates have climbed even though he's been relieved some of his scoring burdens.
He's hurt – the most recent injury being a jammed thumb suffered on Saturday – but knowing his history and hazardous style of play, that won't change. Already this season, he's battled a sprained left wrist, a bruised thigh and a strained hamstring. This is nothing new for Wade; his relentless attack will continue to damage both his body and his opponent.
He's not shooting well. The 28-year-old has converted barely 22 percent of his jumpers outside 16 feet this season. That wouldn't be so harmful if he weren't taking five shots from there every night. He's been particularly dreadful on long 2s where he's currently shooting 18 percent after shooting 40 percent from there over the past two seasons. His shot is off which is something new for Wade.
The game was supposed to come easier for Wade with LeBron James in town. But it hasn't. If anything, LeBron's presence has distracted Wade on the court.
"We're both kind of similar players," Wade said of LeBron after practice last week. "On the court, we're thinking too much. When we have the ball, we're thinking about the other guy -- we're thinking about the other guys."
And then he said something that no coach wants to hear from one of the most potent scorers in the league: "You don't want to take two shots in a row."
This is what's troubling Dwyane Wade.
Instead of focusing on beating the defense, Wade's mind is worried about taking shots on consecutive trips down the floor. As much as we want to blame Wade's shooting woes on his banged-up hands and his weakened legs, perhaps a better explanation follows that when LeBron lurks on the perimeter, he is also lurking in Wade's conscience.
"There's a lot going on up here," Wade said pointing to his head. "And it affects certain parts of our game that wouldn't affect [LeBron] when he was in Cleveland and myself in Miami. We were playing instinctively but now we're thinking. For players like us, that's not a great thing to over-think the game."
The basketball world has speculated that James and Wade can't coexist, that their games are too similar and too ball-dominant to thrive on the floor together. But Wade's words reveal that a mental roadblock has disrupted their on-court chemistry as well. We can cite Miami head coach Erik Spoelstra's X's and O's on offense or Wade's physical health all we want, but those factors won't matter if Wade, the league's third-best active scorer over his career, is afraid to shoot the ball. When Wade goes up for a jumper, he's thinking about making the shot, but also that LeBron isn't getting his.
Looking deeper into Wade's performance, we find that his efficiency in isolation situations has plummeted this season. After shooting 40.1 percent off of isolations last season, the 6-time All-Star has converted just 25.8 percent of his shot attempts under that play type this season according to Synergy data. How bad is that? His field goal percentage ranks dead last among the 71 players with at least 25 isolation plays this season. With Wade's admitted mental preoccupation, it's not a complete surprise to see his effectiveness in isolations, the most self-reliant play in the game, fall off this season.
When Wade has to make a play in transition or within the flow of the offense, he has been his old self. But when he has time to think about the situation and his teammates, he's been far less effective. At some point, Wade will have to put basketball ego aside and recognize that as long as the Heat get high percentage shots, it shouldn't matter whose hand releases the ball.
Right now, the Heat's offensive sets place Wade and LeBron independently on opposite sides of the court. It's an arrangement that has drawn a considerable amount of criticism mostly from an X's and O's perspective. But their mental separation could be just as prohibitive to their offensive chemistry.
"There's a lot going on in our minds," Wade said. "Eventually, it will come through and it'll just be about playing basketball."