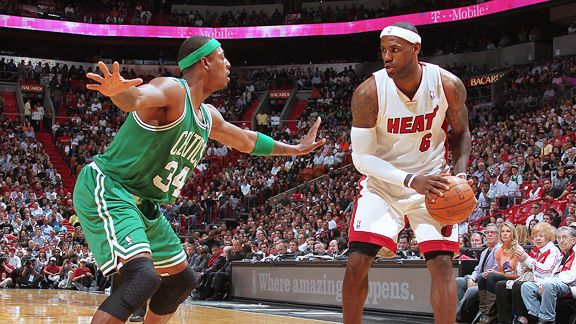 Victor Baldizon/NBAE/Getty Images
If Dwyane Wade has his way, LeBron James will find himself in more isolation situations.
Chris Broussard's report about the situation in Miami cites an anonymous source that maintains Heat players are frustrated by the team's sixth-ranked offense being implemented by head coach Erik Spoelstra:
[The players] feel like he is running nothing but pick-and-rolls and telling the Heat's secondary players to find open spots on the floor for catch-and-shoot jumpers.
For the most part, Spoelstra, Dwyane Wade and Chris Bosh sought to diffuse at shootaround on Monday any notion that there's major discord in the Heat camp. But Wade did offer a critique of the offense that paralleled what we read in the report:
I think, at times, we get into a space where we let the whole team guard us because we run a lot of pick-and-roll. And we are letting guys off the hook. I want to see someone guard LeBron [James] one-on-one three or four times in a row down the court, because I know what they are thinking: "Somebody please help."

I want to see them do that to Chris. I want to see them do that to me. So it's about how we do it in spots in games, if all of us can be involved together. And it's about how you do it where we are getting other guys involved as well.
Wade's comments are interesting on a number of levels, primarily because he's suggesting that the Heat's steady diet of pick-and-rolls are inviting too much pressure on the ball. This isn't necessarily an incorrect diagnosis. For instance, you've probably seen Kobe Bryant at the top of the floor in a 1-4 scheme, dribbling some clock away during the final possession of a quarter. At about the :08 mark, a big man will move high to offer Bryant a screen, but Kobe shoos him away.
Why doesn't Bryant want the benefit of a screen? It might be because a pick in that situation invites a double-team, the kind of "pressure on the ball" Wade refers to in his comments. The screener's defender follows the screener toward Bryant, then opts to trap Bryant and the clock ticking down. But if Kobe is in isolation, now the defense has to make a decision, as Wade points out. Do they send a helper? And if they do, whom does that leave open?
If we take Wade at face value, he's prescribing more isolation for the Heat's offense. Currently, the Heat rank 18th in percentage of possessions used for isolation plays, and rank 9th in points per isolation possessions, according to Synergy Sports.
Working more isolation into the Miami offense could be advantageous, but potentially dangerous as well. James, Wade and Bosh almost always have a matchup advantage over their respective defenders, and anytime you have the opportunity to turn James loose on an ill-equipped small forward, you'd be foolish not to force the issue.
But isolations and clear-outs can be invitations for the sort of stagnation the Heat have pledged to get away from. Unless the player with the ball can make a perfect read on that double-team, and sling the pass to the open man, and the defensive rotation is slow, and the recipient of that pass can finish, it's not necessarily an efficient way to win basketball games. To wit, only one team in the NBA -- the Los Angeles Lakers -- scores greater than a point per possession on isolation plays.
Furthermore, strong pressure defenses such as the Boston Celtics, Lakers and Chicago Bulls are designed to neuter isolation players, even if you situate that superstar on one side of the floor and invite help. These teams are able to both pressure the ball and zone up effectively on the weak side. It requires the zippiest reversals and most creative off-ball schemes to beat them.
Will additional isolations put more pressure on individual defenders? Perhaps. But if Broussard's source is correct and the team feels that Erik Spoelstra's offense is too facile, more isolation basketball is hardly a remedy for simplicity.