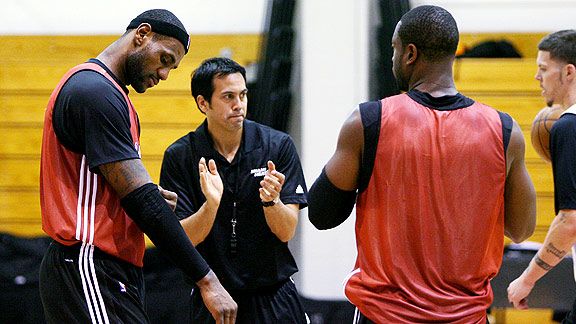 Issac Baldizon/NBAE/Getty Images
There's been a lot of water under the bridge since training camp. It's time for the Heat to make their stand.
MIAMI -- What the Heat have here is a golden opportunity.
It's an early crossroads the Cavaliers' franchise reached about five years ago, but it didn't quite grasp the importance.
In the soul-searching done since July, it was something the Cavs wished they could do over:
Stand up to LeBron James.
Whether you believe ESPN the Magazine's Chris Broussard's report that several Heat players, particularly James, have grown frustrated with coach Erik Spoelstra doesn't really matter. James has already said as much repeatedly in recent days.
He complained about playing too many minutes, which required a meeting with Spoelstra. He said he doesn't like playing point guard, which Spoelstra has asked him to do for much of the young season. And he maintained that, unlike in seasons past, he isn't having fun.
On Monday there was another meeting between James and Spoelstra. This confab supposedly focused on the offense, where James and the Heat have been struggling, and not on the ESPN report of discord -- though it's fair to assume the topic came up.
Of course James isn't totally happy. He's given up money, a massive piece of his reputation, the freedom to walk freely around his hometown. He's also sacrificed shot attempts and his beloved statistics to be with the Heat. Yes, it's early in the process, but the results so far have been underwhelming.
There are only so many people to blame, and in the NBA the first fingers are usually pointed at the coach. Check back in a few weeks. There's a chance the conversation will sound completely different, which is what Spoelstra is counting on.
Whatever the case, the Heat have encountered their first critical test with James.
Now is when the organization -- be it president Pat Riley himself or Spoelstra in one of their series of meetings, or perhaps both -- need to tell James that they won't completely accommodate him. Spoelstra will remain the coach and the team is going to stay the course. That means James, whether he likes it or not, will to continue to be asked to sacrifice parts of his game.
It may be hard in the short term, but this course of action will make a difference over the long haul. The evidence resides in the Cleveland Cavaliers' recent history.
Five years ago when Dan Gilbert bought the Cavs and completely revamped his basketball operations department, his instincts told him to give
James and his friends stature as decision-makers. James was just about to fire his agent and install his friends as his management team and the owner saw a chance to bond with the young and restless.
So Gilbert and the organization decided it was best to treat them as power brokers and not just another entourage.
At the time, Gilbert felt it was good business, especially with James on a short-term contract and the team without much talent. It was a major gamble followed by hundreds of smaller decisions that eventually led James to have a vapor lock on the franchise with no one in a position to truly hold him accountable. It ended up putting the team in a fragile position, with James holding all the cards.
The Cavs won a lot of games in the interim and gave a James contract extension, albeit briefer than preferred. But the franchise didn't realize it had made a mistake until it was too late. In the end, Gilbert couldn't get James to return his calls. Ultimately, it was a member of the entourage who informed the team that James was leaving.
The Heat's situation with James is not an apples-to-apples comparison. The Miami organization simply has more leverage. Now is the moment they should use it, a strategy that might eventually benefit both parties.
First, James is on the longest contract of his career. He's signed for a total of six years and cannot be a free agent until 2014. That deal means the Heat do not have to adopt a position of appeasement as the Cavs did over the past several years. By the time James became a self-aware megastar and his friends were naming his marketing company after themselves, their hooks were deep into the Cavs organization.
Second, there are other players on the Heat roster that enjoy a similar prestige as James. Their prominence enables the Heat to hold them all to a tighter -- and equal -- standard.
Neither is a luxury the Cavs enjoyed.
Neither is a situation James is used to … yet.
The Heat have already used their position of power. They didn't hire a James associate who had a job and traveled with the Cavs. As the team constructed its schedule, it hasn't succumbed to James' preferences, as the Cavs did. But those are largely behind-the-scenes machinations discussed only in entourage circles (yes, those exist).
Much more important is what faces Spoelstra, Riley and the Heat with the first waves hitting South Beach. There will be more, to be sure, but this period could very much set a precedent. James is testing his limits, and the organization must decide how to play it.
Perhaps drawing a line in the sand was the mission of Spoelstra's meeting with James on Monday. Because when it was over, the coach emerged oozing with a brand of confidence not usually seen in a man believed to be on the hot seat.
After looking worn down and mentally fatigued over the previous few days, Spoelstra arrived to talk to the media poking fun at recent reports. He brought up the meeting with James on his own, making sure everyone knew not only was he being proactive but aggressive with his superstar.
"This is when your relationships get strengthened," Spoelstra said after the chat. "As long as you can survive these it will make you stronger. It is not always going to be good. I look forward to these moments when there is controversy and healthy conflict."
Considering everything he's been dealing with inside the team and outside, Spoelstra's attitude and posture were impressive.
Meanwhile, James brushed off the notion that he had any issues with Spoelstra, while also sounding resigned that Spoelstra will be the coach for the foreseeable future.
"I have Coach Spo's back, or whatever the case may be," James said. "This is who we have."
It is too early to know whether a crisis has been averted. More wins like Monday's blowout of the Wizards would certainly help, but how the Heat handle these coming days may largely determine whether the entire James experiment works in Miami long-term.
Just ask the Cavs.