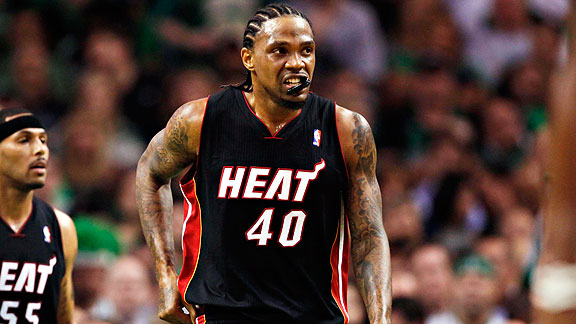 David Butler II/US Presswire
With Haslem out indefinitely, the Heat hope Juwan Howard and Erick Dampier can pick up the slack.
When Miami Heat power forward Udonis Haslem suffered a torn ligament in Memphis on November 20, the team's morale a took a big hit as they learned they would lose their locker room leader and team captain for the majority of the season. As bad as it hurt their team cohesion, they were expected to miss his presence on the court as well.
So how have the Heat done without Haslem? Overall, the Heat are 2-3 since the injury, beating only Philadelphia and Washington in his absence while losing to Indiana, Orlando and Dallas. But we can't pin the team's record entirely on Haslem.
Looking at the rebound category, the results have been mixed. After the Pacers destroyed the Heat on the boards, it looked like the Heat were going to get abused down low going forward. But they've bounced back since them. Surprisingly, the Heat have actually rebounded the offensive glass better as a team. Since Memphis, the Heat's 23.7 offensive rebound rate, which calculates the percentage of missed shots the Heat have recovered on their own basket, is actually better than in the games previous to Haslem's injury (23.1).
But rebounding on the other end of the floor has indeed fallen off a bit. Heat opponents have found it easier to grab their own misses since Haslem went down, posting a 26.0 percent offensive rebound rate, compared to just 23.2 percent before Memphis -- which makes sense given that the defensive boards is where Haslem has made the most impact over his career.
With regard to personnel, starting power forward Chris Bosh has stretched himself thin, but it's Juwan Howard who has seen his minutes skyrocket since Haslem went on the shelf. The 16-year veteran was a regular "DNP-Coach's Decision" heading into Memphis, only seeing action in three of the team's first 12 games for a total of 25 minutes. But since Haslem's injury? Howard has stepped in for an average of 11.6 minutes per game while getting the call during some pivotal moments.
No, the Heat weren't expecting to fully recoup all of Haslem's production but Howard has provided minimal contributions in his time. Howard's 5.4 PER ranks seventh worst in the NBA among players averaging at least 10 minutes per game. The 37-year-old isn't a scoring option whatsoever, taking just 12 field goal attempts so far this entire season and his rebounding rates resemble those of a small forward. He's certainly not the pick-and-pop counterpart for LeBron, but the Heat already have Zydrunas Ilgauskas and Bosh to fill that role. And easing off the predictable pick-and-pops may be a good idea for the redundant Heat offense.
But the Heat don't want Howard to take on a big role on offense, so it's probably for the best that he rarely looks to shoot. As a veteran, his job is to stay out of the way, set some screens and let the others go to work. In that sense, he's doing an admirable Joel Anthony impression.
Defensively, however, Howard's has struggled mightily trying to stay in front of his quicker, younger opponents. Washington Wizard forward Andray Blatche turned Howard into a lamppost on Monday night on one particular play en route to an and-one opportunity. Howard barely moved his feet as Blatche spun around him in the post and converted a reverse layup, with Howard fouling him from behind. Those instances have Heat head coach Erik Spoelstra missing Haslem's footwork and post defense the most.
Seeing how Haslem's injury exposed Miami's thin front line, the Heat were wise to nab Erick Dampier off of free agency. He'll step in with a big body in the post and give the Heat some of that inside presence that Howard hasn't been able to provide in years. Haslem's injury also means we've seen the end of the devastating small-ball lineups that featured Bosh at the five. Howard can't run or provide enough help for Bosh to make small-ball a worthy endeavor and Spoelstra has rarely pushed LeBron James to the four.
With Dampier in tow, the Heat's recovery without Haslem becomes a little easier. As always with the Heat, it's a process -- and a painful one at that.