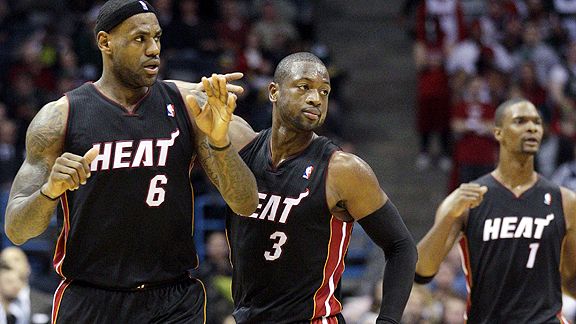 AP Photo/Morry Gash
They might try to downplay the event, but the stars love to shine on Christmas Day.
LOS ANGELES -- So here's how this works.
On Christmas, the Heat and Lakers will play a game, an important game. It has been anticipated by fans, the league and the media for months. And, believe it, the outcome means a great deal to the players as well.
Not that they'll admit it.
Even as they engage in all the promotion, most of the players will attempt to shrug off the import of the event. They will pretend it is just another Saturday and invoke a string of "one-of-82" references.
In fact, let's hear it from LeBron James just to back that up.
"It's not if we win or they win, it is not going to define our season in any way," James said. "I think both teams are going to play good because it is the next game. Earlier in my years I looked forward to it more because I was very excited, Kobe was a guy I looked up to in high school. It is not as exciting as it was my first few years."
OK, now for Dwyane Wade.
"This ain't my first rodeo, it's not LeBron's and it's not Kobe [Bryant]'s," Wade said. "It is going to be hyped but it's all for the fans."
Yeah, right. No one is buying it and it isn't just because of the generally poor job all the parties do in selling that the game is just a made-for-TV event.
That's why Wade is unveiling a new commercial on Saturday. And why both James and Chris Bosh are rolling out specially designed shoes that Nike developed months ago. The suits you'll see the players arriving in and being interviewed in? If they aren't all brand-new, then they've been saved for quite some time for these photo ops.
Oh, they care. They care, big-time.
They care so much they feel compelled to install a defense mechanism in case things don't go well, which is why they brush off the hype. But the stars, especially players like James and Wade, live for these types of games.
Their reputations are determined by the playoffs, that is true. But the playoffs don't go on year-round and right now this is as big as it gets. There's little use in denying it, which Heat coach Erik Spolestra doesn't even try to do.
"I think it is a special opportunity for the guys to play on Christmas in a great environment," Spoelstra said. "Also there will be a lot of people watching. We have several people in the locker room that love games that really mean something to the fans."
Count this as one that seems to have such meaning. The ratings will likely be large, especially if it is a close game.
Beyond the hype and the eyeballs, it is an important game for both teams. It's a test of just where the Heat, who assembled themselves to knock the two-time defending champion Lakers off their perch, are in the process everyone has been watching so closely.
It is also a test for the Lakers, who have been skating along against the easiest schedule in the league while not yet showing much of the championship form of the past two seasons.
From a purely statistical perspective it is a matchup of the NBA's best offensive team -- the Lakers average nearly 106 points per game -- and one of the league's best defensive teams -- the Heat haven't allowed an opponent to break 100 points in 14 consecutive games. Whose will wins out, no matter what the calendar says, has meaning as the teams judge their progress.
Simply, the laissez faire routine doesn't hold water. The players know it and, in the end, they know you know it, too.
"All coaches and players downplay everything, so you never get a sense of how much it really means," Wade said. "You're not going to get it from me. So it is a great game to play in because it is on Christmas and it is in L.A. That's a great storyline."