MILWAUKEE -- It was one of the classic arguments/conversation points once Dwyane Wade and LeBron James teamed up.
Who takes the last shot?
Not having played many close games this season, the Heat haven't had the opportunity to sample that intriguing aspect of the partnership very much. But the moment presented itself Friday night in the Heat's eventual overtime victory over the Bucks. And did so in a fascinating way.
On the final play of regulation, the Heat had a 20-second timeout to set up a side out-of-bounds play with Wade, James and Chris Bosh all involved. The game was tied and there were 1.5 seconds left, which is not a lot of time but enough to perform a quick move after a catch.
When action started, James got open as he bolted out of the set and headed to the corner. Had this been any other season of his career, James likely would've gotten the pass there and had a chance to square up and fire a potential game-winner.
But inbounds man James Jones waited and let Bosh set a screen for Wade at the top of the key. With the Bucks keeping an eye on James, there was no help defender to handle Wade, who had faked toward the basket for a lob before pivoting to elude his defender.
The result was a clean 20-footer from the left wing that Wade missed.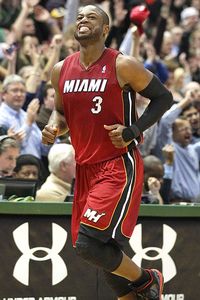 AP Photo/Morry Gash
Dwyane Wade missed an open potential game-winner Friday.
"I've never been that open on a game-winning shot," Wade said. "If this was last year they all knew the ball was probably coming to me and it enabled them to load up. I never would've gotten that type of look."
Ultimately, it wasn't successful but with the Heat likely facing a few playoff series-defining moments that will be settled in this fashion, it was an insight into how things might look when the stakes are much higher.
Heat coach Erik Spolestra, with an eye toward those future situations, didn't want to talk too much about the play.
"I'm not going to give it to you," Spoelstra said. "It's something we work on virtually every day."
One thing that seemed clear from the postmortem in the locker room was that the play was not specifically designed for Wade, but had options for James and even Bosh. With all of the politics that go into such decisions, the Heat will probably opt for multiple-option plays in last-second shot situations for now.
"I will not say what that play was, but I can tell you any time from here on out it will always be an either/or," Spoelstra said. "Actually, add another one in there with Chris."
That either/or/or scenario seems to be acceptable right now with little data to determine which course of action would yield the best results. It will likely stay that way for the foreseeable future, with the players all seemingly willing to share the duties depending on how the play unfolds.
"The trigger man makes the read, [Jones] made the read," James said. "I definitely felt like I was open, but how could you not give the ball to D. Wade in that much space at the top of the court? He got a great look."
There are dozens of issues the Heat and Spoelstra have navigated already in an effort to keep their stars on as equal a footing as possible. With victories in 20 of the past 21 games and plenty of credit and attention being heaped on James, Wade and Bosh, all has generally fared well so far.
But few things are as high-profile as those last-second shot chances, because that's where history is made. Spoelstra knows there will always be a lot of attention and focus on those types of moments.
"It makes the game a lot easier as a coach," Spoelstra said. "But it can make you look stupid if you don't get an open shot."