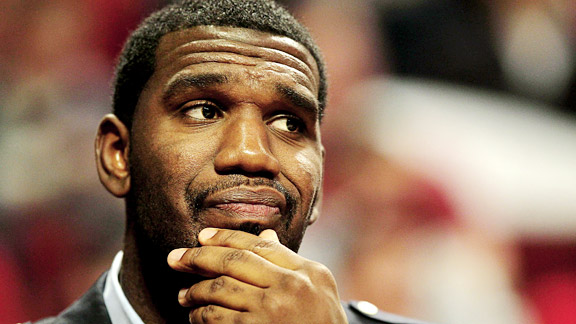 Jonathan Daniel/Getty Images
Will the Heat pursue Greg Oden next summer? Let's ponder.
Questions over the Heat's center position resurfaced during Miami's hard-fought win over the Portland Trail Blazers. And interestingly enough, Portland employs a center who could become Miami's long-term answer:
Greg Oden can become a free agent this summer.
Should the Heat pursue the former No. 1 overall pick to bolster their front line?
It's a complicated question with layers upon layers of uncertainty. But it's an intriguing proposition, nonetheless -- especially given that the Heat chose to play LeBron James at the 5 in Sunday night's battle against Portland more than any member of their center rotation.
Oden underwent season-ending microfracture surgery on his left knee in November, the 7-footer's third season-ending knee surgery since the Blazers selected him first in the 2007 NBA draft. Although his expected return date isn't set in stone, he's aiming to be ready for next season's training camp -- an aggressive timetable considering the extensive, typically yearlong rehabilitation from microfracture surgery.
No word yet on how smooth the recovery process has gone so far, but it's fair to say teams will pay close attention to how the 22-year-old responds.
Why? Before going under the knife last season, Oden quickly established himself as one of the league's best centers. He was an absolute monster on the boards, collecting 12.8 rebounds every 36 minutes during his 21-game campaign. The former Buckeye was also a fantastic finisher around the basket; his 60.5 percent field goal percentage ranked among the league's best and his capabilities as a free throw shooter make hackathons a fruitless strategy. Oden's offensive game reminds us that dunking continues to be a really effective way to score the rock.
Defensively, he has some work to do. He's an able ball-swatter who, like many young shot-blockers, is prone to foul trouble, as his 3.4 blocks and 6.0 fouls per 36 minutes suggest. His lateral mobility isn't up to par in a league that demands agility from big men to defend the pick-and-roll. But still, he's one of the best at altering opponent shots and anchoring the paint.
Put it all together and you have one highly productive center. Oden's 23.1 player efficiency rating (PER) ranked third amongst all centers last season.
But the most eye-popping number of all is this one: 202 -- the number of regular-season games he's missed since being drafted.
Due to his ravaged knees, Oden represents as big a question mark as any in the NBA. Fresh out of Ohio State, his upside saw no bounds, with comparisons drawn to Hall of Famers even before he stepped foot in the league. But now? It's anybody's guess where his ceiling exists after three surgeries.
The reclamation project should pique the Heat's interest for a couple of reasons. For one, the Heat may look to upgrade at the center position with a younger, stronger post presence. Zydrunas Ilgauskas, Joel Anthony and Erick Dampier are serviceable centers, but they aren't long-term options for the club since their skill sets are very limited and specialized.
Secondly, a young talent of Oden's caliber won't be available to the Heat again anytime soon. In order to haul in LeBron James, Dwyane Wade and Chris Bosh, the Heat effectively unloaded their entire lot of future first-round draft picks to Toronto and Cleveland. Signing Oden would be a rare opportunity for the Heat to dip into the young talent pool, an option many thought the organization kissed goodbye with their sign-and-trades. For comparison's sake, only two months separate Dexter Pittman and Oden's birthdates.
The Heat would be wise to find an offensively gifted center who won't command the ball from the Big Three every time down the floor -- and Oden fits the bill. Oden derives a good portion of his value off the offensive glass, where the Heat rank 19th in the NBA. They could use a center who can do the dirty work down low but also has some semblance of scoring ability.
Furthermore, the Heat will likely be priced out of the market for the available blue-chip centers. Given the price inflation of the center commodity (ahem, Brendan Haywood), the Heat would be hard-pressed to find enough cash to sign Marc Gasol, Tyson Chandler or Nene. As is, the Heat have $67.8 million already guaranteed for next season.
The only means by which the Heat could sign a free agent will be the midlevel exception -- and even that avenue may be in jeopardy with the new collective bargaining agreement on the horizon. The player's association and owners will likely re-evaluate salary-cap rules and regulations at the bargaining table, and there's a chance that the whole system of salary-cap exceptions will get scrapped in favor of a hard cap. In which case, the Heat would have their hands tied.
But as it stands now, the qualifying offer for Greg Oden is $8.8 million, which means Portland must offer this amount by June 30. Oden can accept the qualifying offer and stay with the Blazers, or he can decline it and explore free-agent offers that guarantee more than one season. Given his injury history, guaranteed years will be an attractive security blanket for Oden. But by extending the qualifying offer, the Blazers would reserve the right to match any competing offer by another team and pull their former No. 1 pick back in.
So if Oden hits the free-agent market this summer -- and at least one league general manager believes he will -- the Heat will have to keep an eye on him. With all their cap space used up to sign their star-studded core, they will likely be forced to gamble on another aging low-ceiling veteran, or a risky youngster with whatever cash the new CBA allows.
Given the tightened circumstances, the Miami organization may have to put aside its known reservations about youth and explore targeting Oden as a high-risk, high-reward option at center. The Heat will have to get creative in order to secure a long-term upgrade for one of their glaring weaknesses. Signing Oden remains a long shot for a whole line of reasons, but as we witnessed this summer, the Heat will leave no stone unturned.