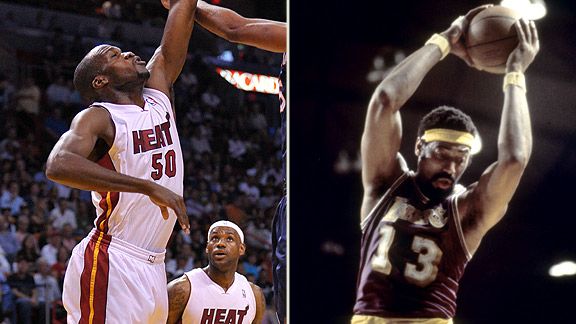 Heat reserve Joel Anthony and Wilt Chamberlain may not be equals -- but they were for one night.
You never thought you'd hear Joel Anthony and Wilt Chamberlain mentioned in the same sentence, did you?
Neither did I.
But after Tuesday night's wild loss to the Atlanta Hawks, the two players are now linked forever in basketball history. How? In the midst of the ill-advised 3-point downpour at AmericanAirlines Arena, Anthony managed to pull down 16 rebounds without taking a single shot attempt in the entire game.
And according to Elias Sports Bureau, only two other players since 1967 have accomplished the feat: Dennis Rodman and Chamberlain.
Now, I get Rodman. That makes sense. But Chamberlain? The same guy who averaged 22.5 shots per game for his career? Anthony and Chamberlain are so far apart on the offensive skill spectrum that it's hard to tell that they play the same sport.
But alas, the great M. Haubs of The Painted Area shed some light on the issue via a tweet reply on Twitter. In his words:
"That was the year Wilt led the league in assists & was obsessed w/doing so. Most selfish assist champ ever!"
Indeed, it was. In that 1967-68 season, Chamberlain tallied 702 assists, edging Lenny Wilkens by 23 assists for the league title. And somewhere along the way, Chamberlain looked to set up his teammates so much that he managed to go without shooting the rock once. Chamberlain was out to prove a point.
But Anthony had no agenda. He genuinely just wanted to grab the ball and give it to his teammates. And in doing so, he gave us a reason to utter those two names in the same breath. And for that, we should be thankful.