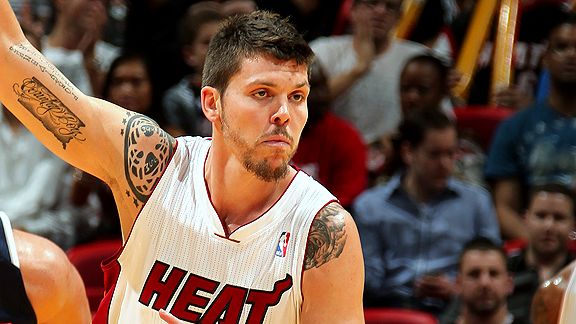 Victor Baldizon/NBAE/Getty Images
Mike Miller: Still looking for his shot in Miami
MIAMI -- It was the freakiest of freak injuries.
On Oct. 20, just six days before the Heat's opener at Boston, Mike Miller was wrestling with LeBron James down on the block. The Heat are renowned for the intensity of their practices. Throw in the responsibility of guarding James and Miller had his hands full -- literally, as it turned out.
"I was just guarding LeBron in the post," Miller recounted. "He spun to make a move. I kind of got my thumb caught in his jersey and it just popped. It came all the way back and I felt it and I knew it was gone. It was bad. I can usually play through stuff, but I knew it was going to be a problem. I just walked off."
Miller suffered serious ligament damage to his right thumb. The Heat, who feature an aging roster of role players apart from their three superstars, were suddenly without their fourth-best player. Miller was fitted for a brace and began shooting again just after Thanksgiving. He tried to remain in game condition, fully aware that, for professional athletes, no workout regimen can simulate the demands of live game action.
For two months, particularly during the Heat's malaise, there was anticipation for Miller's return. By his own admission, Miller was the most anxious and eager to see himself get back on the floor. He had received larger contract offers from the New York Knicks and Los Angeles Clippers, but signed with Miami at a discount for a chance to compete for a championship.
"I thought it gave me the best opportunity to win," Miller said. "I've been on teams the last couple of years that have been insignificant, really, to the league and about winning a championship. I wanted to be part of something where you test yourself, you see what you're capable of doing in big-time situations. I felt like I could be a big help on this team."
The player
Miller has some unique -- and some confounding -- attributes as a player. At 6-foot-8, Miller has ideal size for a wing. He's a textbook shooter whose career percentage from beyond the arc is over 40. Last season on a miserable Washington Wizards team, Miller ranked second in the NBA among perimeter players in true shooting percentage at 62.3 percent -- only Nicolas Batum was better.
Oddly, Miller ranked only 254th in the league in usage (the number of possessions a player uses per 40 minutes). There isn't a proficient marksman in the league more likely to pass up a shot, sometimes to his own -- and his team's -- detriment. This unselfishness, however, underscores one of Miller's most attractive assets. He's a superb ball-mover who is frequently looking to make the extra pass. Last season, he led all wing players in assist rate. In past seasons, that meant giving the ball up to Andray Blatche, Al Thornton, Sebastian Telfair, Rudy Gay and Juan Carlos Navarro. But with the Heat, Miller would have LeBron James, Dwyane Wade and Chris Bosh alongside him.
Hustle is always difficult to quantify, but a quick glimpse at Miller's outstanding rebounding numbers offers an impression of Miller's doggedness when the shot goes up. Miller played the vast majority of his minutes at shooting guard last season in Washington, and led the league in rebounding rate at that position -- a rate that would be impressive even as a small forward.
In addition, Miller has the ball skills to tread water at point guard for stretches. Growing up in South Dakota, Miller learned to play ball with his older brothers and was often asked to run the point.
"I was the smallest guy on the court at all times," Miller said. "So I played point with them. Then I always played point guard, all the way up until about college."
Miller maintained those ball skills, one reason he's apt to make that extra pass.
For all these reasons, the signing seemed like a natural for the Heat. Here was an affable, unselfish 30-year-old capable of catching a kickout pass and draining a 3, playing either end of a pick-and-roll, hitting James and Wade on the move, handling the point if the Heat want to go with a high-octane lineup and gobbling up rebounds by the bunches. What more could a team want in a fourth banana?
Miller's rusty return
The Heat stumbled through the first fifth of their season, posting a 9-8 record, though Miller's absence wasn't a serious factor in the team's struggles. James Jones, who inherited most of the minutes slotted for Miller, shot 45.6 percent from 3-point range from opening night until Dec. 20, when Miller returned to action against Dallas at AmericanAirlines Arena. During four minutes in his debut, Miller didn't hit a shot, but might have set a record for calling for the ball on a single possession.
That night in Miami, the crowd gave him a roaring ovation as he entered the game. But the conversation surrounding the team about Miller's return was far more cautious in tone. The Heat had ripped off 12 consecutive wins and established a tight rotation that was working wonders for the team's confidence. Players, including Miller himself, deemed the project of working the sharpshooter back into the flow as a sacrifice. Heat coach Erik Spoelstra spoke about taking steps backward so that the team could move forward with Miller as a full-fledged member of its active roster.
In the weeks following his return, Miller has appeared rusty. He missed his first nine shot attempts of the season, finally connecting on a layup in his fourth game back on Dec. 29 at Houston. As the Heat continued to rack up wins, Miller either got scant minutes or recorded a DNP-CD.
A blowout loss last Thursday in Denver with James on the sideline gave Miller a chance to get extended minutes for the first time. Although the game was out of hand early in the third quarter, Miller was on the floor for most of it.
"It was a miserable game for all of us, but it was a beneficial game for him," Spoelstra said. "He was able to play 32 minutes and get a lot of the rust out."
Miller shot only 2-for-7 from the field, but collected eight assists and eight boards. For the first time all season, he resembled Mike Miller, versatile wingman, doer of many things on the basketball court. He also passed up a couple of wide-open shots which, in a sense, is also classic Miller.
Just one word: Plastics
Full-contact practice can help a player acclimate, to some degree, to the speed and physicality of a regular-season game. That's especially true for a natural shooter wearing a plastic brace. But practice -- even Miami Heat practice -- is no substitute for meaningful minutes against an NBA opponent.
"It's completely different," Miller said. "In practice, everybody kind of knows each other. When you're out there [in a game], everything is raw and it's a lot more competitive. I mean, our practices are competitive, but when you get in those real games, it's really different."
Though Miller refuses to list it as an excuse, the plastic brace on his shooting hand likely has been a difficult adjustment. Since the injury, the brace had enveloped his thumb all the way up to his nail bed, but prior to the Chicago game on Saturday, Miller had it replaced with one that extended only as far as his knuckle.
"It feels a lot better," Miller said of the less invasive brace. "It's still difficult. Getting used to picking the ball up with it, because that's hard. Catching is a little difficult, too. There's still a lot of pain."
Whether it was the new brace or the chance to play extended minutes two nights earlier in Denver, Miller had his best game of the season in Chicago, scoring eight points in 26 minutes on 3-for-6 shooting from the field (and 2-for-3 from beyond the arc).
Spoelstra's dilemma
The Heat's current four-game slide is a cause for concern, but the team also knows that injuries have played a significant role in the losses.
But what happens when Bosh returns and both he and James are restored to full health?
Despite the versatility on the roster, the Heat settled on a very orthodox rotation in December. Carlos Arroyo and Mario Chalmers share time at point guard. Bosh would get virtually all of his minutes at his preferred power forward slot. Zydrunas Ilgauskas, Joel Anthony and, some nights, Erick Dampier would play center by committee. And, of course, James and Wade would occupy the wings, with Jones coming off the bench while James and Wade rest.
Spoelstra can distribute only 96 minutes at the two wing positions. Assuming James and Wade claim 75 of those 96 minutes, that leaves only 21 for Jones and Miller -- unless Spoelstra is prepared to tinker with his two-man point guard platoon or slide James over to the power forward (which he did in Bosh's absence in Tuesday's loss to Atlanta).
Is Spoelstra willing to disrupt the continuity established during the halcyon days of December? Do the benefits derived from giving Miller extended playing time in January and February outweigh messing with a winning formula?
Spoelstra has never coached Miller before. Though Spoelstra professes a desire to see Miller become an integral part of the Heat's blueprint, there's a certain trust between coach and player that can only be established through success. Miller has yet to hit a big shot for the Heat or execute a set that produces a game winner. That's just a product of circumstance, but, in the same spirit, it's hard to fault Spoelstra for proceeding cautiously with thrusting Miller into the rotation.
"I made the analogy of trying to jump into a car going 60 miles per hour when you're trying to step into an NBA season in January," Spoelstra said. "It's very competitive at this time. So it's not going to be an easy process working a player in."
Miller's perfect world
After finishing the road trip on an upswing, Miller had a forgettable Tuesday night. With James back in the lineup, Miller played only 10 minutes and was passed over for Eddie House who, in many respects, is the anti-Miller -- a pure gunner who never hesitates to shoot the ball.
Miller appreciates the chicken-and-egg riddle he presents to the team. He's fully aware that a healthy Heat team doesn't necessarily require his services. Asked whose minutes he should claim, he takes the question as an opportunity to praise the most obvious candidates.
"Right now, Carlos and Mario are playing great basketball," Miller said. "JJ is playing great basketball. I just have to find my niche."
Fast forward to early May, the conference semifinals. How does Miller envision his role?
"In a perfect world, I'm playing significant minutes and I'm playing alongside D-Wade and LeBron," Miller said.
"Obviously, that's in a perfect world."