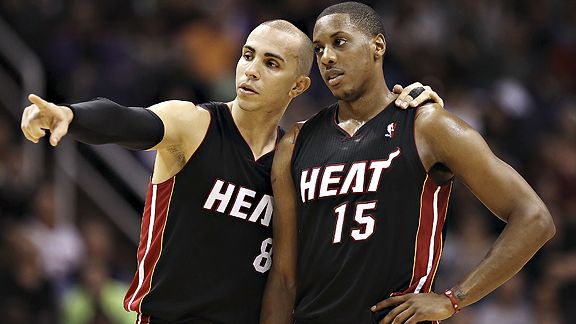 Christian Petersen/Getty Images Sport
Carlos Arroyo has given way to Mario Chalmers as the Heat's starting point guard.
MIAMI -- Carlos Arroyo might not totally embrace the formula, but he understands and accepts it.
Arroyo, the Miami Heat's veteran point guard, has lost his starting job. But in all honesty, it was a role he never truly owned. When you play for the Heat, and your name is anything other than LeBron James, Dwyane Wade and Chris Bosh, you're essentially on borrowed time.
"The reality is that the only starters here -- the only guys getting starter's minutes -- are Chris, Dwyane and LeBron," Arroyo said of adjusting to his new role coming off the bench. "Everybody else is in the rotation. The rest of us are rotation players. It's been like that all year. It's part of the process. No excuses. Whoever is playing better will stay out there and help the team win. It's as simple as that."
Injuries to key players in recent days have forced the Heat's revolving door of a rotation to take several unexpected spins amid the absences of James, Wade and Bosh over the past few games. But the shift at point guard, where Arroyo had started 41 of 42 games this season before he was replaced by Mario Chalmers in Saturday's home win against Toronto, seemed to be sparked by preference instead of pain.
What the latest change underscores is that Arroyo and Chalmers are, at times, as interchangeable as they are dispensable. Both have been asked this season to suppress their natural point guard instincts to some degree, and hand over the primary ball-handling responsibilities to James and Wade.
And neither Arroyo nor Chalmers have done enough to present a convincing argument that he should be considered anything more than a temporary solution to the point guard dilemma in Miami. Both are playing on contracts that expire at the end of the season, and it's a strong possibility that one -- or both -- won't be invited back next season.
In essence, the Heat doesn't have a point guard as much as they have a placeholder -- until the likes of Chauncey Billups or Kirk Hinrich becomes available via creative trades, buyouts or free agency. So for now, Heat coach Erik Spoelsta's handling of Arroyo and Chalmers will continue to provide more questions than answers. It's nothing new. It's been that way for years. The Heat hasn't had a truly established point guard since Jason Williams started on Miami's 2006 championship team.
Since then, presidential administrations have changed. Housing prices have changed. American Idol hosts have changed. The only things that haven't changed since 2006 are gas prices and the Heat's search for stability at point guard.
Spoelstra has trusted Arroyo's decision-making and his ability to limit mistakes enough to start him. But the coach's preference has been to play Chalmers down the stretch in crucial moments of games. With Arroyo, Spoelstra knows exactly what he's going to get -- as well as what he won't. With Chalmers, there's a high-risk, high-reward element capable of delivering Spoelstra a clutch play one moment and aneurism the next.
Right now, with so many uncertainties from Bosh's ankle injury to Mike Miller's feast-or-famine shooting stroke to Wade's status amid his annual bout with migraines, Spoelstra is inclined to go with the big gamble in Chalmers than the safe bet in Arroyo as the starter.
"It's a tough decision," Spoelstra said of shuffling the deck at point guard. "It's not an indictment on Carlos. It's just something I think will be beneficial for the team right now. Mario has been giving us solid and steady minutes, and he's been getting better at things I've wanted him to do."
The Heat have wanted Chalmers to develop into their point guard of the future, the "steal of the draft" they insisted he was when he slipped into the second round in 2008 after he helped Kansas win a national championship with a clutch shot against Memphis in the Final Four. Chalmers then became the first Heat rookie to start all 82 games before a combination of injuries and immaturity cost him the job at some point in each of the past two seasons.
So there's a part of Chalmers that believes his move back into the starting lineup now has only restored a role he always felt was rightfully his all along. He never felt anyone took the job from him. In Chalmers' mind, he gave it away and just hasn't been given a chance go snatch it back.
Until now.
"My confidence has never shaken," Chalmers said after he dished a season-high nine assists, scored 10 points and knocked down all three of his 3-pointers in Saturday's 120-103 victory against the Raptors. "It was just a matter of getting healthy. At the beginning of the season, my ankle wasn't 100 percent. No matter what you do, when you get your minutes, you have to go out and show that you belong."
Arroyo and Chalmers also share something else in common beyond the game of musical chairs in which they're engaged as point guard placeholders: they're both feisty competitors who won't back down from a challenge.
Arroyo withstood this type of demotion before when he was phased out of the starting job during that ill-fated, midseason acquisition of Rafer Alston a year ago. Once Rafer skipped town after a stretch of poor play, Arroyo regained the starting role and carried it into this season.
"Last year was the same situation," Arroyo said. "I know I've worked hard to be in the position this year to have that opening spot. Coach is just trying to find the right rotations, who's playing better with certain guys. I haven't finished a lot of games I started. But it's my job to stay ready."
When it comes to the Heat's point guard spot, there's no animosity.
There's no anointing, either.
It's a case of, 'What have you done for me, lately?'
"It could change," Spoelstra said.
At point guard for the Heat, it always does.