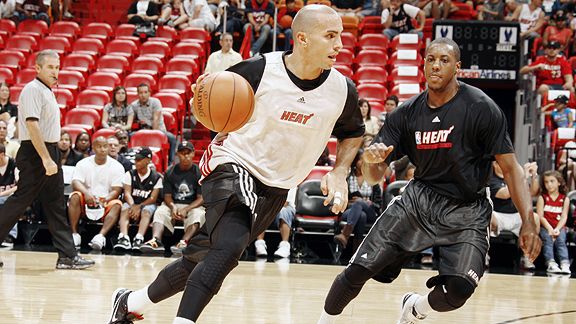 Mark J. Rebilas/US Presswire
When it comes to choosing between Mario Chalmers and Carlos Arroyo, numbers point to the former.
On Saturday night, Mario Chalmers received the start over Carlos Arroyo against the Toronto Raptors. After Monday's practice, Heat coach Erik Spoelstra made it official by declaring Chalmers his starting point guard going forward.
The writing was on the wall. Before the Toronto demotion, Chalmers had clearly won Spoelstra's favor, as the Kansas product received two times as many minutes as Arroyo over the previous four games. Chalmers was the team's finisher at the point guard position and it was only a matter of time before he became the Heat's starter as well.
But what provoked Spoelstra to phase out Arroyo after trusting him with the starter's role all season?
Spoelstra diplomatically maintains that Arroyo didn't do anything to lose the job. It's the basketball version of 'It's not you, it's me' breakup routine.
"It's not an indictment on Carlos," Spoelstra said after Saturday's game. "It's just something I think will be beneficial for the team right now."
Strictly in the realm of plus-minus numbers, you could say that Arroyo wasn't improving the team's results on the scoreboard. Despite the luxury of playing primarily alongside the Big Three of LeBron James, Dwyane Wade and Chris Bosh, the Heat have been a better team with Arroyo off the court than on the court.
Let's cite some actual numbers here. According to the indispensable resource basketballvalue.com, the Heat have beaten opponents by an average of 8.1 points every 100 possessions with Arroyo in the game. But when he has exited the floor, the Heat have pummeled opponents by 10 points every 100 possessions, for a net differential of minus-1.9 points.
But the minus-1.9 point differential -- which in laymen's terms means the Heat have been about two points better every 100 possessions with Arroyo out of the game -- looks even worse once you correct for the fact that he shares the court with superstars. His adjusted plus-minus, which mathematically accounts for strength of teammates and opponent, plummets to minus-18.2. That's not a good rating. Actually, it's the third worst figure in the NBA.
All this math may seem mundane but we know Spoelstra keeps a close watch on his team's plus-minus data and Arroyo's numbers are woefully underwhelming. Chalmers isn't much better (minus-0.5 raw, minus-10.5 adjusted), but it's a step up from Arroyo. Given this information, it's no surprise that an empirically-inclined coach made the switch from a steady veteran to a risky youngster.
It's possible that Arroyo plays conservatively to a fault, especially on the defensive end. With their perimeter orientation, it's difficult for guards to make a sizable impact on defense. But causing turnovers and getting into passing lanes is one way a guard can make their footprint
And this is where the greatest chasm between Arroyo and Chalmers exists. For reference, the typical point guard steals the ball 1.5 times every 40 minutes while on the floor according to Hoopdata.com. Arroyo tallies 0.6 steals every 40 minutes. That's the worst rate among regular point guards in the NBA. Chalmers, on the other hand, registers 2.0 steals per 40 minutes, which is the eighth best rate among point guards who average 20 minutes per game.
Now, there's a fine line between healthy activity and reckless gambling. And Chalmers treads that line as dangerously as anyone. But again, the data show that his defensive energy (if that's what you want to call it) may actually be a net benefit. When Chalmers is on the court, the Heat's defensive efficiency is 100.8 points per 100 possessions. When Arroyo is on the court, the Heat's defensive efficiency is 103.5 points per 100 possessions. That's an edge that Spoelstra may be trying to exploit.
Offensively, it's more of the same story. Arroyo plays within his means and Chalmers oversteps his boundaries. But will Arroyo continue shooting 46 percent from downtown? Probably not. And it may be wise for Spoelstra to take his money and run, as Arroyo, a 34 percent career 3-point shooter, is 1-for-8 over his last nine games from downtown.
The Chalmers-Arroyo point guard dynamic is fascinating because they are a study in contrast. And despite residing on two ends of the risk spectrum, they pretty much end up at the same cross-section bordering on point guard mediocrity. They even average an identical 6.2 points and 2.2 assists per game. How they arrive at those averages couldn't be more different. And right now, Spoelstra prefers Chalmers' style of play.