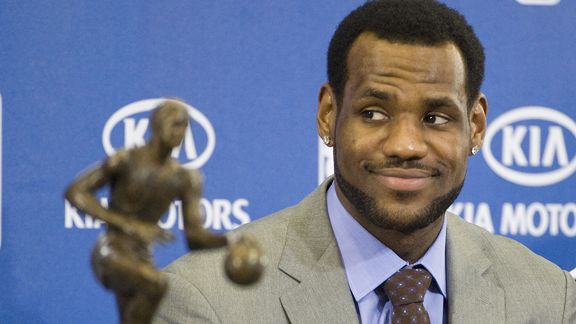 AP Photo/Phil Long
LeBron James has said he doesn't expect a third MVP award, but his recent play says something else.
MIAMI -- LeBron James is in the midst of putting Most Valuable Player voters in an awkward position.
On Monday, the league named James its Eastern Conference Player of the Week for the fourth time this season. James has already won two Player of the Month Awards, racking up another one last week for his play in January.
In and of itself, this is unremarkable. The awards get attention for a day or two on broadcasts and at the bottom of beat writers' notebooks. Perhaps some more hard-core fans may make an issue of it. But those honors, which are decided by the league's public relations staff, often serve as an unofficial tally of the season-long MVP race.
Every year the MVP conversation starts to get serious around All-Star Weekend. With that event on the horizon, it seems reasonable to ask: Can James really win the MVP again?
The instant answer from many voters and even James himself would be no. When asked about this last month, James admitted voters might not give him as much consideration because of teammates Chris Bosh and Dwyane Wade.
"When we decided to come together our Most Valuable Player chances kind of went out the window," James said. "I think [voters] classify it as an individual award. They look at it like the less help you have, the more numbers you have, then the better chance for you to win that award."
This was a sound opinion but it isn't playing out so simply.
Most of the time, the man who hoists the Maurice Podoloff Trophy in May picked up a significant number of those weekly and monthly nods along the way. Why is this so? Because the league's PR staff uses roughly the same criteria to pick its winners as voters do when they chose an MVP. It isn't just the statistics -- the team has to have a good week or month, as well.
This has long been an unwritten rule for MVP candidates. There hasn't been an MVP from a team that's won fewer than 50 games since Moses Malone took home the award in 1982. If you're not on an elite team, it is nearly impossible to win. As an aside, that's the central reason why Amare Stoudemire would be considered a long shot at this point in the season unless the Knicks have a huge second half.
James won four Player of the Month Awards in each of the past two seasons before winning the MVP in both. The Cavs averaged 63 wins over those seasons, which meant they had a lot of winning weeks and months that added to James' résumé.
Last season, James won six Player of the Week Awards. He's just picked up his fourth of 2010-11, which includes his miserable November, when both he and the Heat were in the midst of an unexpected slump.
But what of James' belief that his supporting cast may be deemed too strong to get him the award again? Before this season, James never had a teammate average more than 17 points a game. Right now he's got two -- Bosh is at 18.2 points per game and Wade is fifth in the league in scoring at 25.4. So there's truth to that changing circumstance.
But there's something else that James didn't say. The voters are probably going to have a hard time putting James at the top of their ballot when he has still not won a title.
Only three players in history have won three consecutive MVPs: Larry Bird, Wilt Chamberlain and Bill Russell. All three had at least one ring by the time they were given their third consecutive MVP.
Other greats and multi-time champions like Michael Jordan, Magic Johnson, Kareem Abdul-Jabbar and, more recently, Tim Duncan, were limited to back-to-back MVPs. It's very hard to win that third consecutive award because there's some inherent voter fatigue and because the standard to win again becomes so high.
James, meanwhile, is coming off an underwhelming performance in the playoffs. Though he was battling an elbow injury and ran into a Celtics team playing inspired basketball, James simply did not play like an MVP as he and the Cavs quietly bowed out earlier than expected last May.
Indeed, the MVP is a regular-season award, but there is simply no way James' limping and still largely unexplained finish to his career with the Cavs can or will be discounted by the 122 media members who will decide the MVP.
So James, despite his status as one of the greatest players of this generation, entered this season as an underdog to win the MVP again no matter what he accomplished between October and April.
But as all these Player of the Week and Player of the Month awards are showing, James is still routinely beating his competition for these individual honors. His stats are slightly down, but he's been second or third in scoring for most of the past two months, and his December, January and February results are becoming impossible to ignore.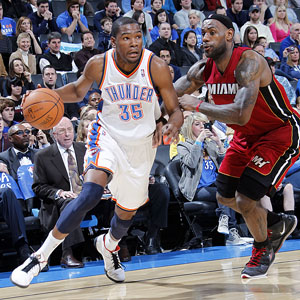 Layne Murdoch/NBAE/Getty
Kevin Durant is sure to factor in the MVP voting.
Over the past 15 games, he's averaging 29 points, eight rebounds and seven assists a game. The Heat have the third-best record in the league currently, and they appear to be in for a battle with the Celtics and Bulls for the top spot in the East.
In a vacuum, James would have to be considered a serious MVP candidate if not the front-runner at the moment. But, of course, there's a political element to who goes on that top line. Since last summer, James has become a polarizing figure. There seems to be a love-him-or-hate-him line that fans have established and the media has fostered.
It is hard to gauge what impact James' infamous "Decision" could possibly have on the people who ultimately select the MVP. Though it must be said that the majority of those with votes are beat writers and local broadcasters spread across the NBA's 30 cities and not to pundits on talk shows or national columnists.
Though it can sometimes feel like it, the MVP is not a populist award. But not factoring a player's popularity would be a mistake as well. The voters are human and deal with the players in question on a regular basis.
There are other fine candidates, of course. Kevin Durant is on his way to a second consecutive scoring title. Dirk Nowitzki has recovered from a knee injury and is back leading the Mavericks to wins and putting up big numbers.
Derrick Rose is having the best year of his career and has carried the Bulls through injuries to Carlos Boozer and Joakim Noah. Based on James' idea of who should win, the fact that Rose doesn't have another All-Star on the Bulls with him might make him the favorite right now.
Wade, who has successfully battled a string of nagging injuries to put up impressive numbers next to James -- including a career high in rebounding -- will be considered. Then there's always Kobe Bryant. Even with his stats taking a bit of a dip so far this season, he is a permanent option.
Any of these stars could end up being an easier vote than James for numerous reasons. But will it be right? That is an answer that may or may not become clear over the final two months of the season.
Last week when James put up 51 points in a statement game in Orlando, he certainly had the appearance of an MVP. He's had that look for weeks now as the Heat have started to live up to their promise, at least in the regular season.
If he and the Heat keep it up, it could lead to one of the most controversial and complex MVP races in memory.