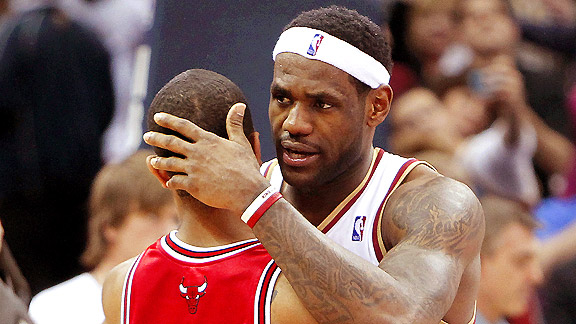 Gregory Shamus/Getty Images Sport
Derrick Rose has emerged as the favorite to snatch the MVP award away from LeBron James. Does he have a case?
LeBron James vs. Derrick Rose.
On Thursday night, the two players go head-to-head for the first time this season -- James missed the first game between the Heat and Bulls due to injury. But James and Rose have been battling all season off the court in the MVP debate, which will continue to bubble for the rest of the season. Right now, it appears the competition has boiled down to the Heat's reigning, two-time recipient and the Bulls point guard, with others like Kevin Durant, Chris Paul and Dwight Howard lingering on the periphery.
But right now, it's all about James and Rose. Everyone generally agrees that James is the better player of the two, but the balance of power shifts when we discuss the "V" part of the award.
Those batting for Rose's candidacy as the MVP contend that the Bulls' 38-17 record speaks for itself -- that the point guard has carried the Bulls with Carlos Boozer and Joakim Noah out for extended periods this season.
But I don't buy it. No matter what Juwan Howard says.
This isn't a knock on Rose, but an endorsement for a deeper analysis. Those who stand behind the "carry" argument are ignoring the single biggest reason the Bulls are where they are: their defense – the best one in the league.
Once Tom Thibodeau, a defensive guru and longtime assistant coach, was hired to replace Vinny Del Negro as Chicago's head coach, the Bulls were expected to sharpen their defensive engagement and soar through the league ranks. But not this quickly. The Bulls allowed 105.2 points per 100 possessions last season with Del Negro at the helm, according to basketballvalue.com. This year? That defensive efficiency has plummeted -- downward direction is a good thing, mind you -- 5.1 points to 100.1 points this season, the stiffest rate in the NBA.
What Thibodeau has done to revamp Chicago's defense deserves the recognition of a Coach of the Year award but he has the Spurs' historical run to blame if he doesn't win it. After engineering Boston's suffocating defense for three seasons, Thibodeau has instantly stamped his smothering pick-and-roll philosophies onto his new roster. In one offseason, the Bulls have improved from the 15th most effective pick-and-roll defense in 2009-10 to fifth place under Thibodeau -- just a hair behind Boston -- according to Synergy video data. Thibodeau doesn't have Kevin Garnett to swarm the ball handler, nor does he have someone the size of Yao Ming (whom Thibodeau coached in Houston) to absorb the rotations underneath. For much of the season, Thibodeau has somehow managed to stifle opponents using the undersized Taj Gibson (who, granted, has developed into a skilled defender) and the overweight Kurt Thomas.
Of course, it's unfair to suggest that Rose hasn't played a role in the team's defensive turnaround. But it's equally unreasonable to assign much credit to a player who defends primarily 20 feet away from the basket. The 22-year-old has seen an uptick in his steals this season while exhibiting more discipline at a young age than many projected. But Thibodeau's unforgiving system is predicated on airtight defensive rotations underneath the game's most utilized attack, the pick-and-roll.
Oddly enough, what's not helping Rose's MVP case is his plus-minus numbers. And implicitly, this is where most Rose supporters state their case. When his advocates ask, "Where would the Bulls be without Rose?" the question is meant to be a rhetorical one. The obvious implication is that a Rose-less Bulls squad would instantly become a basement dweller. But rather than blindly accept it, we can actually see how the Bulls have managed without him on the court. And how have they fared with Rose benched? By beating opponents by 51 points on the season, or an average of 4.9 points every 100 possessions. Why? Whether Rose is in the game or not, Thibodeau's game-changing defense remains.
Now, Rose is having a remarkable season and, at such a young age, he's undoubtedly one of the brightest stars in the game. With an average of 25.0 points and 8.2 assists, Rose has vaulted himself into the game's elite. He's added a 3-point game to his arsenal which has helped to curb his tumbling field goal percentage on 2-point shots.
But in terms of value, Thibodeau's masterful system has had more of an influence on the Bulls' record than Rose's strong play. Claiming that Rose has single-handedly carried his team to its record is a barroom shortcut, conveniently sliding by the Bulls' defense that has routinely pummeled opponents this season. And let's not forget that Noah and Boozer have played more than 2,000 minutes this season.
And then there's LeBron's résumé. The two-time MVP has done nothing this season to suggest he isn't the same unstoppable force who earned the award each of the past two seasons. Despite having to share the rock with two other ball-hungry stars, James is averaging 26.2 points, 7.4 rebounds and 7.2 assists, translating to a league-best 26.6 player efficiency rating. In the box score, he has no parallel.
Defensively, he's asked to play five positions for the Heat, locking down point guards as well as power forwards on a nightly basis. He's a monster on both ends of the court, which is why, despite having Wade and Bosh to hold down the fort when he's out of the game, the Heat have barely outscored opponents (1,311 to 1,302) with James sitting this season. (Remember the Bulls' track record without Rose?) But with James on the court, the Heat beat their opponents by 11.3 points every 100 possessions, an on court/off court swing of more than 10 points on average.
Whether you speak in anecdotes or analytics, James is the best player in the game today. And judging from the Heat's near mediocrity without him, he's demonstrated his incredible value in that respect as well. As one league GM plainly said to me this season, "LeBron is the MVP. Every year."
And on Thursday night, for the first time all season, James will get his opportunity to showcase his worth against Rose and the Bulls.