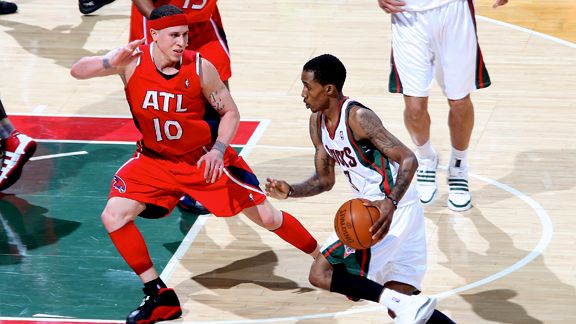 Scott Cunningham/NBAE/Getty Images
We know Mike Bibby can shoot, but his defensive liabilities may not make a signing worthwhile.
The Heat are signing free agent Mike Bibby, who was bought out by the Washington Wizards on Monday, which begs the question:
When Bibby takes the floor, can Erik Spoelstra say with a straight face that the team's identity begins and ends with defense?
The 32-year-old point guard has developed a reputation as a matador who voluntarily ushers opposing point guards into the lane. Sometimes it looks like he's defending whilst waist-deep in a pool.
So how could the Heat, with their fourth-ranked defensive efficiency, possibly be interested in a defender with the mobility of a cardboard cutout?
Well, maybe he's not as defenseless as we thought. Perhaps a better question is: how bad can he possibly be?
Consider the facts:
The Hawks are ranked 13th in defensive efficiency this season (above-average with Bibby playing all but three games).

The Hawks were tied for 13th in defensive efficiency last season (above-average).

This season, the Hawks were better defensively with Bibby on the floor than when he sat on the bench. The Hawks allowed 105.4 points per 100 possessions with him and 106.6 points with him riding pine.

He grades out as an "average" defender this season according to data from Synergy Sports. The grade spectrum for a given player is as follows: "poor," "below average," "average," "good," "very good" and "excellent" depending on how many points he allows on every play he directly defends.
With this information at hand, we have a better idea of his defensive imprint on the Hawks. As atrocious as his cred may be, the numbers suggest he didn't torpedo the Hawks' defensive efforts. Of course, the Hawks may have been an above-average defense despite Bibby, not because of Bibby. But if that were the case, we'd expect to see a considerable drop-off in their ability to stop opponents the moment he steps onto the hardwood. But evidently, that doesn't appear to be the case (see third bullet).
Bibby is a point guard which means he is the first line of defense against the pick-and-roll. But after the point guard is screened, the responsibility shifts to teammates to absorb the ball-handler. The Heat do this phenomenally well with Spoelstra's defensive network. That will come in handy since Bibby is graded as "below average" when he defends the pick-and-roll ball handler according to Synergy --his least effective area as a defender. Only a few teams can salvage a slow point guard defender like Bibby and the Heat are one of them.
Moreover, Spoelstra knows Bibby can't keep up with the game's quickest point guards. The Heat luckily have two defenders who can: Dwyane Wade and LeBron James. The Lakers face a similar dilemma with their aging point guard Derek Fisher and what do they do? They put Kobe Bryant on the Rajon Rondos of the NBA. Expect the Heat to deploy a similar strategy if the Heat can't stomach Mario Chalmers' erratic play.
Oddly enough, Bibby has held his own in one-on-one situations. When Hawks' opponents have zeroed in and driven on him, they have collected just 46 points on 68 plays (.68 points allowed per play). That efficiency ranks in the top 15 percentile in the NBA, along with Rajon Rondo, Ron Artest and LeBron James. Not bad company.
However, if you watch Bibby, he doesn't appear to be plugged in defensively. He lazily closes out shooters, waddles through pick-and-rolls and loses focus easily. A passive intensity won't be accepted as a member of the Heat. If he doesn't bring it, the Heat will have no reservations about burying him on the bench much in the same way they've dropped Carlos Arroyo out of the rotation.
No, Bibby is no savior. He won't be the cure-all to the Heat's problems. But if he provides reliable spot-up shooting and doesn't induce headaches with decision-making, they'll gladly make a compromise on the other end.
Now, many point to Arroyo and his 44 percent 3-point shooting as being that guy. Forget it. Arroyo has made exactly one three-pointer in his last 227 minutes on the floor. He is not that guy.
Ultimately, Bibby certainly doesn't look like a defender that can cut it on an elite defensive team. But sometimes our eyes can exaggerate the impact of a porous point guard. The numbers suggest he's far from debilitating. That, my friends, is as close to an endorsement as I can give.