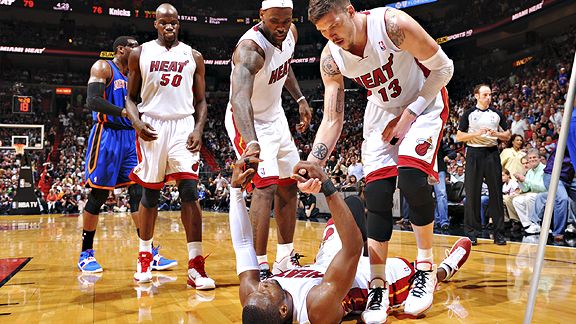 Jesse D. Garrabrant/Getty Images
With the tracks of their losses easy to trace, the Heat could use a little pick-me-up about now.
MIAMI --These are now Motown moments for the Miami Heat.
Just when you figured misery might have a mercy mechanism, that there would be a hiatus to this Heat heartache, that coach Erik Spoelstra and stars LeBron James, Dwyane Wade and Chris Bosh had sank as low as they could go with that season-worst, 30-point loss the other night in San Antonio, there was another debilitating discovery Sunday afternoon at AmericanAirlines Arena.
Even rock bottom has a basement.
And that's where the Heat can be found after they stumbled down another flight of stairs, landed even deeper into their recent despair with Sunday's 87-86 loss to the Chicago Bulls and matched their longest losing streak of the season at four games. Where does a team turn in moments like these?
To the darkest corner you can find.
To that room you used to go to back in the day and play your records until the needle broke.
To that old stack of albums and tapes that used to get you through those tough nights when nothing seemed to go your way. And if you go back far enough, your apparatus of choice were 8-Tracks.
What we learned about this star-studded Heat roster on Sunday was that all that talent, ego, bravado and swagger in the locker room can be reduced to tears when the pain and disappointment get as intense as they were in the aftermath of this latest letdown.
Spoelstra revealed after the game that a couple of his players were in the locker room crying after the game, that the pressure and failure and frustration can become a burden that's sometimes too much to bear. It was an emotional moment after another methodical meltdown.
But there's been too much cockiness and confidence, too much premature celebration when they joined forces in free agency last July and too many us-against-the-world silly Twitter posts for the Heat to warrant anything close to national sympathy at this point.
Pity the Heat? Please.
Still, we all have our sensitive sides.
In tough times, that side of me usually saddles up to Sade or Jill Scott. But I can go old-school, too. That's how I know the Heat need a much stronger, part R&B, part classic Soul play list to get through this current patch of pain.
Considering the tears shed in the locker room Sunday, I'd start with the O'Jays' 1978 hit, "Cry Together."
That song is about two people working through the bad stages of a relationship that just doesn't seem to be working out as planned.
"Now, we have times when we laugh hardy."
"We even go out on the town and we party, party, party."
"Every day the sun doesn't shine, sometimes it has to rain."
"Just like we enjoy the pleasure, we have to stand the pain."
That was O'Jays lead singer Eddie LeVert on the vocals from 1978.
On Sunday, this was Bosh at the podium in the postgame press conference.
"When you put your heart, soul, blood, sweat and tears into something, and you want something so bad, and it just slips from you by one point, to come up short again and again, it hurts."
Bosh could just as easily have been talking about love. Instead, it was losing.
That's the pain of falling to 2-5 since the All-Star break, 0-9 against San Antonio, Dallas, Boston and Chicago, 5-13 in games decided by five or fewer points and 14-18 against teams with winning records.
Those numbers represent the kind of hurt the Heat can no longer mask despite the unshakeable veneer they try to coat themselves with in public. Smokey Robinson and The Miracles had this very same issue in their 1965 hit, "Tracks of My Tears."
"So take a good look at my face."
"You'll see my smile looks out of place."
"Just look closer, it's easy to trace."
"The tracks of my tears."
The soundtrack to Sunday's dismantling was all too familiar for the Heat.
Squander another double figure lead at home on the way to a loss?
Yes. They. Did.
The Heat led by as many as 12 points at one stage Sunday. Add it to their tab as part of what's become a disturbing trend in recent games. Miami led New York by as many as 15 points last Sunday and also jumped ahead of Orlando by 24 four nights later. Both ended in defeat.
And despair.
The losses are piling up at such an alarming rate at this stage of the season that LeBron spent time before Sunday's game explaining how he'd prefer to lose if given a choice. He'd rather get blown out like the Heat were in San Antonio and dismiss it as a fluke instead of being suffocated in the final seconds the way they were Sunday by Chicago.
Falter at the finish again?
Yes. They. Did.
Another alarming trend continued Sunday, with the Heat failing to execute in the final seconds with the ball initially in LeBron's hands. Both LeBron and Wade missed shots in the final 10 seconds. The Heat are now an NBA-worst 1 of 18 on potential game-tying or go-ahead shots in the waning seconds of the fourth quarter or overtime.
"Like I told my team," LeBron said after the game, "I'm not going to continue to fail them late in games. I'm going to continue to push."
For now, he might as well play another slow jam to get him through the moment.
We don't know if LeBron was among those who shed tears after the loss. Spoelstra wouldn't elaborate and team members said what happened in the locker room would stay in the locker room.
Miami had its last-second chances. And they again ended in misses.
But allow me to borrow a line from Lesley Gore's 1963 smash, "It's My Party."
You would cry, too, if it happened to you.